CBA student to feature on Sky Kids programme
02/06/2020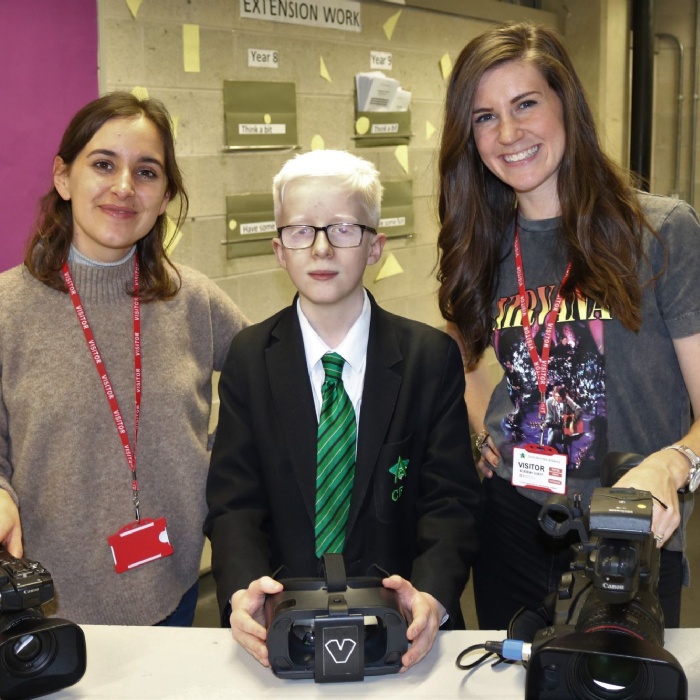 Corby Business Academy student Harry Boden will feature in a television programme using a new high tech headset that he uses in the majority of his lessons, particularly in science.
Harry, from Year 8, who has visual impairment, has taken delivery of a new headset that enables him to access the same information on whiteboards as his classmates. They were filmed in a science lesson and the resulting footage will be used in a show called 'Wow' which will be broadcast on Sky Kids over Easter.
The film crew, Simona Karabyn and Kay Rogers, filmed 40 minutes of the lesson on metals, which was delivered by Mr Van Niekerk. He said: 'I chose the experiment as it showed how different metals make various colours as they are oxidised. Metals and combustion are both part of the Year 8 syllabus. I chose this lesson as the new headset would have enabled Harry to see colours that he would not have seen before, as previously he would have needed to get too close to the flame in order to see it, which obviously wouldn't have been safe.'
Afterwards Harry said: 'I really enjoy using the headset because I can see things I wouldn't normally be able to. I use it in most lessons.'
Learning support assistant Suzanne Thoirs said: 'I have been working with Harry and his brother, Max, throughout their school life. My role is to support all the boys' visual requirements in order for them to access the curriculum. This includes adapting resources, communication with teachers to ensure all work is accessible and ensuring they have the right equipment to enable them to independently learn.
'The goggles have enabled the boys to read books of any font size - previously books had to be adapted to font size 30, access information from the white board during lesson times at the same time as their sighted peers, accurately record measurements and sit anywhere in the class whereas previously they had to sit at the front.
'The headsets are still at the prototype stage with Harry and Max being instrumental with the design development process as they provide honest feedback on a regular basis and have annual meetings with the development team at Give Vision.'
The programme makers said: 'Harry and Max will feature in the episode about how robotics and technology are helping in health care and we wanted to show how these headsets are helping in the school and home environment. Thanks to Mr Van Niekerk for organising the lesson and to Suzanne who has been super helpful and has enabled us to film with Harry and Max, both at school, home and the Give Vision offices where they got their upgraded headsets. It should make for a really great report for our new Sky Kids tech show.'
To view a gallery of photographs click here.