Author Damian Harvey visits Compass Primary
03/05/2020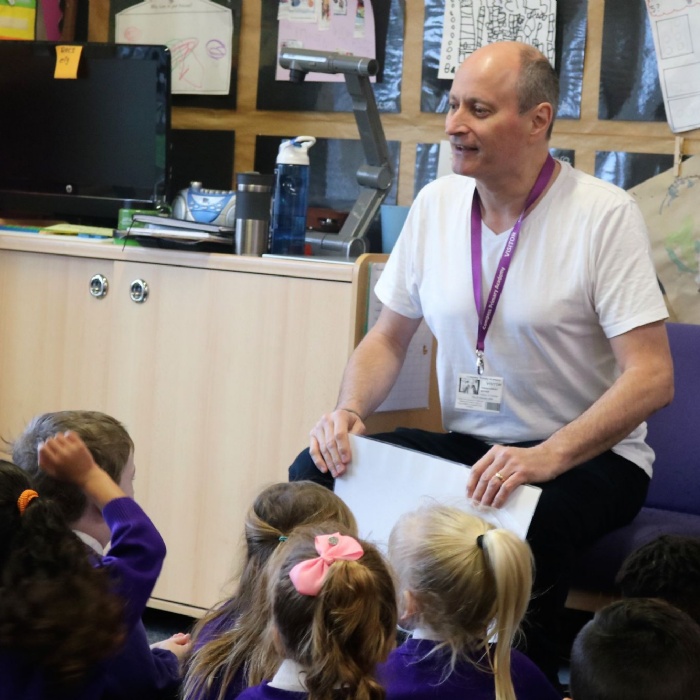 Students at Compass Primary Academy enjoyed their first visit from Reading Patron Damian Harvey when he visited the school for a day of story-telling and poetry reading.
The students first met him in assembly then he toured the classrooms reading some of his stories to the children and answering questions about his books and writing career.
In Reception class he told stories about pirates, gorillas, monsters and introduced them to his pet spider, Boris, who was the subject of one of his books. Many of his titles have been translated into foreign languages including Korean.
Damian has written over 100 children's books and he is the school's first patron of reading. His visit, which encourages reading and engagement with books, is just one in a series of strategies that will boost literacy and reading for enjoyment across the school.
Vice Principal Nicole Andrews said: 'Our school were delighted to welcome Damian along for the day to carry out his jam-packed programme with our students in all year groups. With the younger children, he read some of his picture books; while the older ones enjoyed learning more about the writing process and asking questions.
'Reading is such a key focus at Compass Primary Academy that the children were all really enthusiastic and energised. We are hoping to have other authors in to visit soon to keep up the momentum created by Damian's visit, as well as to welcome Damian back throughout the year to continue our wonderful reading partnership. Damian has kindly offered to send us some of his new stories to review, as well as read some of his books which he left for us. We thank him so much for a thrilling and purposeful day!'
To see more pictures click here.