Principal Pete Kirkbride says leading Brooke Weston Academy has been an 'absolute privilege'
24/04/2020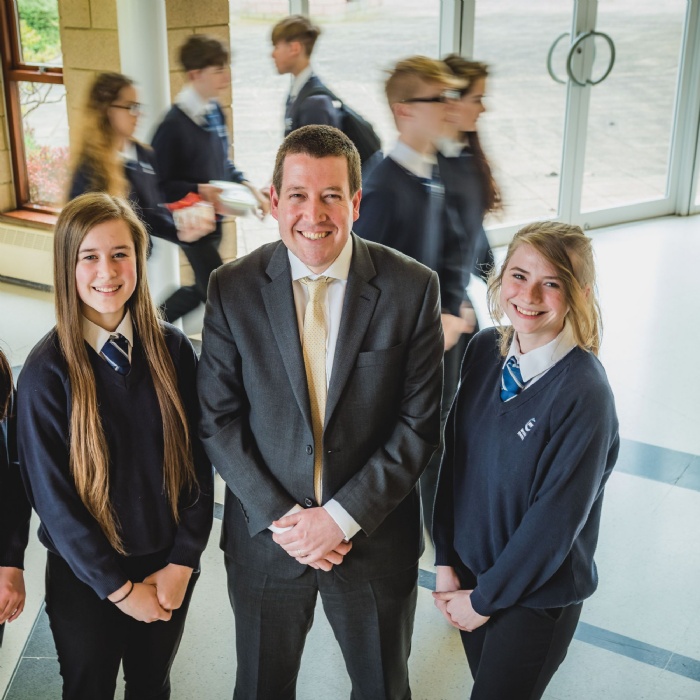 Brooke Weston Academy's Principal Pete Kirkbride is leaving on promotion after four years in the role.
He describes his first headship as a 'roller-coaster and an absolute privilege' and has paid tribute to all his colleagues who have made his tenure such a success.
Senior Vice Principal, Shaun Strydom, will take over as Associate Principal as Pete leaves to become a Senior Education Adviser at Greenwood Academies Trust.
Pete assumed the headship in September 2016. He said: 'It's been an absolute privilege to lead Brooke Weston Academy. It is such a special place with a remarkable history and an amazing culture. All the way through my headship I have spoken about being on the 'shoulders of giants' and that is certainly the case. The City Technology College that the first Principal, Gareth Newman, set up nearly 30 years ago is still so relevant.
'I brought a new perspective to Brooke Weston but it has been a total team effort. I could not have done it without the Vice Principals, leaders, staff and support staff. They have just been incredible.'
He credits the Brooke Weston Trust with having the confidence in him to step up to the role: 'They took a punt on this external Vive Principal coming from an inner city school and dropped me into this flagship school with a national reputation.
'I was really excited about joining a Multi Academy Trust, working with other heads and with the support of a Central Team. I have been really grateful that I can always go to an expert for advice.
'Brooke Weston Academy is a very fast moving place now and that is why you see the results we get. We have a fantastic staff body and, with that, comes a lot of energy, a great dynamic and a new willingness to do whatever it takes for the good of the students. The students themselves have been lovely, hard working, creative and fun to be around and I will miss them all immensely. I also loved working in Corby and the Academy is at the heart of a big community.
'Brooke Weston Academy has taught me that outstanding and exceptional schools can be created, it just involves creativity, drive and desire. Our founders, the de Capell Brooke and Weston families were always kind, generous and made me feel very welcome. They care passionately about the Trust and there is no doubt that Brooke Weston Academy is close to their hearts.
'I'd also like to pay tribute to Anne Hill who is an exceptional Executive Principal. I have learned so much from her and am really grateful for her counsel and wisdom. CEO Dr Andrew Campbell was a great support and his values are absolutely at the heart of what this Trust does. My time at Brooke Weston Academy has been an immense privilege and I wouldn't have got the job I am moving on to, directly supporting three discrete schools and being Director of Standards across nine secondaries, if I hadn't had the support of my amazing colleagues at all levels within the organisation.
'What I have learned about leadership is you have got to be authentic. I am delighted that Shaun is becoming Associate Principal of Brooke Weston Academy. I have never worked with somebody who works as hard as he does and he absolutely cares deeply and passionately about the staff and students. I feel so confident in handing over all the success that we have created. Brooke Weston Academy is in safe hands. Someone said that one of the purposes of Brooke Weston Academy was to give schools hope and we continue to do that. I have been blown away by the hard work, care and generosity of spirit that I see in my teachers and support staff. I will miss them all.'
CEO Dr Andrew Campbell said: 'I am delighted to have watched Pete develop his understanding leading a high performing school through his time with us. I am immensely grateful to him for the commitment and resilience he has shown during his tenure and the injection of fresh ideas and people that he oversaw. I am sure I speak for all staff, parents and students in wishing him every success in his new role.'
To read a profile of new Associate Principal Shaun Strydom click here.