KSA celebrates another great year of A Level results
13/08/2020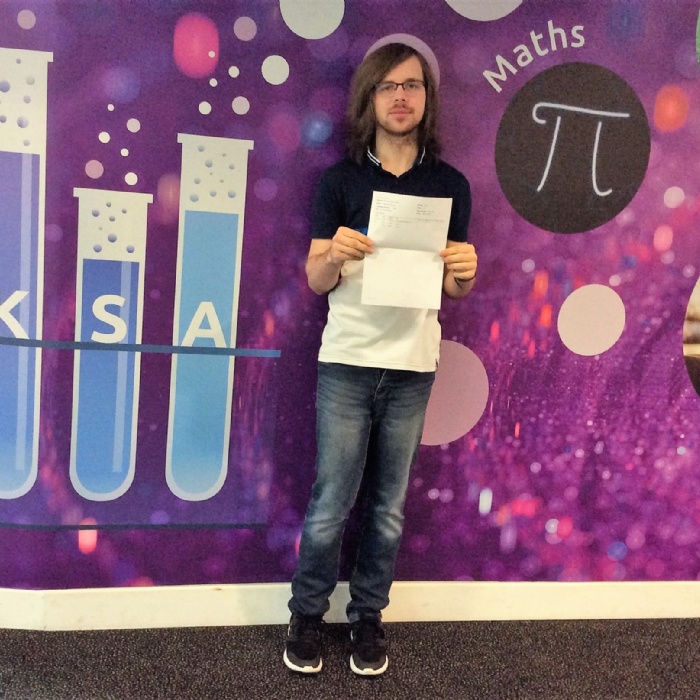 Students are celebrating fantastic results at Kettering Science Academy, with one awarded a place at Cambridge and 25% of those continuing to higher education going to Russell Group universities .
The school has enjoyed another year of rising performances, with subjects including maths and the sciences being particularly strong. Kettering Science Academy is opening a purpose built, state-of-the-art Sixth Form centre in the autumn which will further increase its range and offer to the local community.
Top performers include Bernard Dec (pictured above), who achieved A*s in maths, further maths and physics and an A in chemistry. He has secured a place to study engineering at Pembroke College.
Hannah Godson is going to Edinburgh to study bio-medicinal chemistry, while Nicole Sparey will be studying law in Cardiff. Seth Haines has secured a Computer Science degree apprenticeship with a very prestigious organisation. Other students are going on to pursue studies in veterinary nursing, accountancy and business.
Kettering Science Academy's Principal, Tony Segalini said: 'This has been another great year for A Level results for our students and very strong performances in subjects across the school. Despite lockdown we are pleased that everyone has been able to get the university or career option of their choice and our teachers worked really hard to ensure that everyone felt supported and informed.
The fact that we have one Oxbridge student and eight attaining places at Russell Group universities shows that we are ambitious and excited for our students. Well done to everyone who received their results today. We are very proud of you and wish you all the best for your future.'