A Level success at Thomas Clarkson Academy
13/08/2020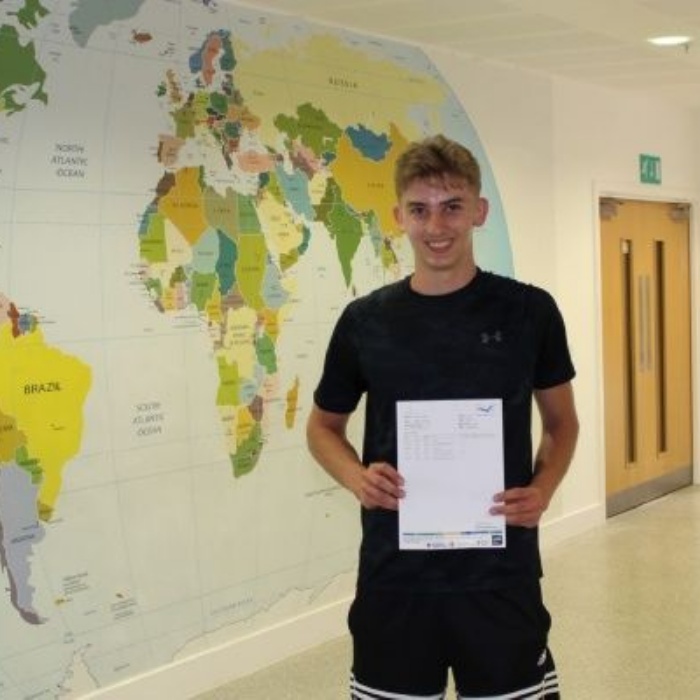 Along with Thomas Clarkson Academy's first Oxbridge student, a number of other students are going on to Russell Group universities for another year running.
Among them is Mantas Jonaitis (pictured above), who is looking forward to starting his accountancy and finance degree at the University of Liverpool. He achieved a B in maths, a B in further maths, a B in computer science and a distinction in business. He was at work when he received an email conforming his place and said he was singing under his breath as he worked! Mantas encouraged our upcoming Year 13s to aim high when it comes to university applications.
Louise Plater (pictured right) is also off to a Russell Group university to study maths and is looking forward to deepening her knowledge of a subject she really enjoys.
Georgia Moore couldn't help but do a celebratory dance when she opened her results to find she'd achieved a B in dance, a B in media and a C in English. She is off to the University of York for a degree in film and media studies.
She said: "I'm very, very happy. It's been a bit of a rollercoaster and we were worried at the beginning about what would happen.
"Finishing at TCA, I know I'll stay in touch with friends so it's the teachers I will miss. I have built up good relationships with them."
Ben Carr was also delighted when he discovered he'd been awarded an A in geography, a B in chemistry and a B in physics. He is hoping to pursue a career in volcanology once he has completed his geography and natural hazards degree at Coventry University.
He said: "I've been looking forward to going to university for two years so the work has paid off."
Vanessa Kaszyk is going on to study biology and said she was pleased that she and her friends got into the universities of their choice. She is hoping to work in marine biology or ophthalmology once she has completed her degree.
Aaron Neale is hoping to apply to the marines once he has finished his degree to pursue a career he has been dreaming about since he was 12.
Saleh Ahmed (left) is moving on to the University of East Anglia to study computer science and is hoping to become a software engineer or work in data science.
He said: "I'm extremely happy to be able to progress forward and move on to the next step."
Erik Rubanov, a keen boxer who has competed at a national leve
l, is planning to apply for a sports scholarship at the University of Lincoln. He would like to box as an amateur with hopes of going professional in the future.
He said: "Boxing is something I'm very passionate about and I think you can achieve what you want if you put the work in."
Head Girl Teagan Lee is looking forward to starting a degree in creative writing and film at Lancaster University.
She said: "It's been a worrying few days but as soon as I opened my email and found out I'd got in, there was a huge sense of relief."
Mr Scott paid tribute to students who have seen huge upheaval to their education in recent months, saying: "It's been the most worrying time that I can recall for young people waiting for their exam results and I can only begin to understand how stressful it must have been for so many of them.
"I am so pleased to be able to congratulate them today and see so many of them going on to the destinations they wanted."