TCA celebrates GCSE Results Day with its students
20/08/2020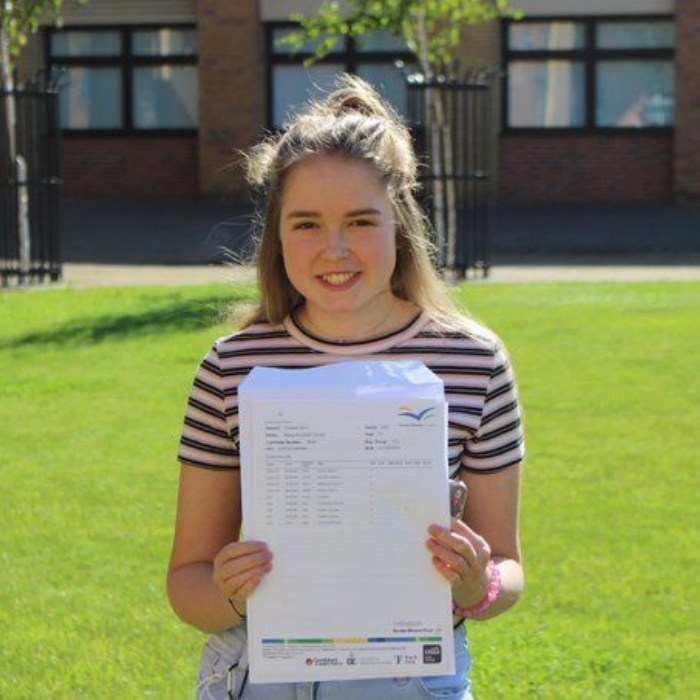 There were some strong performances in this year's GCSE results at Thomas Clarkson Academy, with a number of students achieving top grades.
Many students are returning to join the Academy's vibrant and growing sixth form, taking subjects which include maths, sciences, psychology, English and history.
Staff at TCA were delighted to see students achieve their goals to secure places at colleges or in further education.
TCA's top achiever was James Young, who was awarded seven grade 9s and two 8s. James, who is returning to study A levels in maths, further maths and computer science, said he wasn't expecting seven 9s and had been trying not to think about results day too much.
Another success story was Edward Phoon, who was awarded three 9s, three 8s, a 7 and a 6. After opening his results, he said: "It's a mix of relief and happiness as I've been a bit worried. I think the results are a fair reflection of what I can actually do."
Two of Edward's grade 9s were in English language and English literature and he has hopes of becoming an author in the future.
Aaron Malkin, who achieved four grade 9s, four grade 8s and a 7, said the grades he received exceeded his expectations. He said: "I predicted to my dad last night that I would get 7s and 8s so I'm really happy and relieved. I'm looking forward to coming back – I'm going to do A levels in maths, further maths and geography."
Another high-flying student was Bailey Cordell (pictured top), who was awarded grade 9s in biology, chemistry, maths and physics as well as an 8 and a 7. She is hoping to pursue a career in law.
Alisha Cox said she hadn't slept properly for weeks in anticipation of getting her results, so there were tears of joy when she discovered what grades she'd achieved. She was awarded five grade 8s and two 7s and said: "I was really shocked but so happy. It's been an emotional rollercoaster."
Danny Grieve, a talented rugby player who plays for Northampton Saints under-18s, was delighted to achieve the grades he needed to go on to college where he'll combine his studies with rugby training and development.
He said: "Knowing I had to get the grades for college was the driving force – I knew what I had to aim for. I had mixed feelings leading up to it, especially hearing the news this week, but I'm pleased with how I've done."
Venelina Peneva said she was very relieved when she opened her results to find she'd been awarded a 9/8 in science, two 8s, three 7s and a 6.
Erin Godfrey said she felt very emotional when she opened her results to discover she'd achieved four 7s in maths, fine art, English literature and English language and 2 6s. She is returning for sixth form and would like to go on to university to study an environmental subject.
Principal Richard Scott said: "At a time of uncertainty it was a relief that in the end, the day went so well for so many of our young people.
"It was lovely to see them again and to be able to continue to support them in making their next steps.
"Now, more than ever in these unprecedented times, myself and the rest of the staff wish them all the very best in whatever they go on to do."