BWA's Sixth Formers learn about First Responders
23/09/2020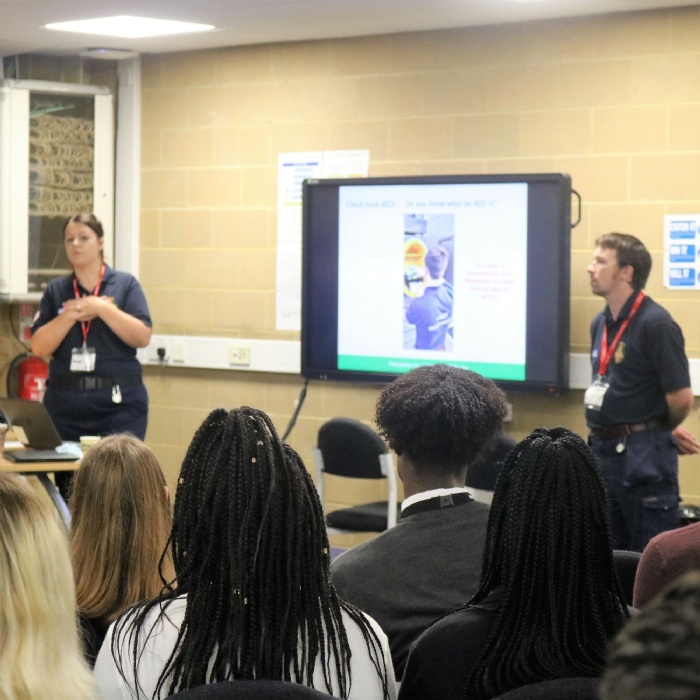 First Responders with the East Midlands Ambulance Service told Sixth Formers at Brooke Weston Academy about the benefits of volunteering.
Stacey Price and Andrew Watson both volunteer with EMAS where trained Responders are often first on the scene of an incident and provide immediate first aid before ambulances or other emergency services are able to attend. They are equipped with oxygen tanks and Entonox and their early intervention can often make a life or death difference.
They spoke about their roles, which also include running training sessions and checking Automatic External Defibrillators (AEDs) in the community and encouraged students to volunteer for activities they are passionate about.
Stacey volunteered after her husband was given life-saving treatment by a first responder following an accident at work. They called the air ambulance, which arrived from Coventry sooner than a land ambulance from Kettering. He is now recovered and supports EMAS by fundraising.
Andrew was involved after he was hospitalised. He said: 'Being in the hospital setting you see the impact it has on the NHS. I thought I had got some first aid courses under my belt so I applied online, have been doing it for 12 months and I love it.'
Stacey said: 'We are advanced first aid trained and are already in the community. We have 12 responders, one on every estate in Corby and are pushing out towards Kettering and have some in the rural areas. You can volunteer as long as you are over 18 and have been driving for at least a year. The only commitment is to volunteer for 200 hours a year, which is equal to four hours a week, but all our responders go well above that. We have nurses, doctors and retired paramedics with us, but you don't need medical training to join up.
'You meet people with the same interests, make new friends and learn skills such as teamwork and communication. You develop integrity and contribute to the community. It is rewarding and has a massive impact on your mental health. Since doing my volunteering and medical training my aim now is to be a heli-paramedic so you never know where voluntary work may lead.'