CBA student inspired by veteran to sign up for charity skydive
10/09/2020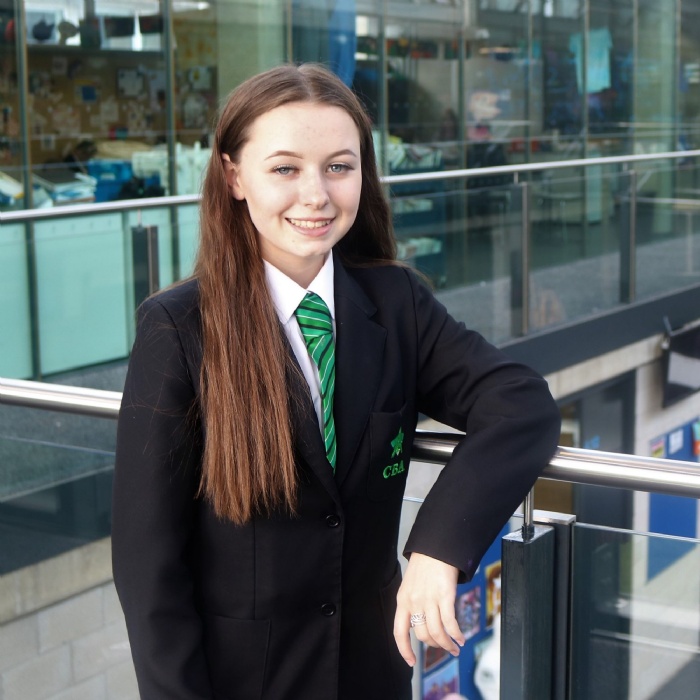 Corby Business Academy student Aimee Ballantyne was so inspired by the bravery of an injured veteran that she is doing a skydive for the Royal Marines' charity and is more than halfway to her £1,000 target.
She watched a documentary about Mark Ormrod who suffered devastating blast injuries in Afghanistan and his determination to overcome all his obstacles shone through and demonstrated that anything is possible.
Aimee, who is in Year 11, said: 'Mark was caught up in an IED explosion in 2007 and lost both legs and his right arm. He wasn't expected to survive. He was then told he would spend the rest of his life in a wheelchair. He thought he would push himself to his limits and was fitted with prosthetics and learned to walk again. Mark has inspired me that anything is possible. Now his fitness levels are greater than before and he has even taken part in the Invictus Games!
'My dad was a Navy medic and he asked Mark to sign a copy of his book "Man Down" as a surprise and he even wrote a little message inside so I wanted to do something in return which is where the skydiving idea came from.'
The tandem skydive is scheduled for March 2021 and Aimee has already raised £600 of her £1,000 target. As well as sponsorship money she is also planning to hold cake sales and sell Royal Marines wristbands and pens.
Aimee said: 'My friends and family have been so supportive and the skydive will be such an exciting experience! When I am older I would like to be a paramedic. I struggle with some subjects and think I may have to take an extra-long route to get there but, since hearing about Mark and what he has achieved, it shows that anything is possible if you keep going and don't give up!'
To visit Aimee's JustGiving page click here.