Delivering a quality build in a worldwide pandemic
14/10/2020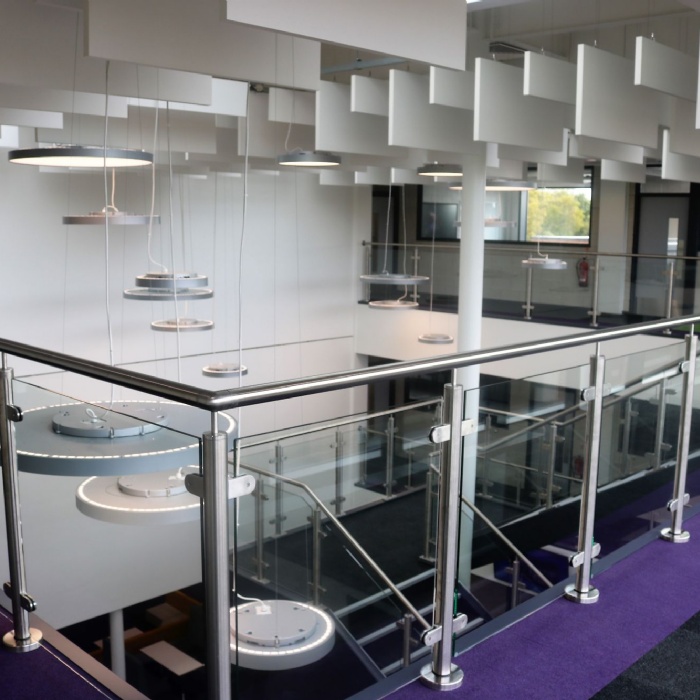 Building a multi-million pound Sixth Form block, to a high standard and tight schedule is challenging enough but the addition of Covid-19 took the project, at Kettering Science Academy, to a new level of difficulty. All the partners involved reacted with agile and workable solutions that enabled the build to be completed with minimal disruption to an already demanding timescale.
The result is stunning three-storey 'campus style' accommodation that is flooded with light, with a full height atrium, classrooms and socialising spaces. It complements the original Academy and will enhance the education of students in Kettering and the surrounding area. A socially distanced handover ceremony took place. For more information click here.
The build was instigated by Northants County Council to counteract a projected shortfall in school places. As it had previously collaborated with Brooke Weston Trust on many successful projects, the County Council approached CEO Dr Andrew Campbell to see whether KSA could accommodate some of the extra students.
Chris Wickens, Capital Programme Manager at Northants County Council said: 'Due to the long and successful partnership working with Brooke Weston Trust and the fact it has a proven record of delivering on our behalf, NCC took a hands-off approach because we trusted BWT to deliver what we needed.
'No-one could have foreseen that the project would have to be delivered in such a challenging set of circumstances with a worldwide pandemic. The project has been managed superbly to overcome various challenges like the supply chain and social distancing on site, which couldn't have gone any better. Achieving the quality of build with the budget has been really impressive.'
The project was procured through the public sector procurement authority Scape Group, using the BECS and National Major Works frameworks. Peter Bignell, senior relationship manager at Scape Group, said: 'COVID-19 has presented a huge range of challenges for ambitious construction projects across the country, so the efforts of Northants County Council, Brooke Weston Trust, Pick Everard and Willmott Dixon to deliver this new Sixth Form so quickly are to be applauded. Upgrading further education facilities is a key focus for government funding this year and will provide the opportunity for more colleges and academies to significantly enhance their offer. It's essential that projects can get off the ground quickly and direct-award procurement frameworks offer a swift route to doing so while bringing quality delivery partners to the table.'
Ollie Hatton, Project Manager at Pick Everard said: 'We have provided project management, quantity surveying, principal designer and energy supervisor services. The foul drain on the Anglian Water drawing wasn't where it was on the record drawings so we had to divert a main foul drain. It took lot of management and was the first of the dilemmas that we managed, along with fitting a new attenuation tank which meant going through planning.
'Due to the threat of lockdown we ordered all of the long lead-in items from Europe so they were on site and the build programme was rescheduled, so there was additional thinking outside of the box by all parties.
'The Brooke Weston Trust has been a great client to work for and very proactive. Trust Estates Director Matt Isherwood is always looking to get a solution and we are always looking to mitigate the risks. It has been a very good project and will be a great asset to the school and the Trust.'
Paul Gibbs, Pick Everard's Associate Director in Project Management said: 'Collaborating with other contractors has brought about the best building design solutions so it has been a combination of best practice of working with Brooke Weston Trust over the years, but also working with new initiatives from the design team.
'Matt is very hands on and knows what he wants … to make sure the Trust is getting best value aesthetically and functionally. The way we have worked together and got around the table is a good example of how things can be done.'
Senior Building Manager, Allun O'Brien from Willmott Dixon said: 'We were originally working to a 56 week fast-track programme, which was extended six weeks further due to Covid-19. Ahead of the national lockdown, we secured key materials such as additional blockwork, ceiling tiles, acoustic baffles and light fittings to ensure we would be able to continue with works despite increased demand and limited supply. We also brought forward the refurbishment element of the project, taking advantage of the parts of the school that were now empty.
'Despite the challenges presented by Covid-19 and a two week shutdown on site, the team's quick and forward thinking enabled us to very swiftly implement safe working practices which minimised delay. We brought in other trades, brought groundworks forward allowing us to start certain operations earlier, split shifts and moved meetings onto digital platforms like Skype and Teams. Our main challenge was securing mortar and ensuring bricklayers could work compliantly at an appropriate distance.
'We achieved two very high Considerate Constructor scores through implementing restricted working hours and minimising noise for local residents. We also achieved our social value target, investing back into the local community through various initiatives including employability support, career-based events and the use of local labour and materials. In total, we've had over 350 people involved across the duration of the project. The brick and blockwork really does set it apart - architecturally it's a very crisp building and one that the whole team is very proud of.'
Kettering Science Academy's Principal, Tony Segalini said: 'I, the staff and students are incredibly excited about our new block and we are looking forward to developing our successful Sixth Form in this new state-of-the-art building that is a stunning addition to the Academy.'
Trust CEO Dr Andrew Campbell said: 'I'd like to pay tribute to everyone involved in the project, including Matt Isherwood and Willmott Dixon for ensuring the build continued during lockdown. It will be a great asset, both for the school, and the town, so thanks to Northants County Council and all the partners involved for delivering such a successful project in these most testing of times.
'Brooke Weston Trust continues to work hard to provide the very best learning environments for all of its students. This wonderful new Sixth Form centre at Kettering Science Academy is the latest example of our partnership with the local authority and we are extremely proud of the project.'
For a gallery of pictures from September 2020 click here.
For a gallery of pictures from June 2020 click here.
For a story about the build progress in April 2020 click here.
For a story about the Considerate Constructor awards click here.
For a gallery of pictures from January 2020 click here.
For the story from January 2020 click here.