Apprentice Molly enjoys IT role at BWA
02/11/2021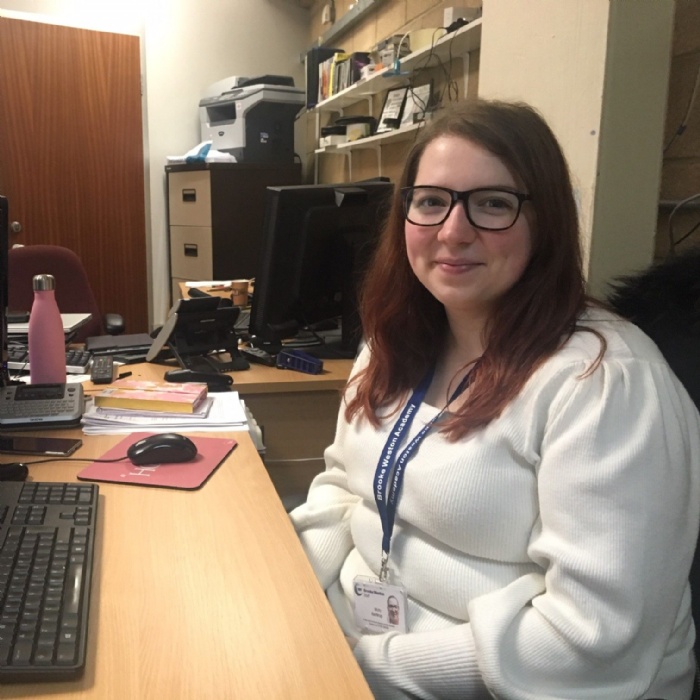 Molly Barltrop, the IT technician at Brooke Weston Academy is enjoying her new role as it is so varied and people-focused.
Molly, who joined the school in September, works alongside IT Manager Ivan Chan to ensure that students and staff have the best IT service and support.
She said: 'I hadn't had any formal previous experience but have been working with computers my whole life and my brother has taught me how to build computers since I was young. I used to be really introverted and have come out of my shell so much and now talk to people so easily. My problem solving is getting better day in and day out because there is always something new to tackle. I deal with laptop queries, connection problems and everything to do with IT at every level of the school.
'Ivan has been a huge support and, when we have any free time, he shows me how to do things, such as taking apart and assembling computers. As well as working at school I also have other assignments to complete for my two-year apprenticeship.
'I have built up good relationships with the other IT apprentices in the Trust secondary schools, particularly if there are shared issues to overcome. I have much more technical knowledge now, even just a few months in. I don't think anyone would have the complete knowledge of IT as things change every day but it is a job where you keep learning. Every day is varied, that is why I love it so much.
'The people make the job 100%. As much as I love IT being in this job has made me realise how nice it is being surrounded by lovely people and being able to help them with their IT. It is so rewarding in so many ways. I love it. You get intense periods but it makes the job so different.'