Beanfield's Caeden shortlisted for the Spirit of Corby Awards
03/08/2021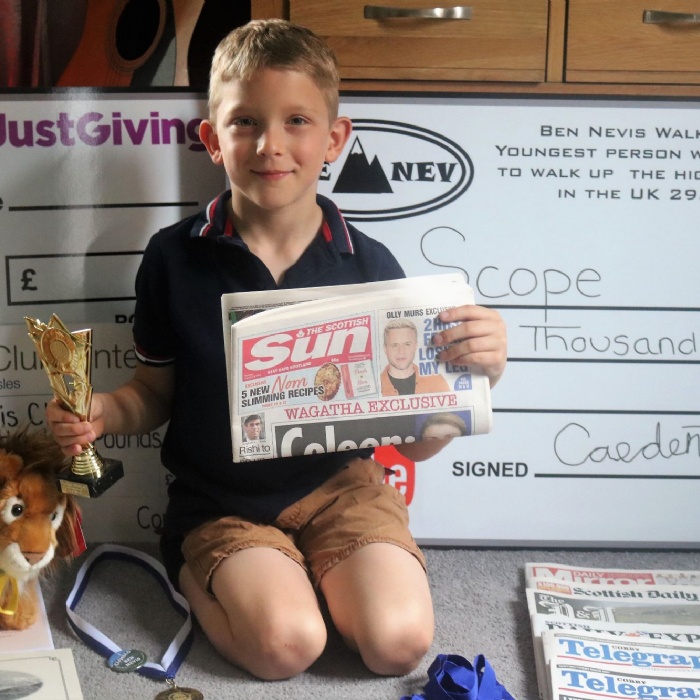 Please vote for Beanfield student Caeden Thomson who has been shortlisted for the Spirit of Corby Awards.
The community can cast votes for the person they wish to win and voting begins at noon today (Monday) and closes at noon on Friday.
Caeden, who has cerebral palsy, hit the headlines last year when he and his family completed an amazing charity walk up Ben Nevis which raised nearly £23,000. The money was donated to Kettering General Hospital, St Mary's Hospital, Kettering's Sudborough House, and charity Scope and Caeden plans on continuing his fundraising once lockdown eases.
Over the past few months Caeden has appeared on national television, been named as a 'Point of Light' by the Prime Minister and most recently won a 'Rose of Northamptonshire' award.
His mum, Lisa said: 'Caeden has been overwhelmed by the publicity and support of the local community and so being nominated for the Spirit of Corby award is hugely exciting for him. The local support he has already received has been phenomenal and he would be delighted if people want to vote for him in this award process. We are planning further fundraising after lockdown as Caeden really wants to give back to the medical professionals who have helped him so much on his journey.'
To vote for Caeden and see all the nominations please follow this link https://www.corby.gov.uk/vote-your-2021-spirit-corby-winners between the dates and times mentioned above.