Trust Senior Operations Manager leaves to run his own business
24/03/2021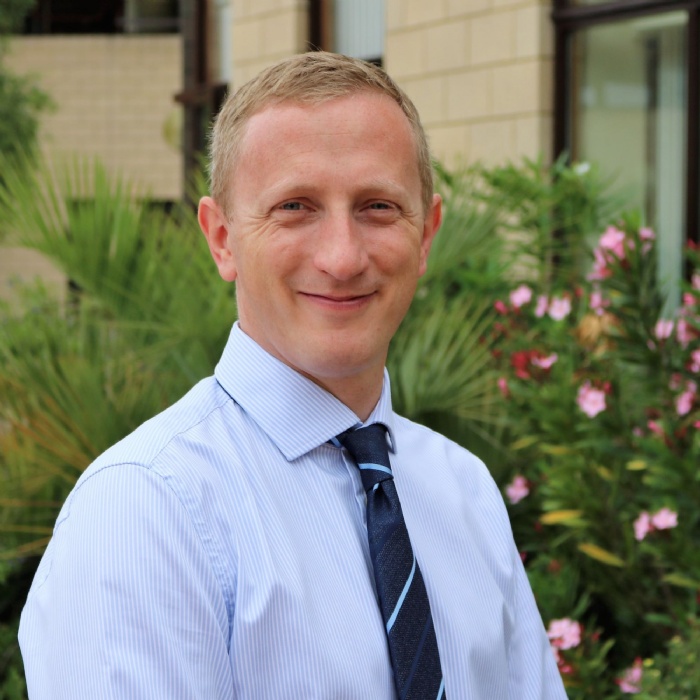 Tim Laws, Brooke Weston Trust's Senior Operations Manager is leaving to run his own business, using the wide range of skills he has developed while working with us.
Tim, who was first appointed as Business Manager at Kettering Science Academy in 2014, oversaw operations in five of our schools as Cluster Business Manager before being promoted nearly four years ago with responsibility for all ten schools.
He says being visible in school and making strategic decisions at the right time, is key to the role. He has enjoyed implementing major projects, such as the move to GDPR in 2018 and, more recently, outsourcing Trust IT services to RM, which has meant that we have had the infrastructure and support to deliver online learning during Covid.
He said: 'I started at KSA in February 2014. We introduced the community lettings programme, helping to position the school as a real community resource, and implemented a more joined up approach across the school support services.
'As Cluster Business Manager I worked with a real mix of schools comprising KSA, CBA, Compass, CTS and Gretton. I learned a lot from working with different school leaders and alongside the other Cluster Manager, Chris Stewart with as much consistency and joined-up thinking as possible.
'The breadth of the Operations Manager portfolio has been really exciting comprising health and safety, HR, procurement, catering, IT and estates. It has been a privilege working with such a broad range of colleagues with such a depth of knowledge.
'The two biggest challenges were preparing for GDPR which was a significant challenge for every organisation in the country. At the same time the work around the centralisation and outsourcing of the IT service was exciting and I am so proud to have delivered that because RM has given us a strong IT foundation for students and staff. One of the things that I am most proud of is that I have become the person that anybody can ring if they don't know who else to contact, and I like to think I can usually help!'
Tim is grateful for the support he has received from colleagues including CEO Dr Andrew Campbell, Trust Finance Director Debbie Tysoe, Chris Stewart as well as Principals and the Trust Central Team.
'Regardless of how challenging things can be we remind ourselves of the difference we are making, whether it is back office work or a multi-million pound project that makes a real difference. My advice to my successor would be "keep focussed on the impact we can make for children and young people. If you can't draw a line from our work to improving the experiences or wellbeing of children, we probably shouldn't be doing it. And make sure you meet people in the schools at all levels because it is about understanding our operations and forming productive relationships."'
'One of the real joys was seeing the impact of your work and creating something new for students and staff. I take with me a range of skills that I never would have dreamt of acquiring when I arrived at Kettering Science Academy seven years ago. There is no doubt this role has matured and equipped me for the next phase in my career. Ultimately my job has been about managing relationships and making sure that we are delivering hard and fast where we can, but not where we shouldn't and delivering the tough messages as well as the good news.'
CEO Dr Andrew Campbell said: 'Tim has been a big part of BWT's development over the last few years. He will be sorely missed and, on behalf of the Trust Board and all his colleagues, I wish him every success in his new adventure as a business owner. Thank you Tim, you've been great.'