Young Enterprise Team Programme – 'Special Days' at Corby Business Academy is Company of the Year 2021!
21/06/2021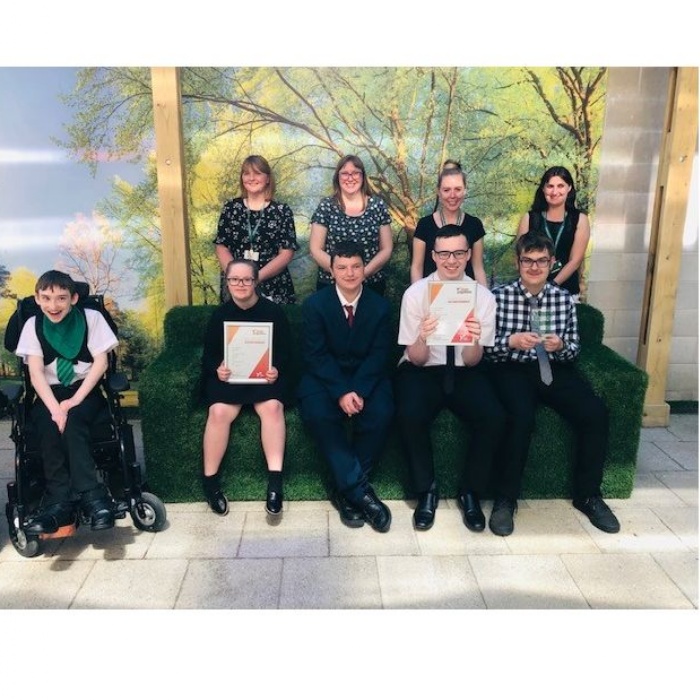 A huge congratulations from everyone at Brooke Weston Trust to the 'Special Days' Young Enterprise Team at Corby Business Academy who have been awarded overall winners of the Team Programme Company of the Year!
Each year the Unit Sixth Form participate in the Young Enterprise Team Programme – this is an enterprise journey for SEND students designed to aid transition from education into adulthood developing independent living and employability skills. This year's Team Programme company is called 'Special Days', led by Managing Directors, Dillon Still (Year 13) and Sophie Edwards (Year 12). In order to help us feel connected with each other during the pandemic, the company developed a range of birthday cards to ensure those special moments continued to be celebrated.
The Programme includes three standalone competitions: 'Best Logo', 'Best Advertisement' and 'Best Presentation' which informs who will be the overall winner of the 'Company of the Year'. 32 companies took part this year, from which Special Days came in 2nd place for 'Best Logo', 2nd place for 'Best Advert' and 1st in 'Best Presentation'. This led to Special Days being selected as the overall winner of the Young Enterprise Team Programme Company of the Year. Nikki Clark, SEND teacher at CBA describes how proud she and everyone else in CBA is of the team. Nikki noted that the Programme has been really helpful to keep students connected during the lockdown and become a team.
Special Days attended the virtual ceremony at the National Company of the Year Awards on Wednesday 16th June 2021 where they celebrated the win they very much deserve!
Young Enterprise Team Programme Outstanding Individual Achievement Award 2021
Congratulations to Dillon Still who was nominated in May 2021 by his SEND teacher, Nikki Clark, for Outstanding Individual Achievement Award in his region. After winning the award for the region, he then went on to win the national Outstanding Individual Achievement Award for 2021!
Dillon was nominated for the Outstanding Individual Achievement Award due to his role as 'Managing Director' for the Young Enterprise Team, Special Days. After being voted in by his peers and staff, Dillon led the team to success for the 'Best Logo' and 'Best Advert' competitions, whilst also meeting sales targets. Under Dillon's leadership he ensured that he listened to the views of his team in order to make fair and balanced choices for the company and ensured that all deadlines were met. During lockdown, Dillon was fully involved with the Team programme through weekly online meetings.
Jenny Scully, Young Enterprise Programme Support Manager said the feedback was so positive and his development so very clear - he's obviously done a great job for the team and progressed so much himself. Nikki Clark, SEND teacher at CBA, added that Dillon has developed his communication skills and his self-confidence, now speaking up in group discussions. He even did the voiceovers for the Special Days' video presentation. Nikki describes Dillon as a strong team player, keen to attempt all tasks and to support others and overall, as a worthy candidate for the Award.
On behalf of everyone at Corby Business Academy and Brooke Weston Trust, congratulations Dillon – well done!
For more information about Corby Business Academy, please click here.