Corby Technical School hosts prestigious national conference
18/03/2022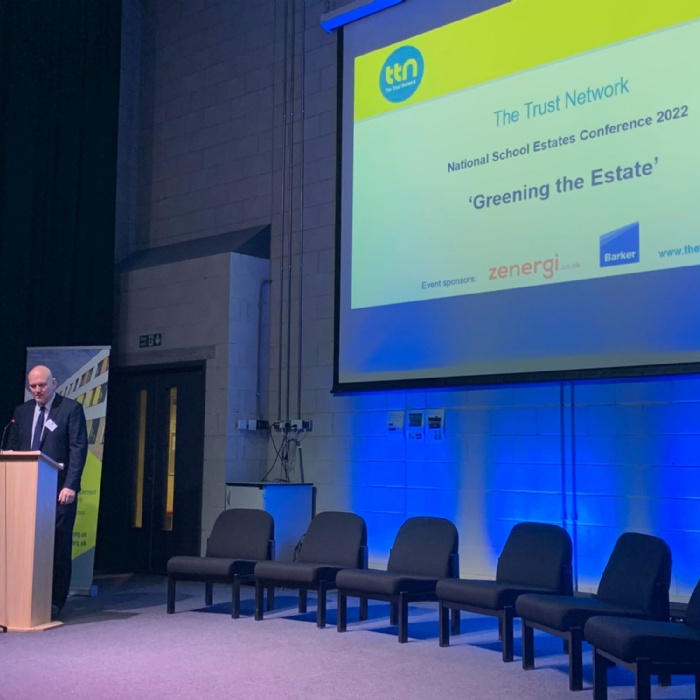 Last week Corby Technical School, part of the Brooke Weston Trust, hosted The Trust Network's 'Greening the Estate' National Conference 2022 – the organisation's first face to face event in almost two years.
The Trust Network is a network for all independently run, state-funded schools providing its members with an opportunity to share best practice and exchange knowledge. Founded by Brooke Weston Trust and Ormiston Academies Trust in 2014, the network has grown to represent around 500 Trusts nationwide.
Over 175 delegates from schools and MATs across the country attended the 'Greening the Estate' conference, which aimed to support schools to implement efficient and cost-effective estates management.
Attendees enjoyed opening messages from Parliamentary Undersecretary of State, Baroness Barran MBE, Chief Operating Officer at the Department for Education, Mike Green, and the Director of Department for Education Capital, Rory Kennedy.
The group also participated in workshop sessions, with topics covering 'getting to net carbon zero', 'getting buy-in from personnel on your environmental policy', 'estates strategy for trusts', 'assurance and risk management as a responsible body', and 'getting the most from your school estate'.
Director of Estates at Brooke Weston Trust, Matt Isherwood, delivered a workshop alongside Jonathan Coyles from EO Consulting and highlighted the strategy and tactics a Trust could employ to achieve the 2035 carbon reduction targets.
He said: "We were thrilled to welcome back nearly 200 delegates, exhibitors and presenters to Corby Technical School for The Trust Network Conference 2022. The workshop sessions provided attendees with how to case-studies and insight into the art of the possible, as well as motivation to work toward decarbonisation.
"Thank you to everyone who attended. The enthusiasm of the delegates, the commitment of the exhibitors and the time given by the experts made the conference such a success. We all look forward to the 2023 conference."
Brooke Weston Trust is a multi- academy trust in the East Midlands, with a mission to transform educational performance across local communities in which it operates.