Sadie has the recipe for award success at Thomas Clarkson Academy
06/01/2022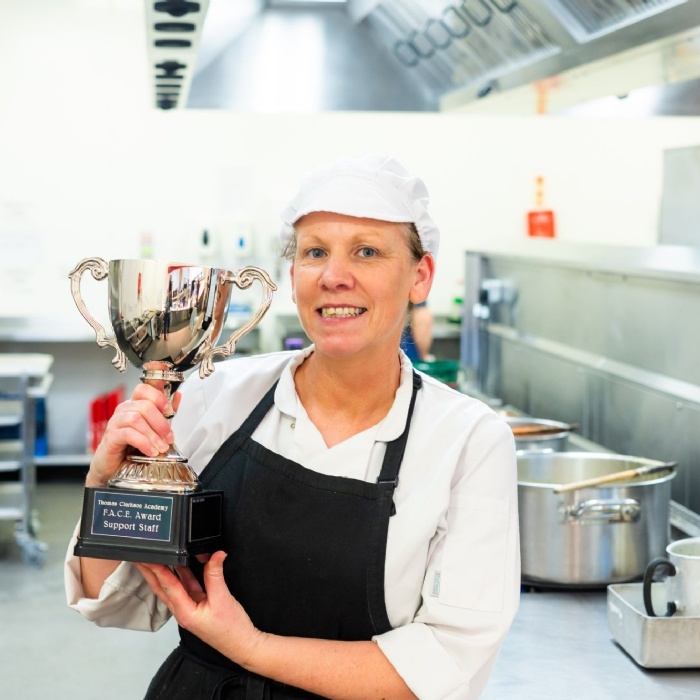 A popular caterer has been presented with an award for her phenomenal work in catering for students and staff at Thomas Clarkson Academy.
Sadie Cooper is Head Chef at the academy, which is based in Wisbech, and her dedication to the role has not gone unrecognised by her supportive colleagues.
A new category for Best Support Staff has been added to a popular in-school awards programme already in operation – and Sadie is the first recipient of the accolade.
The awards at Thomas Clarkson Academy, which are presented each term, recognise teachers and support staff for their positive influence on the education of its students.
Emma Burt, Business Manager at Thomas Clarkson Academy, said: "Sadie works tirelessly along with her team to ensure all our students and staff have access to high-quality food before school, at break and lunch time. With an ever-increasing student population, Sadie has always risen to the challenge.
"She is a credit to the organisation and the decision to award Sadie the trophy was made by our Principal, Richard Scott, with everyone agreeing that she really deserved the recognition. There was a huge cheer when it was announced, I think that reflects the admiration we all have for the work she does."
The catering team at Thomas Clarkson Academy looks after around 1,500 students and staff on site – providing meals for all tastes as the numbers opting for school meals continue to rise.
During exam season, which is currently in effect, Sadie and the caterers provide an early lunch for those taking afternoon exams to ensure they can fully concentrate on their work.
Theresa Jackson, Head of Catering at Brooke Weston Trust, said: "We all know how important it is to get a balanced, nutritional meal during the day – especially when undertaking teaching, learning, and exams. A big congratulations to Sadie for her excellent work fuelling our staff and young people at Thomas Clarkson Academy so they work hard and realise their potential – we're so proud."
Brooke Weston Trust is a multi- academy trust in the East Midlands, with a mission to transform educational performance across local communities in which it operates.