Introducing the new Safeguarding Officer and Designated Safeguarding Lead at Compass Primary School
26/09/2022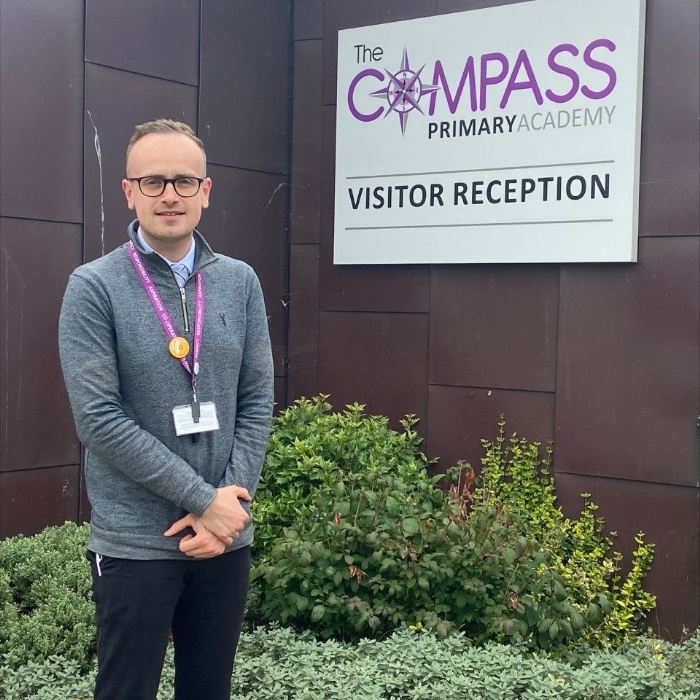 Callum Reilly has recently been promoted from Education Welfare Officer at Beanfield Primary School to Safeguarding Officer and Designated Safeguarding Lead at Compass Primary School in Kettering.
We caught up with Callum to find out more about his move, and gain insight into how Brooke Weston Trust has supported his development.
Tell us a little bit about your background in education?
I've always enjoyed education right from an early age and often chose to work in schools whenever I had the chance – like doing work experience in Year 10 and working as a Student Teacher at my local music centre. When I was 18, I went to the University of Sunderland and studied Community Music which led me to work within schools and lead musical projects with staff, parents, and the local community.
I did more of this when I moved back to Corby after university – eventually getting a role as Pupil Welfare Assistant in June 2017 at Beanfield Primary School. I progressed at Beanfield until I reached Education Welfare Officer which was my previous role. It was such a varied role and I loved it because no day, or hour, were the same! The school has an exceptional community spirit and an ethos of nurture and care.
Tell us more about the move, how did it come up?
I've always been an open person and if something comes up that I like the sound of, then I'm always one to go for it and challenge myself. When I saw the new role at Compass Primary Academy, I thought it would be a good step for me and discussed it with the Trust. At the time, I wasn't looking to leave Beanfield but when it came up, I thought that it would be good to put myself forward.
It took a lot of thought but when I eventually did apply and was successful in gaining the position, it was really nice to hear that everyone fully believed in me. It was sad saying goodbye to Beanfield, but I'm still so glad to be a part of the Trust and remain friends with my colleagues.
I went through the process in Easter and was appointed shortly afterwards. That meant I had just a few weeks to do my handover and let families and children know I was going. It felt like a bit of a whirlwind, but it all seemed to fall into place! I have settled in well at Compass and everybody has been very welcoming and supportive.
What kind of opportunities has the Trust giving you to enable your development?
A big one for me has been completing a master's degree with the Pen Green Research Base and University of Hertfordshire. After seeing that Pen Green in Corby was offering the qualification alongside work, I let the Principal at Beanfield know I was interested, and the rest is history! The Trust's response was so positive, and it was great to see how keen they were for me to further develop my learning.
In terms of other courses, qualifications, and training opportunities, there's been loads! To name a few, I've done sessions on protective behaviours, safeguarding training, and counselling courses. The Trust has been fantastic at approving and providing these too and always seeks to invest in their people. I've found that if you see something that interests you, all you need to do is let them know and they'll do whatever they can to support you.