Staff Focus: C/Sgt George Abbott
25/11/2022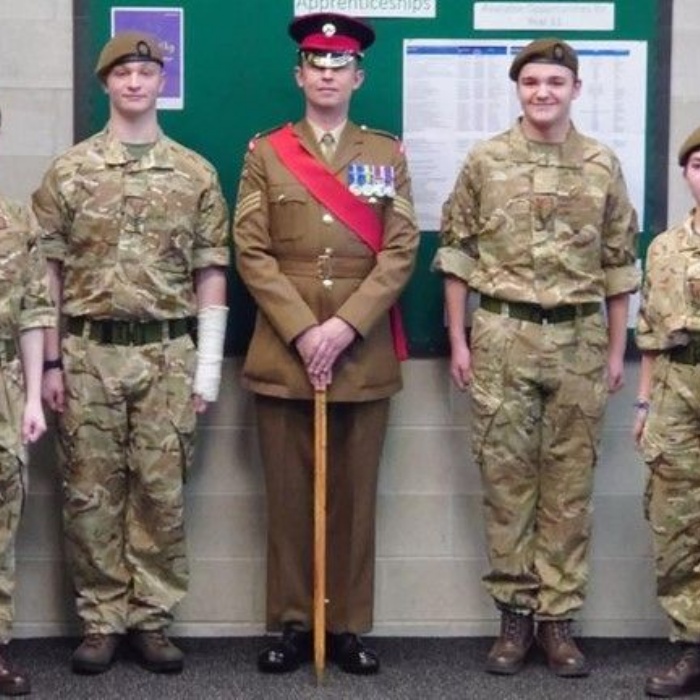 Site Supervisor, Corby Business Academy & Assistant School Staff Instructor for the CCF at Brooke Weston Trust
Colour Sergeant George Abbott spent years in the Grenadier Guards and completed several tours of duty in war-torn countries before stepping away from active service and starting civilian life as an employee at Corby Business Academy. After quickly becoming a valued member of staff, it wasn't long before George became a key member of the CCF community at the Trust, enabling him to share his Military passion and experience. Earlier this month we spoke to George about his military background, his career journey at Brooke Weston Trust and what he enjoys about his involvement in the CCF…
Can you tell us a bit about your career background?
After eight years in the Grenadier Guards completing various tours around the world, I was deployed to my first operation in Bosnia. Following that, I was promoted to Lance Corporal, where I was due to go to Iraq, but unfortunately, I got injured and didn't make it over there. Once recovered, I was deployed to Afghanistan many times.
After completing a Close Reconnaissance course, I was promoted to Lance Sergeant where I took charge of the platoon in my final tour of Afghanistan. As you can imagine, the tours were intense and certainly took their toll on my mental health. After years of serving (and seeing some brutal things), I was diagnosed with PTSD and realised that I needed to leave the military for civilian life.
It wasn't an easy transition, as I don't have any formal qualifications so I had to find my feet in the 'normal world' by trying out various jobs, before being approached (via an agency) about the Site Supervisor role here at Corby Business Academy. The job description suited my skills in practical problem solving and I knew that it would be a role I'd take pride in. The safe and effective running of the school site is a big responsibility.
Upon starting at the school, I noticed a lot of military paraphernalia around the place and after my first few meetings with Matt Isherwood, we quickly identified that we each had an interest in all things military, so he asked me to get involved in the CCF along with Nigel Barrett who's the regiment, Sergeant Major and the backbone of the CCF.

Tell us more about the CCF role
My colleague Nigel and I are responsible for all the cadets and the training of CCF staff throughout the trust. The secondary schools that run CCF each have two teachers who lead their groups. It's quite a big investment to take teachers out of their day jobs once a week to ensure that everyone gets the proper training and development they need, so all credit to Dr Campbell, Chief Executive of Brooke Weston Trust, and Andy Burns, Chief Education Officer, as they've been enthusiastic about CCF and see the value in it and what it can do to develop skills in young people.
I think a lot of people don't realise how much work goes on behind the scenes at CCF. For example, a recent 48-hour exercise we did at the SANTA military training area (in Thetford) took about 150 hours of planning. You can't just turn up with 150 unprepared cadets! They need to be confident and well-rehearsed, so we start them off on an air rifle, before working up to paintball guns and eventually the L98 assault rifle (which is what I used when I was in the army).
Do you get a buzz out of it?
Absolutely! The fact that we put so much into the preparation of each exercise means that the kids have a really exciting and fulfilling experience. You can tell how much they love it and it reminds me of my younger days! We get a great calibre of students at CCF. They're enthusiastic and keen to learn new skills. Many of them do come alive on exercises – they're great kids!
One of my highlights was earlier this year, at our summer camp. It was so hot and the cadets were running about with all their heavy kit (burgen, chest rig, ammo) and their weapons on, with lots of shouting and banging noises, ready to go into an attack situation – the atmosphere was electric! I played the enemy which was a lot of fun!
Another exercise is called "First Bite" – which all new cadets attend. It's 48 hours of map reading, patrol skills, fielding, Close Quarter Battles and concealment – it's proper infantry fieldcraft and develops so many life and leadership skills.
After leaving the military, I found it hard and unconsciously began to detach myself from certain things like attending Remembrance Day services so this CCF role has helped to fill that gap in my life and given me a sense of myself again. Having not previously worked with young people, I've been really supported in my training and development with lots of courses and coaching.
What are you looking forward to this year?
In March, I'll be completing an Exercise Conducting course for Officers. It will enable me to better plan my own exercises and take cadets out under my own steam. I'm really looking forward to it and it's great that the Trusts allow me to take time for professional development. It's a real testament to how much they value CCF.
In March the students have got a three-day 'weapons concentration' exercise at Water Beach in Cambridge. This important training exercise for first-year incorporates loading, unloading drills and stoppage drills. Everything that a junior adult soldier would be trained on. Last year, we took about 80 cadets and every single one of them passed, so it was a great experience.
Next year's CCF summer camp will be in Scotland for 7 days and I'm really looking forward to that as it involves about 70 of our CCF students putting their training into practice but also having lots of adventure like abseiling and high roping.
I'd like to publicly acknowledge my amazing site colleagues. It's a great team to work with. Carl, my manager is very supportive and Vic and Howard are wonderful to work with. We're lucky to have brilliant leadership from Simon Underwood (Principal of Corby Business Academy) too.
What's been the biggest surprise about life after the military?
Believe it or not, out of all the scary things I've done in my life so far, I'd say that standing in front of teenagers has been one of the most daunting yet rewarding experiences!