Corby Business Academy bring festive community cheer as students take to the stage for annual Winter Showcase ​​​​​​​
12/12/2022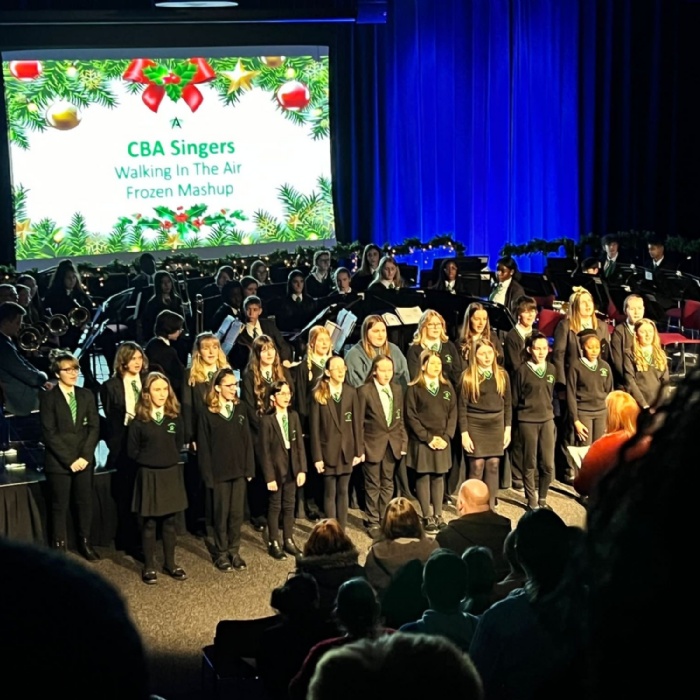 Over the past few weeks, students from Corby Business Academy, part of Brooke Weston Trust, have enjoyed participating in a series of Christmas concerts, performing to more than 2,000 members across the Corby community.
Corby Business Academy (CBA) provided performances to other local schools in the area including Beanfield Primary School and Gretton Primary Academy (who are also part of Brooke Weston Trust) and to Priors Hall School, as well as its own school community, culminating in a grand Winter Showcase which was held on Thursday 15th December.
The Winter Showcase featured many ensembles from the school's Music Department including the Concert Band, CBA Singers, Brass ensemble, Big Band as well as a joint effort of 'The 12 Days of Christmas' song sung by members of the audience.
The concert also featured some talented soloists including Corby Business Academy's Year 11 students Holly who performed a rendition of 'In the Bleak Midwinter' and Viktor who performed 'The Snowman' by Sia.
Other soloists include Michella in Year 8 on the clarinet, Atiya in Year 10 on the saxophone, Grace in Year 10 for her vocals and Courtney in Year 9 also for her vocals.
Simon Underwood, Principal at Corby Business Academy, said: "We are immensely proud of all the musicians who have performed over the past week. They have been such hard-working individuals who have represented the academy extremely well.
"It was excellent to see us all being able to celebrate the Christmas period together and to showcase our students' talents.
"They did such a wonderful job performing in front of a live audience whilst also helping them to gain more confidence and improve their showmanship."