Beanfield Primary School opens new 'Sharing Shed' to give back to the local community
02/01/2023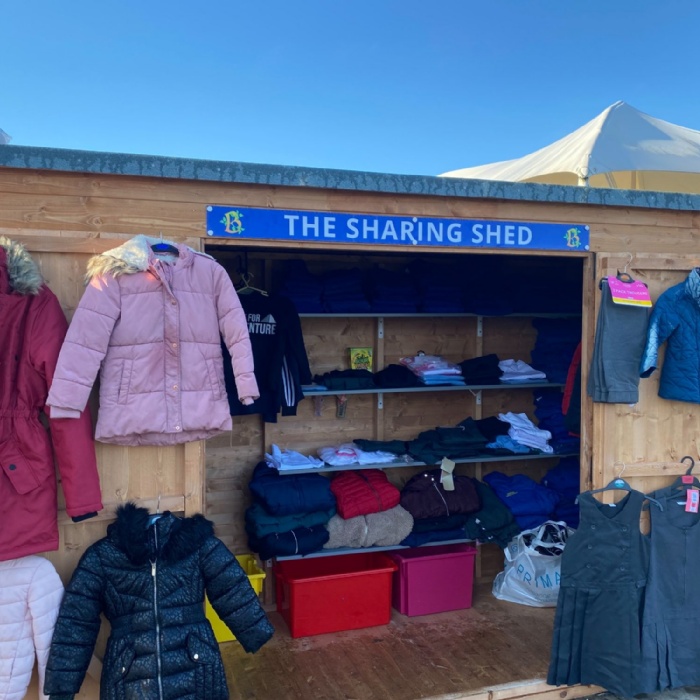 Beanfield Primary School have created a 'Sharing Shed' containing school uniform, coats, hats, scarves and shoes for its families to use when they need them.
The school has been looking at different ways it can support its families as the cost of living continues to rise. With funding provided by the Member Empowerment Fund from North Northants Council, the school were able to create a 'Sharing Shed' for children and parents at the school to use.
All items of clothing that make up the school's uniform are now displayed outside, with the shed opening daily for parents to collect clothing as and when they need it. This will allow parents to help themselves to any items anonymously rather than having to ask staff first.
Sarah Fleming, Safeguarding and Behaviour Manager at the school, said: "We understand that some parents may face anxiety or might be too embarrassed to ask for help when they need it. However, this sharing shed takes away this factor and allows a safe place for parents to go to and use without any fear of judgement.
"At Beanfield Primary School, our team are incredibly passionate about being there for our young people and their families at times when they need it most. We are extremely grateful for this grant and would like to thank North Northants Council for providing us with the resources to really show our support and hopefully ease some of the financial pressures that our families might face."
Cllr Jean Addison, who was involved in providing funding to the school, said: "Cllr Alison Dalziel and I are very pleased that we were able to contribute money from our Councillor Empowerment Fund to this worthwhile project. We understand the pressures that parents and carers are under during these difficult times, and we are sure that this project will be of benefit to parents and students at Beanfield Primary School going forward."
The school also provide other means of support to families through regular food bank donations. If you would like more information on this, please contact the school at: foodbank@beanfieldprimary.org