The role of Estates Management in School Improvement at Brooke Weston Trust
15/02/2023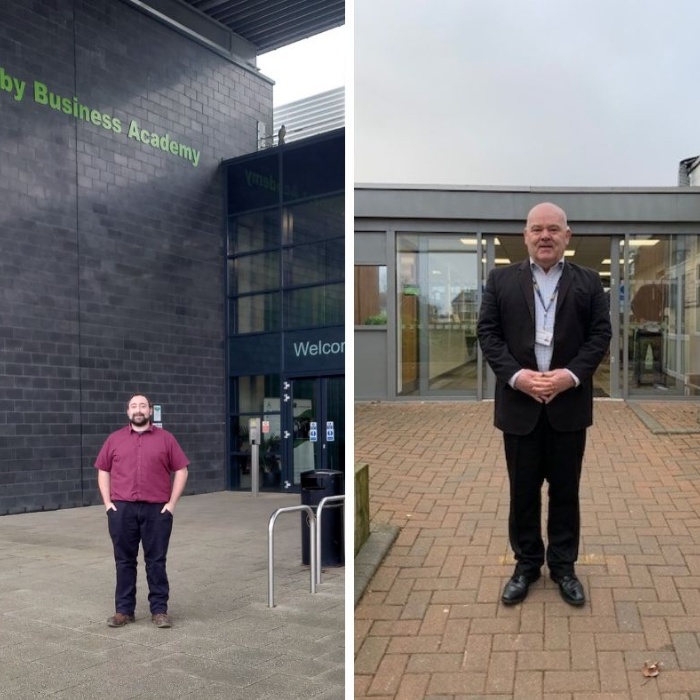 At Brooke Weston Trust our mission is to transform educational performance and remove barriers to learning while providing opportunities for personal development. This mission cannot be achieved without our fantastic Estates and site teams who work relentlessly to keep our buildings safe, warm and dry… but more than that, they ensure that we are fit for the future, delivering school improvement plans on time, within budget and to the highest of standards. We spoke to a few of our Estates colleagues from across the Trust to find out about the role they play in improving our schools.
Pride in our Estates
Before leaving us (for a new role advising School Estates teams at a national level), we spoke to Matt Isherwood (formerly our Director of Estates at Brooke Weston Trust) to get his thoughts on the property portfolio and the teams that look after it.
"We are fiercely proud of the school properties across Brooke Weston Trust. It's a diverse mix of buildings - we've got old Victorian primary schools which are relatively small through to large Secondary modern buildings (and everything in between). They each present different challenges and requirements but with the common themes of maintaining safety and efficiency".
The site team at Kettering Science Academy is one of our many examples of great teamwork in reduced utilities-expenditure. This allows the school to redirect their funds towards enhancing the built environment for teaching and learning. Kettering Science Academy have reduced their utilities spending by a third, which is a great achievement.
Maintaining standards in a difficult financial climate
Identifying the biggest challenge, Matt said: "Our buildings are in excellent condition generally (compared to many school estates), but with that, comes the ongoing challenge of maintaining those high standards against reduced government funding".
Corby Business Academy was opened in 2008 at a cost of £38 million, a few years later, Kettering Science Academy, with a similar footprint was opened for £26 million and most recently Corby Technical School opened for £10m, followed by its extension for about £6m. So there's been an ever-decreasing slide in capital funding from the government.
"We're always trying to find more agile ways of delivering high-quality buildings for decreasing funding levels. This comes from systemizing and standardizing things and making savings where appropriate."
Brooke Weston Trust has Sustainability very high on its agenda. Matt continued: "When we take on new building projects, we try to utilise the local workforce, local contractors and local design teams, for example, when we built Kettering Science Academy's 6th form extension (during the Covid pandemic), the furthest supplier was 70 miles away but the majority of suppliers were within a 30-mile radius, which demonstrates our desire to add value to the local economy. We employ a variety of sustainable technologies in our schools, including solar-generated electricity and LED lights to control systems. We've moved all of our utility contracts to green energy sources which has enabled us to halve our electrical demand from the grid, so sector-wise, we're ahead of the curve regarding our transition to a net carbon future."
A great example of this in action was outlined by James Green, Facilities and Estates Manager at Kettering Science Academy: "it can be overwhelming when tasked to deliver excellent service with the current fuel crisis and rising prices on supplies and services, but once we took the low-hanging fruit on energy savings of LED upgrades and PV panels fitted we started looking at the marginal gains of lowering temperature set points by 2 degrees, turning off the plant when the building is not in use and adding timers to lighting and power. All of these additional marginal gains contributed to an 8% reduction to the overall energy consumption".
The changing needs of schools
Increasingly, schools are becoming about so much more than just academic studying. They're being asked to provide social care and SEND activity without additional funding to provide these spaces, so we have to make strategic choices and it's not always easy. School spaces need to be agile so that they can work in a variety of ways over the lifetime of that building.
In recent times, this has never been truer, James Green noted: "Throughout Covid, the environment changed and needed to be as multifunctional as possible to accommodate multiple subjects in one area because of the teaching 'bubbles' across year groups.

Optimism about our ability to adapt to future needs
We have a much better collective understanding of project dynamics these days. Matt went on: "We've introduced simpler terminology for reviewing projects that look at cost, time and quality. We've also introduced comprehensive assurance mechanisms and protocols to monitor the compliance of our properties. Our fully-digitized estate data management system allows upward reporting and drives meaningful conversations with schools to ensure that their spaces are suitable for modern curriculums."
Carl Wyatt, Site Manager at Corby Business Academy has been in his role for nearly three years and in that time, has been involved with multiple projects including the construction of a new external changing facility, a science faculty refurbishment, a whole site LED lighting upgrade and the upgrade of the sites hot water calorifiers. He is currently working on several upcoming projects including the installation of new energy-efficiency technologies and a new sports hall floor.
A budding environmentalist, Carl continued to tell us about a particular area of pride; energy efficiency and biodiversity at the site he oversees.
"At Corby Business Academy, we've reduced our annual electricity consumption from 811,271 kWh (£389k @ 0.48/kwh) to around 380,00 kWh (£182k @ 0.48/kWh) since 2019. We have also signed up to the ECO-Schools initiative and are currently working towards green flag accreditation through continued efficiency savings, improved recycling and improved environmental management of our grounds".
Furthermore, Carl has recently had a successful application to the Woodland Trust, resulting in the provision of 300 UK native tree saplings. He added "I'm really looking forward to planting the trees in Spring hopefully with student participation. "
Proud of our achievements and our people
Having recently won a Civic Trust award for the design of Kettering Science Academy, Brooke Weston Trust was applauded for creating "a resource for the local community and contributing to the economic growth and prosperity of the area". (More info here: www.civictrustawards.org.uk/winners/kettering-science-academy)
Of the wider team Matt said: "The discretionary effort displayed by team members on a daily basis is phenomenal. The patience and tolerance of our staff (during building work) goes a long way and the hard work and diligence of the site teams ensures that our buildings are safe and vibrant environments."
It's not just our Secondaries that have this attitude. Stuart Humphreys, Facilities and Site Manager for Beanfield Primary, Oakley Vale Primary & Gretton Primary said: "I am proud to lead the Site Services teams at the three Corby Primary Schools. Our role is to provide the staff and children with a safe, secure and clean learning environment.
"We focus on health and safety and all things compliance related and have achieved excellent results in this regard as borne out by external H&S audits as well as consistently high compliance stats" he added.
In conclusion, it's clear that every site team plays an important part in school improvement and recognises the benefits of being part of a Trust that's committed to providing safe, warm and pleasant learning and working environments for students and staff.
"It's very much a team effort!" concluded Matt Isherwood.