Safeguarding Conference 2023: Rising to the Challenge
24/02/2023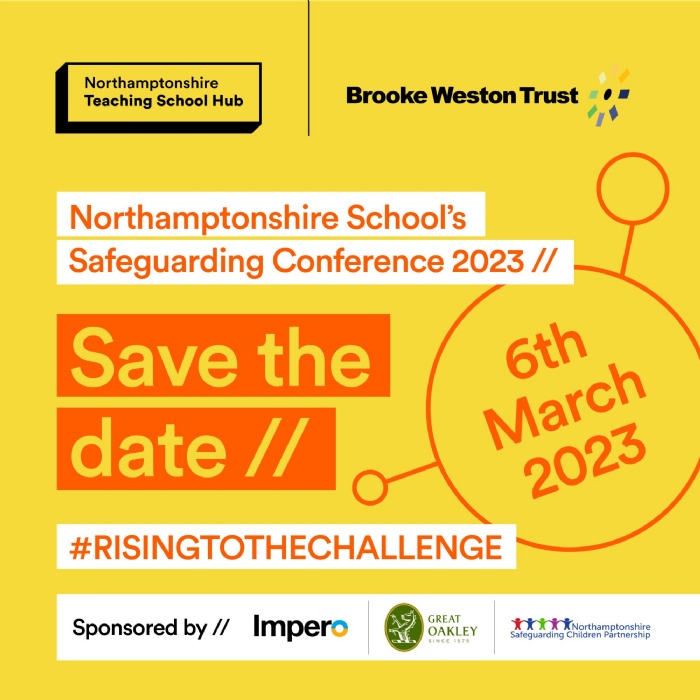 On Monday 6th March, Brooke Weston Trust and Northamptonshire Teaching School Hub will host their inaugural school's safeguarding conference, which brings together safeguarding leaders, to hear from prominent speakers about some of the rapidly emerging issues facing our children and young people.
The theme for the conference is 'Rising to the Challenge' and is a wonderful opportunity for Designated Safeguarding Leads (DSLs) to connect in person and develop their networks, after many years of disruption to face-to-face CPD opportunities.
The conference seeks to respond to the increasingly complex challenges facing DSLs working across education and aims to provide them with the knowledge required to tackle some of the emerging risks facing children and young people.
Prominent key notes for the event will be focussing on extreme misogyny and radicalisation, serious violence, online child sexual abuse, upcoming changes to the Prevent Duty and key learning from the Child Safeguarding Practice Review Panel.
There will also be a series of workshops, on themes such as technology assisted child sexual abuse, harmful sexual behaviour, safeguarding children at alternative provision, online safety and safeguarding young carers.
200 delegates are expected, made up primarily DSLs from across Northamptonshire, plus a small number of Trust Safeguarding Leads coming from other Multi-Academy Trusts around the country.
Key takeaways:
Networking with DSLs - discuss best practice with peers from across the county.
Horizon scanning - new and emerging safeguarding threats facing children and young people in Northamptonshire.
Rich professional Development - delegates will receive a certificate of professional development.
This event has been generously sponsored by Impero, the de Capell Brooke family and Northamptonshire School Safeguarding Partnership, enabling the hosts to offer this event free of charge to Northamptonshire schools.
Click here to book your place: Northamptonshire Schools Safeguarding Conference 2023 Tickets, Mon 6 Mar 2023 at 09:00 | Eventbrite