International Women's Day at Brooke Weston Trust
03/08/2023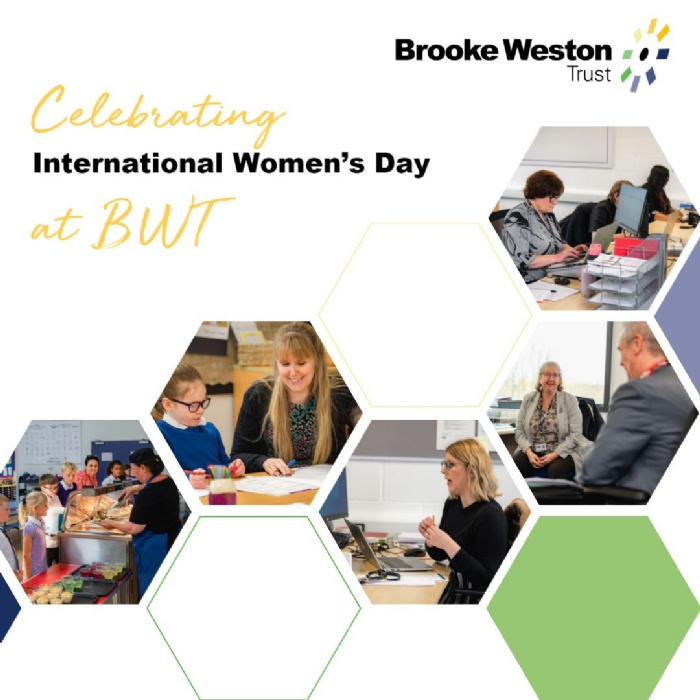 Today marks International Women's Day (IWD), the annual celebration of the social, economic, cultural, and political achievements of women. Part of the focus of IWD is to raise awareness of, and empower, women's choices in health and this year's theme is embracing equity.
By acknowledging the importance of IWD, Brooke Weston Trust (BWT) can use this opportunity to further celebrate our leaders, managers and wider colleagues who are women. Today also provides us with a chance to highlight the positive impact women are having across the Trust:
Jo Fallowell, Principal of Compass Primary Academy, said: "International Women's Day is a chance to recognise the inspirational, courageous and outstanding leaders and colleagues I have the privilege to work with every day."
"I am in awe of the positive role models they are for our pupils and their drive and determination to ensure that all BWT (Primary) Schools provide the very best education & opportunities for all" she added.
Across the Trust, 78% of employees are female. Within this, we're very proud to have 107 female Senior Leaders and Heads of Department. 65% of our last cohort of the Brooke Weston Trust Leadership Academy were female.
In 2021, we introduced an Equalities Group, in which we look at issues affecting staff and students alike. Part of the group's remit will involve reviewing the Gender Pay Gap and identifying areas in which we can make improvements.
Michelle Wenham, Chief Operations and Resources Officer, describes BWT as having a "diverse and talented community of staff". Michelle added: "We know we have more to do and we, unfortunately, cannot possibly cover all the fantastic women working at BWT in this one article but we are so proud of the amazing women working across the Trust, who bring a wealth and depth of experience whose impact cannot be underestimated."
In line with this year's IWD theme of embracing equity, and as part of Brooke Weston Trust's (BWT) commitment to equality and staff wellbeing, steps have been taken over the last year to enhance the health and knowledge of our workforce.
Firstly, a Fertility Treatment and IVF Policy has been introduced. The policy was established to recognise the emotional pressure of undergoing IVF treatment and the potential anxiety and distress that individuals may suffer during the process.
The policy highlights several benefits now available for our employees, which include:
A 5-day paid fertility leave entitlement for staff undergoing fertility treatment in any 12-month period.
A 2-day paid leave entitlement for an employee whose partner is undergoing fertility leave in a 12-month period, to support their treatment.
In addition to the adoption of a Trust-wide policy, Corby Technical School has recently established a 'Meno-Pause' group to encourage conversations about menopause amongst their workforce.
The intention of the group is to provide opportunities for staff members to meet and discuss their experiences, with an anticipated three meetings taking place over the academic year. Two of these meetings will be specifically catered towards female colleagues, and the third will be an open meeting for all staff to attend.
Karen Hearne, Director of Science for Brooke Weston Trust, shared her thoughts on self-belief: "Don't let anyone tell you that you can't do something, especially if that someone is you. Have confidence. It will take hard work and determination, but you can achieve your goals."
We only have space to provide a flavour of our journey towards equity, diversity and true inclusion for all and we look forward to continuing as part of our new People Strategy over the next few years.