Safeguarding Conference 2023 for Northants Schools - hosted by BWT & Northants Teaching School Hub
21/03/2023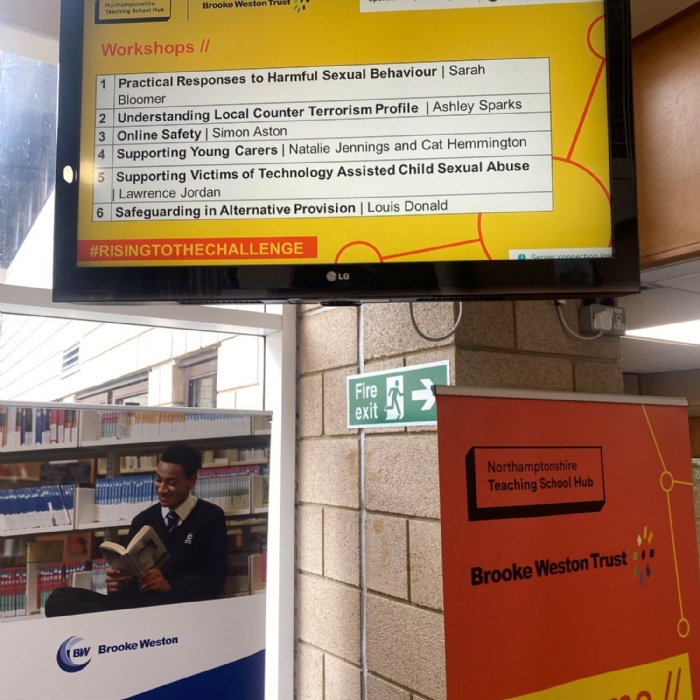 Brooke Weston Trust and Northamptonshire Teaching School Hub recently hosted their inaugural 'School's safeguarding conference', Rising to the Challenge, bringing together safeguarding leaders to hear from prominent speakers about some of the rapidly emerging issues facing children and young people.
The theme for the conference, which took place on 6th March, was 'Rising to the Challenge' and it was an opportunity for Designated Safeguarding Leads (DSLs) to connect and develop their networks, after many years of disruption to face-to-face CPD opportunities. In total, 193 delegates from 56 organisations, attended the event. These were made up of Multi-Academy Trusts, Schools and local services.
Chief Executive of Brooke Weston Trust, Dr Andrew Campbell said: It was brilliant to see so many colleagues from different organisations coming together for this landmark safeguarding conference. It was inspiring to feel the energy generated by professionals from schools, local authorities and other agencies all committing to work together for the benefit of students right across the region.
Alexander de Capell Brooke, the event sponsor, said: The world in which we live is an increasingly complex place and being young is not easy. Not least because of the profound impact of social media on the lives of young people. The wellbeing, safety and mental health of our children is our first responsibility and a heavy one to bear for all those involved whether working in health, social care, schools or as parents and carers. By coming together, forming stronger relationships and exchanging ideas we are so much better placed to Rise to the Challenge.
Prominent key notes focussed on extreme misogyny and radicalisation, serious violence, online child sexual abuse, upcoming changes to the Prevent Duty and key learning from the Child Safeguarding Practice Review Panel.
Key note speakers were: Laura Bates (Prominent author and activist), Emma Hardy (Internet Watch Foundation), Craig Pinkney (SOLVE, the centre for youth violence and conflict), Sam Slack (DfE), Jenny Coles (Northamptonshire Safeguarding Children Partnership)
Opening key note speaker, Laura Bates, was recently featured in a Guardian article that gives a glimpse into her jolting talk: Laura Bates: 'For teenage girls, escaping harassment, revenge porn and deepfake porn is impossible' (Laura Bates: 'For teenage girls, escaping harassment, revenge porn and deepfake porn is impossible' | Women | The Guardian)
"I'm thrilled to be here today. It's so important to see schools coming together and sharing resources on how best to support young people. We know that there are emerging issues that aren't always recognised and there isn't always enough resource for teaching and safeguarding staff to deal with them. It's incredibly important that we take these opportunities and it's really encouraging to see that happening today" said Laura Bates, keynote speaker, author and activist.
One attendee said: "Laura's talk was really informative. It's quite scary to think about the number of ways in which children are exposed to dangers and misinformation online. I felt much more knowledgeable by the end."
Another attendee added "Laura taught us some new terminology that we don't routinely hear in a primary school setting, so I feel much better informed about some of the red flags to watch out for."
During their talks, speakers challenged audience members to think about how 'fit for purpose' their school safeguarding measures currently are, with an overarching emphasis on the urgent need to protect and support our young people.
A series of workshops then took place, giving practical tips for schools, on themes such as extreme misogyny, gangs and violence, online safety and more, all through the lens of children and young people. The Brooke Weston Trust catering team provided a wonderful array of lunch and refreshments throughout the event.
An exhibitor from Healthy Schools said "We were delighted to be asked to attend the conference today as it's a great chance for us to speak to DSLs in the county and let them know about the services we offer."
Another exhibitor, from the Student voice said: "We joined the event to create some awareness of our contextual safeguarding tool. There are some great workshops that are in line with our values and we're glad to be part of it."
A representative from exhibitor, Kitt Medical said: "It's wonderful to be at an event like this where there are so many heads of safeguarding present that we can talk to, learn from and present our product to, which is very important in the allergy space and to safeguarding leads."
Craig Pinkney, keynote speaker and founder of Solve: The Centre for Youth Violence and Conflict, said: "I came here today to share my expertise and knowledge around safeguarding issues, specifically through the lens of gangs, criminal exploitation, extremism and radicalisation. These themes often get less airtime, compared to sexual exploitation issues. I wanted to inspire DSLs, senior leads and social workers to think about this area and ask themselves: 'are we fit for purpose?' As a nation, I don't think we are, but as small collectives, I think we can be."
One of the organisers of the event, Sayle Donativo, Partnerships Manager of Northamptonshire Teaching School Hub said "we were so thrilled to bring such rich expertise and high-profile speakers to the doorstep of our colleagues from across Northamptonshire, free of charge. The day and the response has been overwhelming!"
Feedback from the delegates was overwhelmingly positive, with the majority feeling that their safeguarding knowledge and confidence had improved.
Undoubtedly, an important and successful event, the conference was made possible (and free to attend) thanks to the support of sponsors Impero, Great Oakley Estates and Northamptonshire Safeguarding Children Partnership and the de Capell Brooke family.