How the Core team at Brooke Weston Trust is supporting our schools
04/04/2023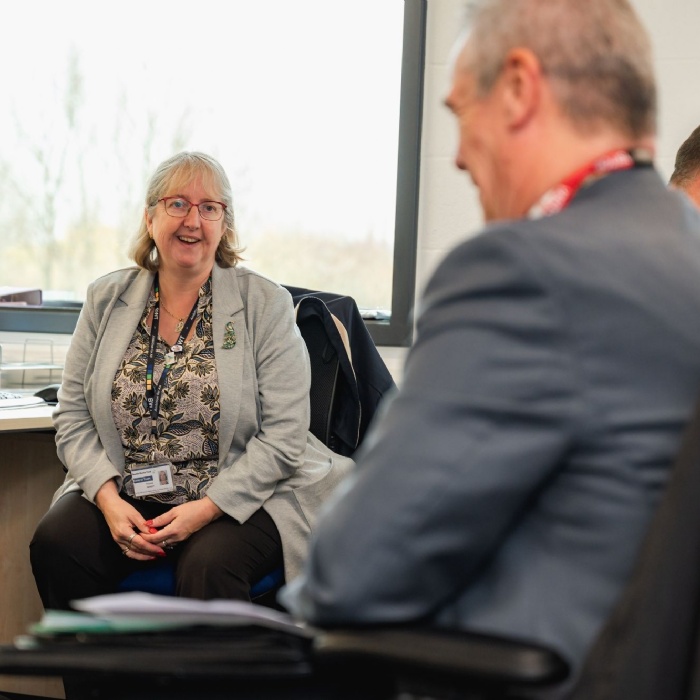 Michelle Wenham, Chief Operations and Resources Officer at Brooke Weston Trust, joined us a year ago and has been a key part of the recent organisational changes at the Trust. One such change has been a refocused central team, now called the 'CORE team' which is led by several 'Heads of Profession', who are dedicated to making the most efficient and effective use of the limited resources provided to the Trust.
Michelle explains: "We work in partnership; schools and the CORE Team – The Board and Trust setting the strategy, the Trust setting standards, finding ways to streamline and standardise systems and sharing best practice across our organisation, seeking economies of scale so that schools can focus on achieving our overall mission to deliver a great education to all students. This what the CORE team is all about – enabling our schools".
'Collaboration', 'listening' and 'Partnership' are recurring themes in the conversation, with Michelle keen to emphasise that "we are all in this together". Moreover, the changes and improvements that are taking place across the Trust and are part of our ongoing, long-term development.
"This is about our mindset as an organisation" Michelle continues, "all members of the Trust should feel valued, heard and recognised for the unique strengths and talents – whether within teaching and learning or the myriad of other professional functions that are vital to running an organisation but especially one in which you have young people and their futures at its heart".
The Trust's CORE team of professionals consists of experts qualified within their respective functions and whilst the operating model is based on a small, permanent group of individuals, it's an agile model, capable of accessing external expertise as and when required.
A closer look at the CORE Team functions:
FINANCE – Led by Debbie Tysoe, Chief Finance Officer

We asked Debbie Tysoe about the finance element of the CORE team… Debbie has worked at the Trust for over 20 years and is a fully qualified chartered accountant.
"Following the restructure last summer, the Trust now has a centralised finance function, so that all transactional work is removed from the workloads of individual schools. This allows for better efficiency, segregation of duties and less duplication of work" said Debbie.
Our newly appointed 'Finance Business Partners' provide a higher level of support and improved information to the schools to enable better and quicker decision-making.
We're currently working through our budget process to ensure that it's more open and transparent with everyone working in partnership. The goal is to enhance autonomy to schools in their curriculum budgets so that staff can continue to tailor the curriculum to the needs of the students in their specific area.
The Heads of Profession will be key budget holders, enabling schools and making sure that resources are used to maximise both value for money, achieving greater economies of scale across the Trust where money released can over time be reinvested in the education of our students.
PEOPLE – Led by Kathryn Pithey, Head of People
Kathryn Pithey joined the Trust three years ago and has been instrumental in developing a strategic in-house HR capability, a key aspect of the current implementation and development of our people function. Kathryn is a fully chartered member of the professional body for HR – the CIPD, with a masters degree in HRM.
Part of the new ways of working will be to introduce a 'business partner' structure which enables the Trust to work with individual schools, providing coaching and development for leadership teams and facilitating solutions with regard to operational and strategic people issues.
A new HR information system is planned to launch during this year, which will help us work with school business managers and principals to streamline and systemise our processes, releasing capacity and enabling us to do more – working smarter not harder.
The Trust is committed to supporting school Principals and their Senior Leadership Teams by providing training and development to give colleagues the confidence and skills they need to meet the ever-widening demands for educators. This involves reviewing and developing legislation, sharing best practice and driving professional development at all levels and for all roles.
Our professional development being driven via the Teaching School Hub led by Gemma Marks, the Primary Training Hub led by Jane MacDonald and our two professional directors of development - Rachel Lawrence and Charlotte Hawker-Smith.
ESTATES – Led by David McInally, Head of Estates and Sustainability
Our centrally based professional estates function works closely with the site teams across our schools. We are excited to have a new Head of Estates, who has just joined us this month. David is professionally qualified in Facilities Management, Health & Safety and Environmental and is a chartered member of IOSH. His remit incorporates estates and facilities, sustainability, health & safety and asset management. We have recently introduced a professional network for our professional Estates Managers, many of whom are qualified in IOSH, NEBOSH and various levels of the Institute of Workplace and Facilities Management (IWFM).
The CORE Estate Function's mission is to support individual site teams so that we are fit for the future. Read more about this team here: Brooke Weston Trust - The role of Estates Management in School Improvement at Brooke Weston Trust
IT
Our IT service provision was moved three years ago to 'RM Education' and we have been doing a huge amount of work (often unseen by those at the front-end) to move away from physical servers on-site, to having minimum servers, moving eventually completely to the cloud).
Implementing our new wireless infrastructure and improving our cyber security is a big undertaking.
Another exciting IT project that's in progress is our "M365" single tenancy across the organisation. This project aims to improve communications across the Trust, enabling better use of SharePoint and Microsoft Teams with embedding our digital skills and knowledge as phase two. Further work is ongoing led by our Trust Data Manager Dave Holland and external consultancy support to develop our approach to providing management information data, helping inform our decision making and educational performance over the long term.
Our recently recruited programme manager Gina Llanaj assists the Trust to manage our programmes successfully, working to understand the operational impact of any change projects on those working directly with students and within our schools and CORE team.
CATERING – Led by Theresa Jackson, Head of Catering
The goal of the Trust is to give all students the best possible educational experience. This includes providing access to a warm safe environment and good fresh food to fuel their learning – our new patented strapline being 'feed your imagination'.
In the last year, the Trust has centralised its catering provision, led by our professional Head of Catering who came to us with over two decades of senior catering leadership experience. We have been improving stock ordering, menu design (factoring in diversity needs) and budget management on our £3.5m annual catering spend. With new staff structures and enhanced training, cooking classes, breakfast provision for vulnerable students and a renewed focus on the importance of catering in our schools we are already considering nominating some of our teams for the Jamie Oliver school catering awards. The introduction of our own fresh sandwich range is already making real cost savings.
Compliance and Contracts - Led by Hannah Turner
Hannah's focus is on providing collaborative advice and guidance on the wealth of compliance activity we must follow in addition to the other professional functions. This includes Data Protection, Health and Safety, risk management or wellbeing, as well as ensuring our compliance with procurement and contracts, accessing the most appropriate public sector frameworks and spending provides value for money. Our progress in these areas continues to demonstrate the commitment of us all to ensure we are recognised as a values-led, compliant and professional organisation, constantly seeking ways to improve in whatever we do.
The key to success
Openness and transparency are crucial to understanding, talking about the issues we are all facing and agreeing priorities which will enable us to manage and balance our funds and resources appropriately to the benefit of the students in our care. I refer to this as 'active discussions' - it is important we all work in a culture where challenging issues are properly worked through together, with the outcome being better for our students for doing so.
Regular two-way dialogue is therefore important; we have communications representatives in each of the primary schools and 'partner principals' in the secondary schools. Michelle regularly attends Principals' meetings alongside different heads of profession providing debate discussion and consultation. We have established a new 'School Business Professionals network' and 'Estates Professionals network' to complement our already established HR network.
We've also been working to deliver our 'Trust training days' to give colleagues access to at least five professional development days each year no matter their role or level. We're also working to collate all of the different aspects of development that we offer to people through our BWT 'Centre for Professional Development'', to ensure people can easily access those as part of their career and time with us. As part of this, we are also engaging further with external professional organisations to ensure that we have clear career structures and paths for people development in all professional functions as well as teaching and learning.

A supportive, enabling culture
Whilst schools are responsible for so many aspects of operations, the 'CORE team' is there to provide proactive advice, guidance and solutions wherever it is required. We are all one team, and our schools have a wider support system and network to draw upon – we are not on our own.