Brooke Weston Trust caters for The Trust Network's annual conference
17/04/2023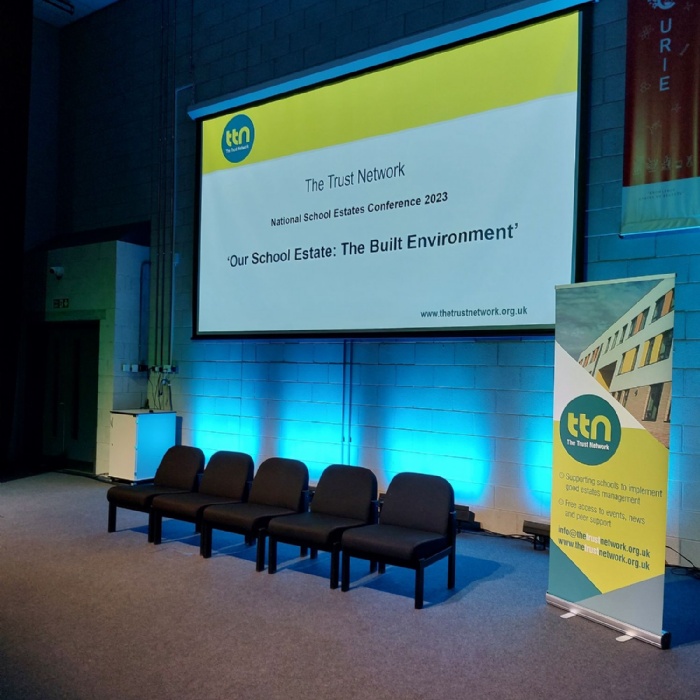 Last month, Corby Technical School once again hosted members of The Trust Network for their annual conference.
The Trust Network, established in 2014, is a network dedicated to enhancing school estates management through sharing best practice and exchanging knowledge. Founded by Brooke Weston Trust and Ormiston Academies Trust, the network has grown to represent around 500 Trusts nationwide.
The theme for this year's conference was 'The Built Environment', aiming to support schools with implementing sustainable practices and compliance within their estates management. The event was a huge success, with 230 delegates from schools and MATS across the country in attendance.
The day was packed full of presentations, workshops, and panel discussions from guest speakers across the sector. The likes of Sir Robert McAlpine and Ashden delivered sessions addressing topics such as 'What do new schools look like?' and 'Sustainability: developing a green culture in your schools'.
Matt Isherwood, Associate at Barker Associates, explained: "The Trust Network were delighted to return to Corby for our national conference, Corby Technical School provides an intimate venue that works really well for our members. The conference was a storming success with over 150 delegates, 20+ supply chain partners, representatives from DFE and national professional bodies in attendance. The Trust Network wishes to thank all those who attended, their enthusiasm to engage makes the event, but also a huge thanks to our sponsors for their ongoing support."
Ensuring that the attendees were fuelled throughout their day, Brooke Weston Trust provided the catering for the event. Fresh fruit, pastries, and cookies were on offer, with a plentiful supply of hot and cold beverages.
Head of Catering, Theresa Jackson explained: "We were delighted to be a part of the event, the team worked really hard, and we received some lovely compliments on the day."
The Trust extends a heartfelt thank you to all our colleagues for their involvement in making the event such a success.
As part of our commitment to our staff and students, the Trust is exploring how sustainability and wellbeing can be integrated into our catering provision. We look forward to continuing to cater future events and applying these learnings.