Bold plans for BWT's Sustainability Agenda
18/05/2023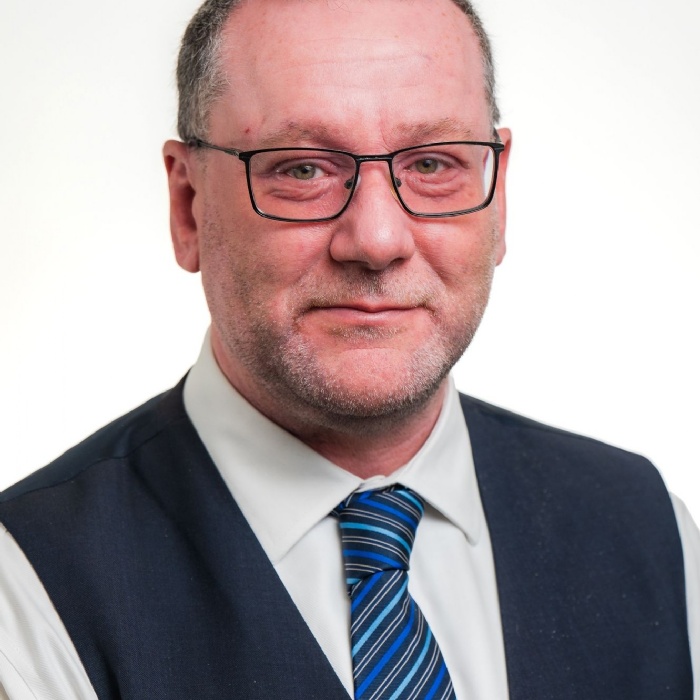 Our new Head of Estates and Sustainability, David McInally, is a qualified and passionate environmentalist. He lives in a fully insulated, low-energy house (that he retro-fitted himself) so his passion for the environment is both professional and personal.
He is qualified in Facilities Management, Health & Safety and Environmental Management and is a chartered member of IOSH.
With this impressive educational background and his 20 years of experience in the public sector, he is well-equipped for his new role here at Brooke Weston Trust.
One of his main ambitions is to make the BWT buildings as sustainable as possible (with optimised running costs) beyond the government target for the public sector to be fully de-carbonised by 2050. The Department of Education has an even more ambitious deadline of 2030 for this very same goal, so David and his teams across the Trust have a huge challenge ahead of them.
We spoke to him to find out more…
David, can you tell us more about the Trust's progress against the government targets?
Yes, it can be quite confusing, but it's important to know that 'Energy saving' & 'decarbonisation' targets are two separate things. Decarbonisation is about making sure that we're not using fossil fuels to run our buildings.
At the moment, our electricity consumption is through renewable energies, so we're already 'there' with electricity, but in terms of heating, we're still quite reliant on gas (which is fossil fuel based).
To tackle this, we're re-evaluating how old our gas spacial heating systems are and seeing when they're likely to be eligible for the government grant schemes to replace them with non-gas heating solutions. We're actually bringing forward these 'condition surveys' to this year so that we get a re-fresh of where we are in terms of the life-cycle of those gas spacial heating systems and formally plan when to replace them. I'm working with a consultant, Graham Taplin, who is a specialist in heating systems and is working closely with us on our government bids for new heating systems. His involvement is invaluable and it's great that we're able to access external expertise where required.
Our own journey towards sustainability in terms of energy reduction is our own strategy and not driven by the government – the government will help support us with some grant money in that process, but the timeline for energy saving and sustainability is actually in our hands and this is where it gets exciting!
So the Trust's progress is ahead of the national average?
Yes! We already have 9/10 schools with LED lighting (the 10th will be done by year-end) and every school will have Solar PV (Photovoltaic) arrays generating electricity on the roofs of their buildings by year-end (7/10 are already done, with the remaining 3 to be done imminently).
We get a yearly grant for school conditions allocations, which we spend some of it on sustainability items and some on education-related building needs (e.g. re-fitting science labs etc). I'm accountable for how that money is apportioned and it's a constant process of reviewing and balancing the priorities across the Trust.
What's your priority over the next 12-18 months?
I'll be focussing on the insulation of our buildings, to help us reduce our energy costs. By making classrooms a bit warmer in the Winter and a bit cooler in the Summer, we create a more stable environment for learning and teaching, whilst also reducing our energy bills. The return on investment takes about 3-4 years, so it's well worth doing. For some schools, this will be about replacing windows and doors, whilst for other schools, it will be about putting insulation in the roofs. The work will mostly take place outside of term time to minimise disruption.
How are you bringing others across the Trust into the sustainability conversation?
The next step for us is creating a "sustainability working group" within the Trust, so that we have a strong student and staff voice and we can all play a part in the design and priorities of our learning environment. I'm really keen to have this in place, so that we're all in this together.
This new group will be led by Bob Lane (from our Board of Directors), Michelle Wenham (our Chief Operations and Resources Officer) and myself. We'll be inviting staff and students to this working group shortly and it will be a key voice in shaping our sustainability strategy.
When it comes to the big government grant schemes, we get a few choices in the type of renewable products we can have, so I want to engage staff and students to understand which of these schemes is right for their school. Each product has a different cost and level of disruption, so it's important that we listen to these voices so that we can tailor our solutions.
We asked Bob Lane about his thoughts on the new working group...

Bob said: "The Trust has a responsibility to help save energy and to reduce carbon consumption as quickly as possible, so I'm delighted that this sustainability working group has been established."

Bob continued: "The programme will help to reduce running costs so that more money can be spent on education. It's wonderful that we can involve students in the development of this programme too, as part of their wider education."

Thank you Bob!
David, what are some of the longer-term possibilities around sustainability?
That's where the 'Sustainability Working Group' comes in! My vision is to explore what's possible across our entire Trust. For example, if the local voice is asking for a small-holding, I would love for our Estates function to help make that happen. Utopia for me would be growing our own food (on school grounds) and channelling it into our catering provisions so that we're showing our young people how to grow and eat our own food; something I know our Head of Catering Theresa already has in mind.
What other technologies are on the horizon?
We want to be at the forefront of using new technologies. KSA had one of the first ground-source heat pumps when it was installed 12 years ago, so the Trust has always been a pioneer in this area.
Wind turbines are less established at the moment, but a potential option for school plots in the future (on grounds that are big enough).
I'm also keen on Solar Water Heaters, which are already being used at Thomas Clarkson Academy. We have provision to roll out this technology to our other schools over the next few years.
We don't yet know what Hydrogen (as a heating option) can do for us yet, but I'd be keen to be involved in piloting Hydrogen, as and when it becomes commercially available.
Over the next 5 years, we're looking at Electric Vehicle provision for staff and converting surplus power from our roofs into electricity for charging staff EVs.
These things are important for the Trust, to attract teaching talent and appeal to those who want to work for an employer that has systems in place to be at the forefront of sustainability.
The idea is to invest now, make the savings and then reinvest those savings into the next project and keep re-investing to achieve continual sustainability improvements. That's my aim!
What are your early impressions of BWT?
I've been impressed by how keenly the Trust believes in investing in the right technologies to improve the overall environment. This has been well-embedded in the culture for many years. The fact that we're already way ahead of the curve in terms of our PV arrays (Vs the rest of the public sector) is just one example of this in action. This is about genuine sustainability and energy reductions.
In my first few months, I've managed to meet all of our Site managers at least once and I'm looking forward to more regular contact with them. I know that we're blessed with some passionate and knowledgeable sustainability enthusiasts within site these teams, including Carl Wyatt, our Site Manager at Corby Business Academy, so we're well-placed for a sector-leading sustainable future and I'm really excited to be part of it!
Thanks David!