Corby Business Academy Celebrates Young Enterprise Awards for SEND Students
13/07/2023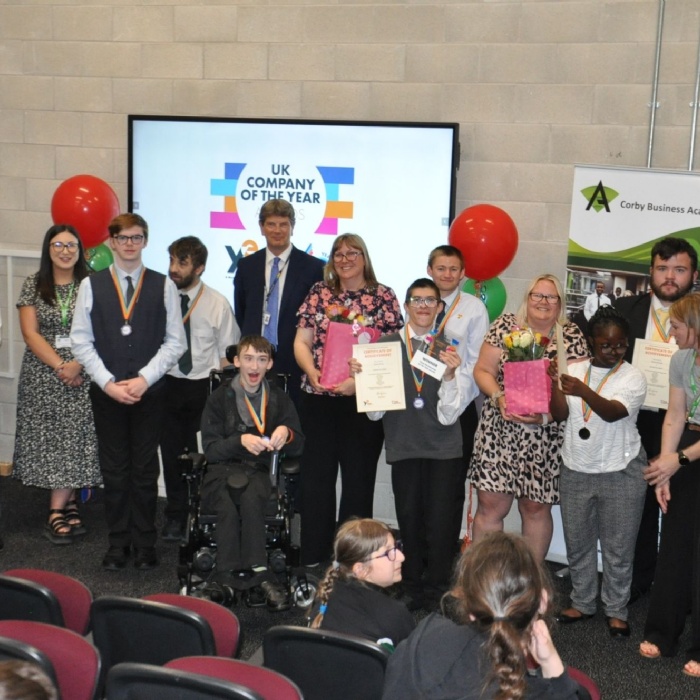 SEND students at Corby Business Academy have been celebrated at an awards event, following their remarkable series of victories at the Young Enterprise Awards.
This achievement exemplifies the excellent and inclusive support and opportunities for students with special educational needs and disabilities (SEND) across the Trust.
At a celebration event on Thursday 8th July, the Academy welcomed Robin Neighbour from Young Enterprise. The occasion was dedicated to acknowledging the outstanding accomplishments of 'Sprinkle the Magic,' the Team Programme Company.
What started as a presentation quickly turned into a momentous occasion as the students were in for a surprise—additional awards awaited them. Among the exceptional talents recognised during the ceremony was Ash Richmond, who received the highly coveted 2023 Outstanding Individual Achievement Award.
This award, available to students across England, Wales, Scotland, and Northern Ireland participating in the Team Programme, celebrates the transformative journey undertaken by these young individuals and the profound impact it has had on their lives. Ash's nomination for this award came from Sixth Form Tutor Nikki Clark, who praised his substantial growth in self-confidence, resilience, and business skills.
Ash volunteered to be the Managing Director of Sprinkle the Magic in September 2022, and over the last year has exhibited exceptional guidance, wholehearted involvement in all team activities, and an unwavering determination to face challenges head-on. Under his stewardship, Sprinkle the Magic achieved a remarkable hat trick of awards, securing victories in the Young Enterprise Team Programme Best Logo, Best Advert, and Best Presentation competitions.
Reflecting on Ash's growth and personal development throughout the year, Bonnie Dunion, Business Adviser from RS, remarked, "I have seen Ash become more independent in the classroom, leading discussions, thinking up ideas without being prompted, and being a great source of support for his peers."
The success story of Sprinkle the Magic did not end there. Amongst 122 Team Programme companies participating in the scheme this year, they continued to shine, ultimately claiming the coveted title of Team Programme Company of the Year 2023.
Dr. Andrew Campbell, CEO of Brooke Weston Trust, had the honour of presenting this final award at the event, with the team graciously accepting their well-deserved trophy, along with certificates and medals.
It has undeniably been an extraordinary year of accomplishments for Sprinkle the Magic programme, and their achievements are a source of inspiration and pride for the entire Trust.