Celebrating A Level Success across our trust
17/08/2023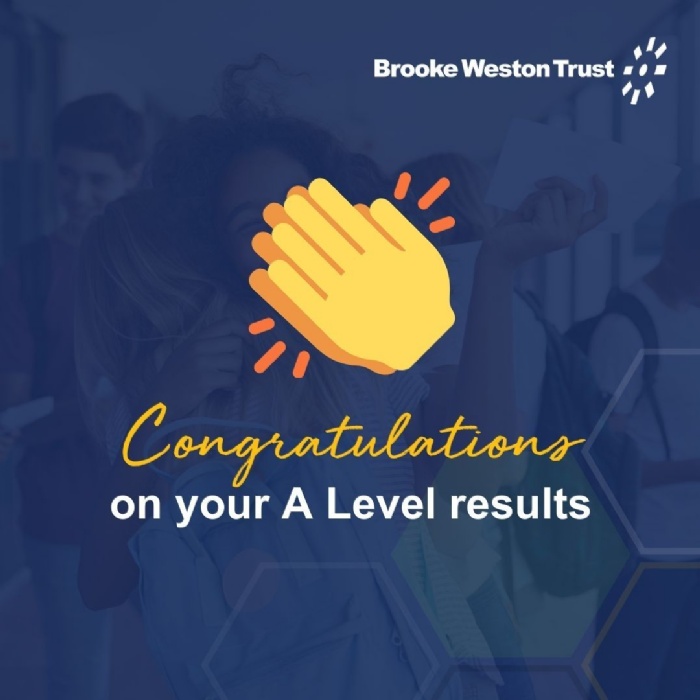 Well done to all of our students celebrating their A Level results! We are so proud of their hard work, dedication & perseverance. Here are just some of the highlights from our schools today and here's to bright futures ahead.
Andy Burns, Chief Education Officer (Secondary) said:
"Today is about celebrating these brilliant young people, but also acknowledging the contributions of their families and our staff – all of whom are key to creating the positive learning culture that we enjoy across Brooke Weston Trust. Nothing better exemplifies our core value of Ambition For All."
BROOKE WESTON ACADEMY
Brooke Weston Academy is celebrating another successful year of Post-16 examination results. Staff expressed their pride in all 139 students for their diligence, determination and perseverance over the last two years.
Shaun Strydom, Principal at Brooke Weston Academy said: "We are very proud of all our students who have worked extremely hard over the past two years. This cohort of students was impacted by the pandemic during their GCSE years and so for many, this will be their first exam season to complete. This is a tremendous achievement of which they should be proud.
"I would also like to say thank you to all of our staff for the support and encouragement they have shown our students during this time and for continuing to provide a high-quality learning experience despite the circumstances.
"Our curriculum and dedicated team of staff work hard to ensure our students develop a love of learning as well as the provisions to strive, which has been reflected in their results. We will be available to provide support and assistance to all students that require it in the upcoming weeks and wish our students every success in the future."
Our top-performing students include Sam Carr, James Cooper, Emily Cartwright, Grace Norman and Matthew Russell who collectively achieved 14 A* grades.
Sam is off to the University of Warwick to study Mathematics. Matthew is also going to the University of Warwick to study Medicinal Chemistry. Grace is hoping for a career in the Royal Airforce as an Intelligence Analyst and James has secured an apprenticeship with KPMG. All of these students have had an incredible experience at Brooke Weston and have made friends for life.
The school is incredibly proud that 4 of its students who have secured places at Oxbridge Universities after achieving exceptional results. Blazej Puchala is going to the University of Cambridge to study Engineering after achieving 4 A*'s. Tilly West achieved 3 A*'s and an A and is off to the University of Oxford to study English Literature. Lilrose Kent achieved 3 A*'s and is going to the University of Cambridge to study History. Aaron Rawlins is going to the University of Cambridge to study Medicine. All of the above students have worked exceptionally hard during their time at Brooke Weston and we are delighted for them.
Students also among Brooke Weston Academy's top performers include Kevin Krasniqi, Rufus Matthew, Tawona Chitiga and Louis Bereton who achieved a grade profile of A*/A grades. All 4 of these students are off to highly prestigious Universities. There are a large number of students who achieved a grade profile consisting of A*, A and B grades, which is a tremendous achievement and many others achieved exceptional individual results.
Over 90% of students this year are going on to university with the remainder opting for professional or vocational apprenticeships or gap years.
Some of our students have secured impressive apprenticeships with highly respected employers. Finn Short, who achieved 2 A*'s and 2 A's, has secured an apprenticeship with RS Components whilst Luke Spinelli has secured an apprenticeship in Business Management with Amazon.
Clearly, also a day filled with pride for the staff at Brooke Weston Academy, who have been part of the educational journey leading up to this morning's celebrations.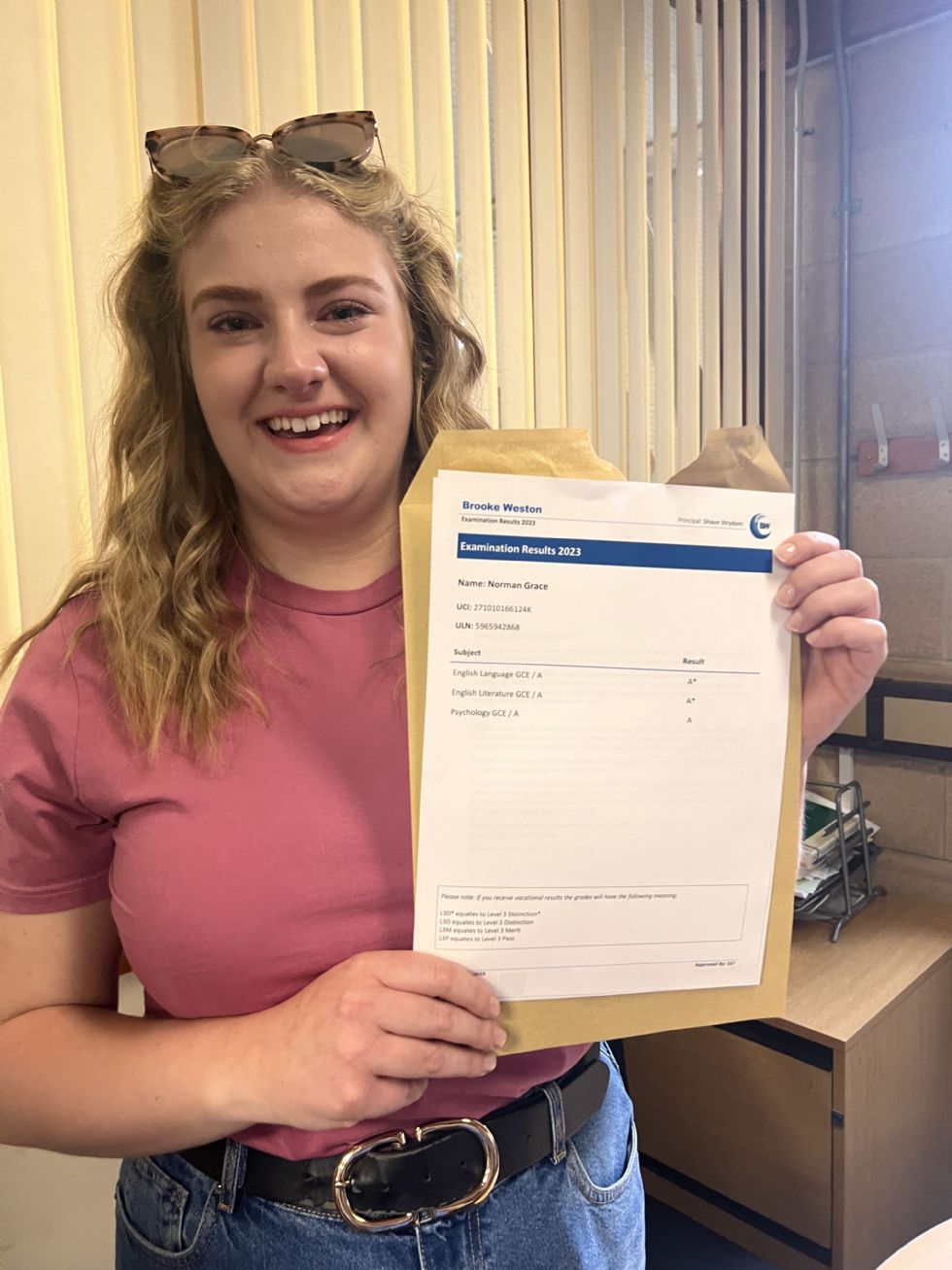 CORBY BUSINESS ACADEMY
Students and staff at Corby Business Academy, part of the Brooke Weston Trust, are celebrating another excellent set of A-Level results. Today marked some fantastic individual achievements for students and staff were bursting with pride for the students as they embark on their next steps in work and education.
The Academy's Principal, Simon Underwood said: "We are proud of the efforts of all our students, especially when you reflect on the turbulent national landscape they have had to work through in the past few years.
"Our student, family, and staff relationships have reinforced our collaborative and academic environment.
"Again, an extremely high percentage of our students have achieved their first-choice destinations. This is always our ambition for each cohort when they enter our Sixth Form provision."
Top performers at Corby Business Academy include:
Tom Anderson (A* Business, A* Mathematics, A Geography) Economics at the University of Leeds.
Angela Bujac (A Mathematics, A Geography, A Business Studies, B Biology) who will be continuing her studies at London School of Economics, reading Accounting and Finance.
Nathan Matthews (A* Mathematics, A Computer Science, B Further Mathematics) who will go on to study Cyber Security at Lancaster University.
Luka Jorgic and Diana Ciobanu and both secured straight AAB across their subjects and are heading to study at Univeristy. Luka is with be studying Finance Accounting and Management at the University of Nottingham and Diana will be starting a course in Games Technology at the University of West England in Bristol.
A particular highlight for the school has been the amount of overall progress made by students during their Sixth Form journey. These include Gianni Politano who achieved A's in Maths and Further Maths and will be studying Maths at The University of Nottingham University.
Morgan Lawrie, who will be starting her degree in Primary teaching in September achieved a Distinction in Health and Social Care as well as a B in Geography and a C in English Language and Literature.
Daniel Zelinsky, Ashleigh Walters and Junhao Wang also made exceptional progress, exceeding their targets based on GCSE performance.
All in all, an overwhelmingly positive day for the school and its hard-working students.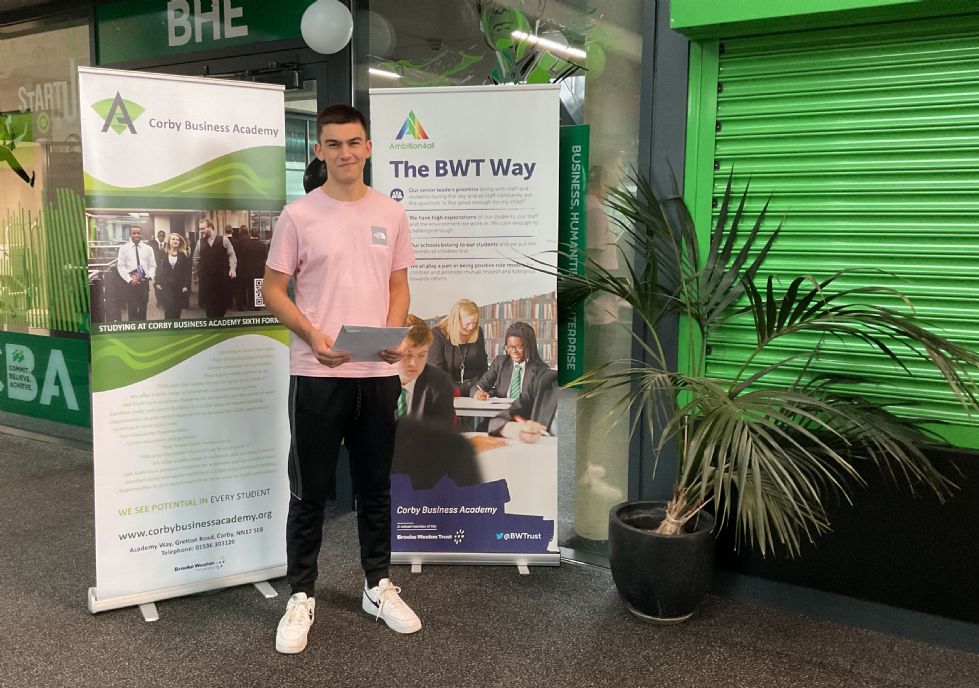 CORBY TECHNICAL SCHOOL
Students from Corby Technical School have been celebrating their achievements this morning and are set to follow a variety of ambitious pathways including university degrees and apprenticeships. Students have accepted university places at institutions from across the country, including York, Sheffield, Falmouth, and Lincoln.
Angela Reynolds, Headteacher at Corby Technical School said: "We are extremely proud of our Year 13 students and all that they have achieved. It is wonderful to see them all pursuing their interests with such confidence and feeling prepared to move into further education, apprenticeships and employment in a range of contexts. I have no doubt that these young people will have bright prospects, and I look forward to hearing everything about their future successes."
Students were greeted this morning by several of their teachers, who were beaming with pride and thrilled to share celebrations with the students.
Angela continued: "It is wonderful to see the close relationships that staff and students share following their years with us. I would like to thank these teachers and school staff who have supported the students along the way and thank you also to parents and carers for your support over the years.
"Above all, thank you to all of our students for trusting us to be a part of their journey and we hope you return to Corby Technical School as you will be an inspiration for our future school leavers."
A selection of student achievements include those of:
Daniils, who will be studying Computer Science at Lancaster University, Arnas who is going to York to study Engineering, and Sacro who is going to University of Lincoln to study Ecology and Conservation. Brady will be undertaking an apprenticeship at Mercedes F1 and Drew, who has started an apprenticeship at Balfour Beatty.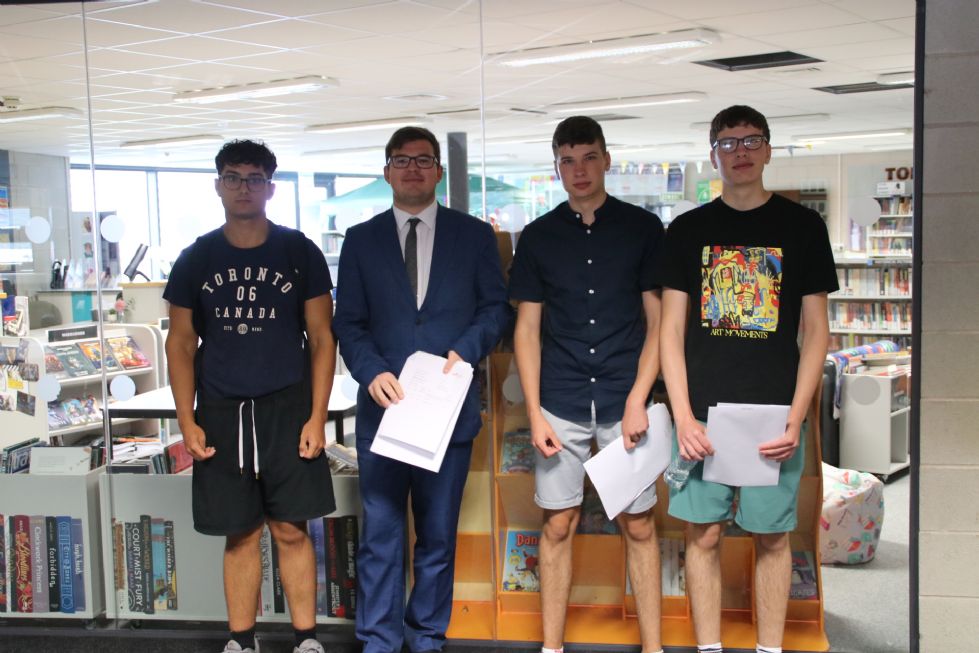 KETTERING SCIENCE ACADEMY
Kettering Science Academy is celebrating another great set of A-Level results.
Many students at the Academy will be continuing their studies across the country in a range of subjects including Mathematics at Cambridge, Veterinary medicine at Nottingham, Engineering at Sheffield, Chemistry at Manchester and Law at York.
Tony Segalini, Principal at Kettering Science Academy, said: "We could not be prouder of the great results our students have achieved this year, with huge successes in our vocational qualifications. The hard work and determination they have shown over the last few years has truly paid off.
"At Kettering Science Academy, we inspire achievement in all our students and encourage them to become the best they can be. It has been a pleasure to watch our A-Level students become resilient learners who I have no doubt will succeed in their future endeavours.
"A huge thank you to our staff who have created a caring, proactive community where talent is liberated, success is celebrated and achievement triumphs. The great results this year are a testimony to the incredible efforts and excellent educational experience created at the Academy."
The school's highest-performing students include:
Sean Dimmock: Three A* in Maths, Further Maths and Physics going on to study mathematics at Cambridge. He also achieved an S grade in the STEP test for Cambridge which is the highest award possible.
Kiera McKenna-King: A in Law, A in Psychology, C In Business going on to study Law and criminology at York
Maciej Smolinski: Three A grades in Maths, Physics and Chemistry going on to study Engineering at Sheffield.
Max Soldatov: Two A * grades and an A grade in Maths, Further maths and Physics, going on to study Chemistry at Manchester.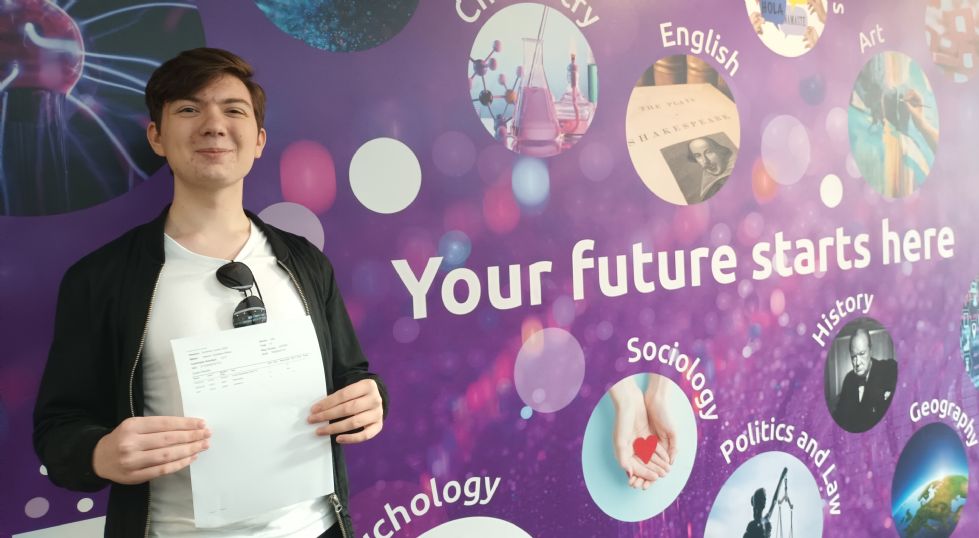 THOMAS CLARKSON ACADEMY
A group of A Level students celebrating their results at Thomas Clarkson Academy today will have an 'amazing impact' as they head for teacher training.
They are among a cohort celebrating at the Wisbech school as results were revealed this morning.
"The university courses these young people are undertaking show a wide range of interest and also ambition. We have students studying zoology, international business, linguistics and archaeology to name a few. We are also proud of the four students who are embarking on a career in teaching and the amazing impact they will have on future generations of children," said head of Sixth Form Alison Hornby.
And places at some of the country's top universities have been secured with offers from Warwick, Durham and Loughborough.
Among those celebrating is a straight A student who is returning to the academy in September to add another A Level, while hoping to gain hospital experience before reading medicine at university.
Goda Rinkeviciute, has achieved As in biology, chemistry and maths and is staying on to sit further maths. She is also hoping to get work experience in a local hospital before applying to university to read medicine next year.
Thomas Green is heading to Warwick University after achieving A*s in maths and further maths and an A in computer science.
Despite having two years of their school life disrupted by the pandemic, the group has achieved impressive results across the board in a range of subjects and academy principal Richard Scott said he was extremely proud of their success.
"This group of students have every reason to feel proud of their achievements as their education was hugely disrupted by the pandemic. They have worked hard and shown their incredible resilience to ensure their results are what they need to move on to the next stages of their education or to start a career.
"Above all they have been a cohort marked by their caring, confident and inclusive nature which, along with their results, will serve them long into their futures."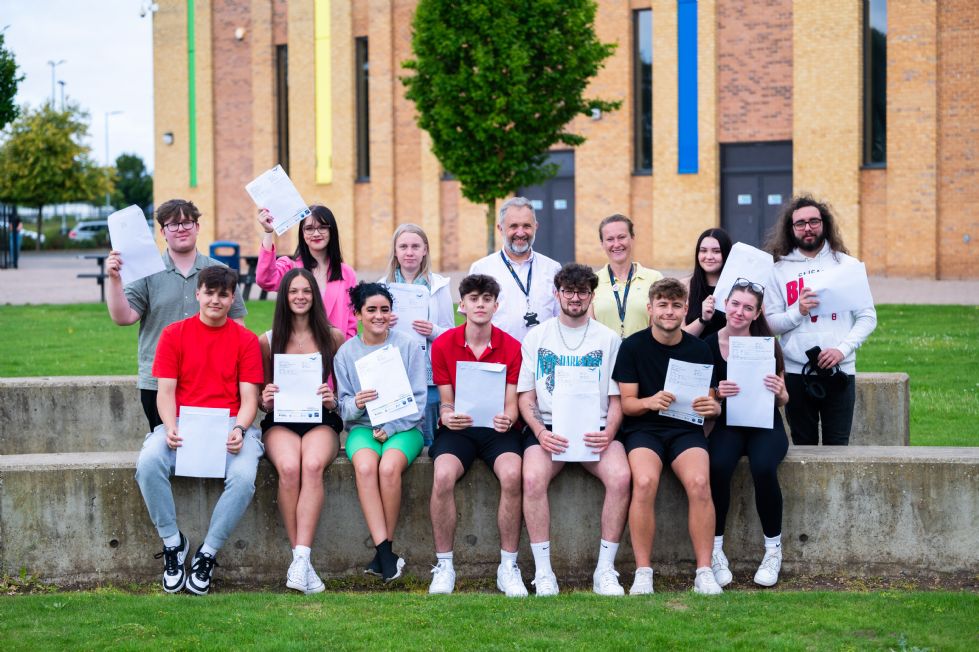 Here's to bright futures ahead!
#AmbitionForAll #BrookeWestonTrust #TicketsForLife