Glowing feedback for Oakley Vale Primary School following Ofsted monitoring inspection
19/09/2023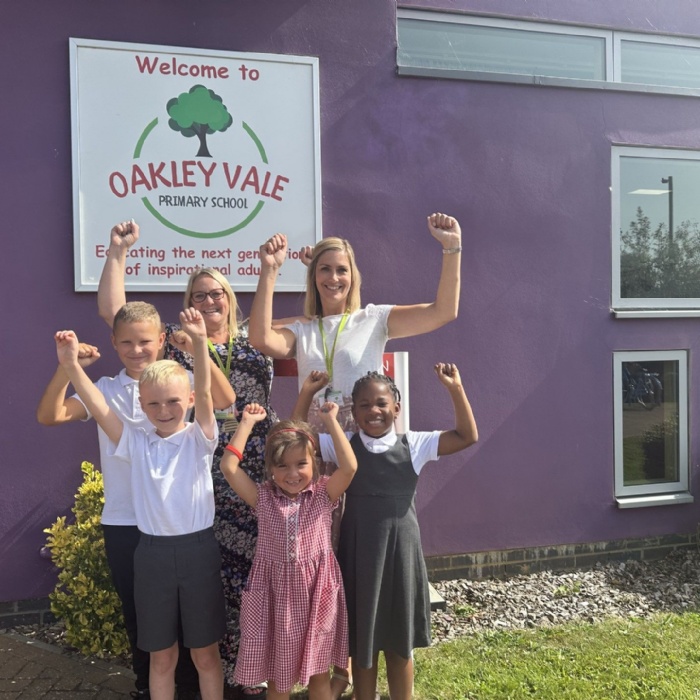 Oakley Vale Primary School is celebrating a very positive Ofsted (ungraded) monitoring visit. The resulting report has maintained the school's 'Good' rating and inspectors noted evidence of practice they would consider to be outstanding.
Ofsted inspectors praised the school across a number of areas, from the quality of education to the leadership and management, highlighting the behaviour & attitudes of pupils as 'excellent'.
The findings stated that "there is enough evidence of improved performance to suggest that the school could be judged outstanding if we were to carry out a graded (section 5) inspection now."
The school's next inspection will be a graded inspection and usually takes place within one to two years of the (ungraded) monitoring inspection.
Sarah Sanders, Interim Associate Principal of the school, which is part of Brooke Weston Trust said: "I am thrilled with the outcome of the Ofsted monitoring inspection. It reflects the hard work and dedication that our staff have put into driving continual improvement over the last six years. I would like to thank them and our colleagues from Brooke Weston Trust for supporting us as we strive towards an outstanding rating in the future."
The report highlighted many strong areas for the Corby-based school, stating that "Pupils enjoy coming to this school" adding that their "behaviour and attitudes are excellent. They are highly motivated to learn."
Inspectors observed that "leaders have developed an ambitious and well-planned curriculum for all pupils" explaining that "Subject leaders have thought carefully about the key knowledge pupils should learn and when."
The curriculum's focus on the personal development of pupils was also highlighted as a particular strength, with the report noting "a strong focus on developing pupils' confidence and character."
The school's commitment to reading was applauded in the report, stating that: "Pupils get off to a very strong start in reading" and "are enthusiastic and speak with confidence about their reading".
The report praised the SEND provision at the school, noting that "Leaders are ambitious for pupils with SEND to achieve well."
Similarly, the school's early years provision was highlighted as strong in the report, observing "leaders' high ambition for pupils begins in the early years" and explaining that "a well-sequenced curriculum ensures children are ready for their next phase of learning" at the school.
Staff engagement and development were noted as strengths in the report, which found that "staff, including those new to teaching, say leaders support them well to be successful in their roles" adding that "the governing body and members of the trust support and challenge leaders well."
Finally, inspectors concluded that safeguarding was effective, stating that "there is a strong culture of safeguarding at this school."
CEO of Brooke Weston Trust, Dr Andrew Campbell said: "I am incredibly proud of Sarah and her team, who work tirelessly to deliver the best education possible to our pupils at Oakley Vale Primary School. This monitoring report is a testament to that hard work."
"I am delighted with the contents of the report and I know that Sarah and her team will be ever-more focused on the continual improvements they're already making, so that the school continues to go from strength to strength."
The full report can be found on the Ofsted Website.