Dr. Andrew Campbell visits Thrapston Primary School to deliver his annual CEO update
10/11/2023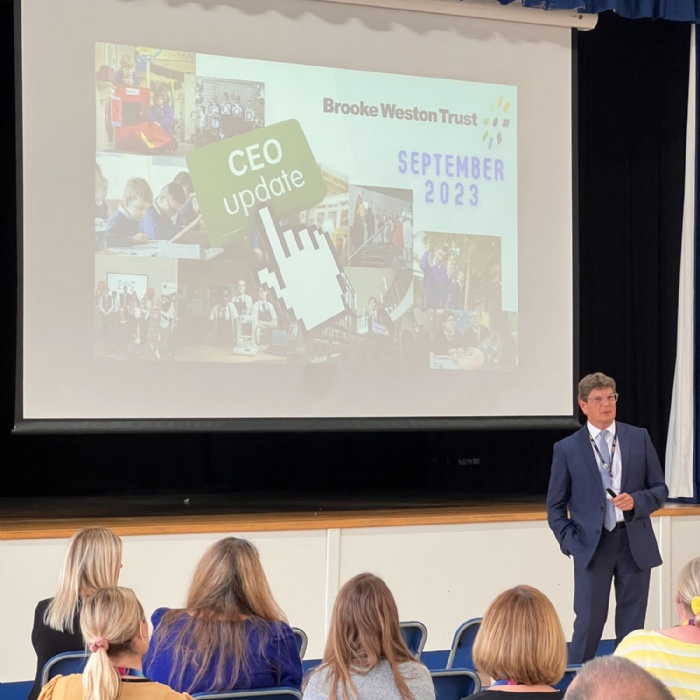 Colleagues from Thrapston Primary School, were visited by senior members of our Trust yesterday, as part of Andrew Campbell's CEO Roadshow – which began at the start of the academic year, to meet everyone face to face in each of our 11 schools and re-share his vision and the goals for BWT over the coming year, reinforcing what makes BWT so special.
Thrapston Primary officially became part of BWT on 1st October 2023, so it was Andrew's inaugural 'CEO Update' for this school.
Colleagues from Thrapston listened to some inspiring messages from our CEO as he touched on some key themes centred around 'Ambition for All' and the ethos and direction of the Trust.
Andrew challenged colleagues to ask themselves the following questions each day – to ensure that whatever their role, they are delivering the best educational experience:
Do I have 'ambition for all'?
Is this what I would want for my own child?
Am I helping children to get their tickets for life?
He then shared some insights on the direction of the Trust and our key focus. These included:
High quality teaching everywhere, all the time

Every child is supported and encouraged

High quality CPD and leadership development for staff

Maximising investment in our people ensuring that they are fulfilled and looked after

Clear and direct communication

Everyone is listened to, and courageous conversations and feedback are valued

Efficiencies through smart collaboration and professional expertise

Smarter ways of working together and enhanced transparency of finance
Michelle Wenham (Chief Operations and Resources Officer) also spoke to staff about the Trust's new People Strategy, which launched on Monday (9th Oct 2023), created for and by Trust colleagues.
Elements of the new People Strategy were introduced by Michelle, with more information to come in the near future.
Some of the exciting new/future offers, a number of which are unique to the Trust, include:
A new 'Reward and Recognition' platform
A bespoke 'Wellbeing and Workload' toolkit
In-house people function
New people information system
CPD opportunities that include;

The BWT Leadership Academy,
New induction programme,
Line management development
Broke Weston Trust Masters Programme
New online CPD toolkit
Minimum of five days (per year) for CPD - for all colleagues.
Andrew concluded the session by emphasising his excitement about continuing to work closely with Thrapston colleagues, getting to know them and supporting their future development - as a school and as individuals.
Sharon Webb, Acting Principal of Thrapston reflected on the event, saying: "it was really important for our staff to hear from Andrew and Michelle about the values of the Trust and the focus on culture and people.
"We are completely aligned to the vision and values: providing every child with the best possible education. Today demonstrated our Trust's commitment to developing and investing in us, so that we can achieve this goal. We are delighted to officially be a valued member of Brooke Weston Trust."