Ambition for All at Gretton Primary
09/11/2017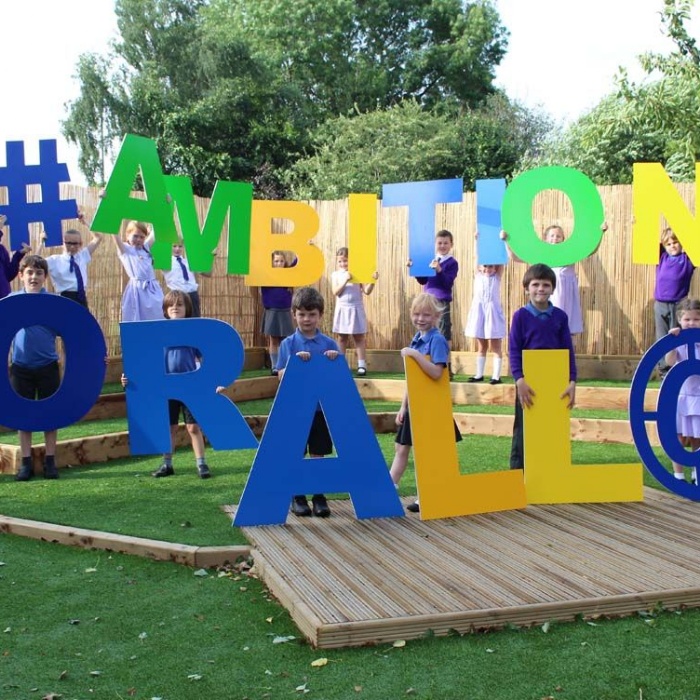 Gretton Primary School is this month's torchbearer for the Trust's 'Ambition for All' initiative which is running across all our schools this year.
The school is planning a series of events to get everyone involved, including an Apprentice-style project where the students from Years 2 to 6 will design a food or drink project and create the marketing, adverts, packaging and end product. The items will be market tested on the younger students to gauge their opinion and the items will be available for parents and carers to buy at the end of the school day as a fund-raiser.
The school will also be marking careers week from Monday 25 September and parents will come in and talk about their different professions and jobs. As an added extra the Year 6 students will also have the opportunity to visit Nissan in Milton Keynes in January and there are also plans to visit the University of Bedford. Olympic swimmer Grant Turner is also visiting to talk about his path to success and encourage students to pursue their passion in life. He will launch a series of sporting activities with all pupils to inspire them to be more physically active.
Principal Jane MacDonald said: 'Ambition is our Value of the month anyway so we are doing a lot of work around that and the Apprentice style project will be an opportunity for everyone to get involved, do their best and start off a bit of fund-raising that will be used for further Ambition for All projects across the year. It is great to start off the year as the Trust's Ambition for All torchbearer and we are looking forward to welcoming Dr Campbell along to our pledge signing assembly later this month where he will learn more about what has been going on in our classrooms and the extra activities we are planning in order to make Ambition for All come alive for our students in an imaginative and sustainable way.'
The Ambition for All campaign is a single focus on improving academic outcomes and opportunities for character development that will run in all our Trust schools throughout this academic year. It applies to all areas of the Trust's schools' operations to ensure students receive the highest quality teaching and wider development opportunities within a supportive and encouraging environment, where adults live and breathe ambition for student success in all its forms. Implicit within this approach is a focus on the progress of disadvantaged students and of high ability students, whatever their background.