Mr Smith's new role as Senior Principal
14/09/2017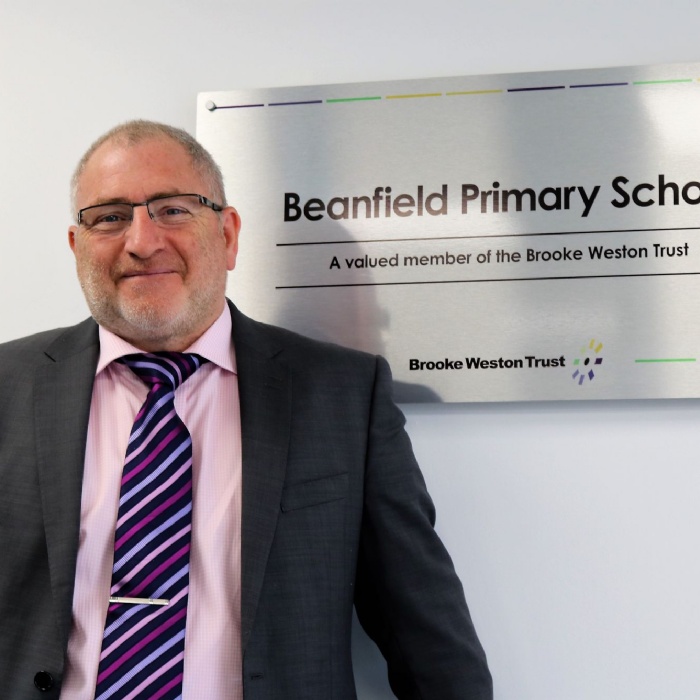 Mr Leyton Smith has been made Senior Principal in the Brooke Weston Trust and he will be working alongside his colleagues at Compass Primary and Oakley Vale Academies on a raft of strategies to improve outcomes and share best practice.
Mr Smith has been Principal at Beanfield Primary School for five years and during that time has steered it to a 'Good' Ofsted grading, and he can see many positive similarities between the three schools.
He said: 'Oakley Vale and Compass are geographically near but also similar in their size and catchment and also in terms of the challenges they face. The Brooke Weston Trust felt that it would be a good opportunity for me to work across the three schools and to share some of the experience that I have gained to support all our schools in moving forward.
'When I started at Beanfield five years ago, we would have taken any support, advice and guidance that we could get and that hasn't changed. Just because we are no longer a school that is struggling within that national context I want every bit of help I can get for our school, whether it is from the Teaching School, external quality assurance or tapping in to the expertise from other schools. One of the things I am absolutely convinced about is that all three schools have strengths that can benefit one another in their journeys towards outstanding.
'From Oakley Vale we will learn a lot about Early Years and Early Years Development. From Compass we will gain an awful lot about curriculum and working with stakeholders and they will get a lot of leadership experience from Beanfield. All three schools will improve as we build a mutually supportive framework to share the best practice.
'This is a developmental way of working with people who are very good leaders. We have so many experienced, highly skilled staff across our schools and it is testament to the strong collaborative ethos that we have in the Trust and between the primary heads as a group.
'This new role is perfect for me because I get to use my experience and enthusiasm to help nurture and develop other schools whilst tapping in to their strengths to improve my school further. I am incredibly grateful for the opportunity.'
#Ambition for All