Natalie and team take on the Mud Run
10/06/2017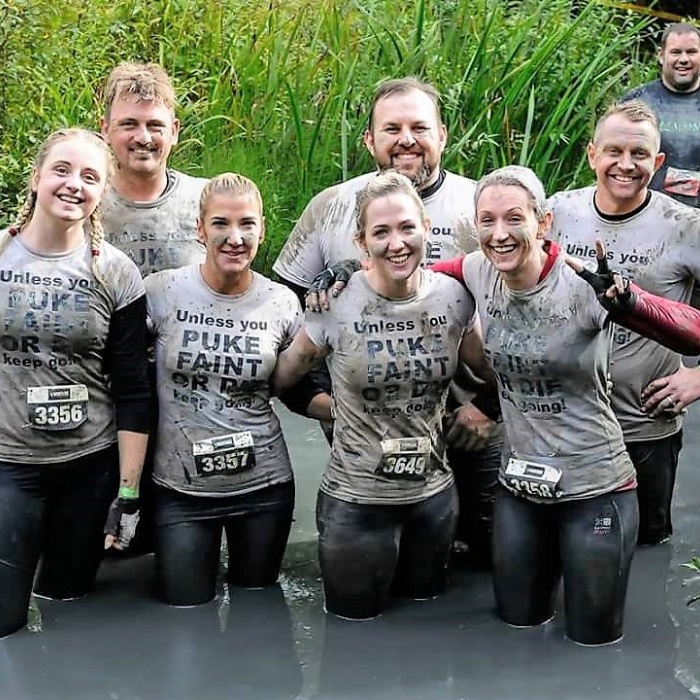 Fitness instructor Natalie Hannah from Brooke Weston gym took on the 12k Uventure Mud Run complete with 48 challenging obstacles. Natalie, who also works as a science technician at the school, did the race with six team mates, including her husband. They completed the course in three hours 45 minutes and, despite the gruelling tasks, they were undefeated, mud-spattered and still smiling at the end when they were awarded T-shirts and commemorative medals.
Natalie said: 'It involved climbing up ropes and hills, going down waterslides, carrying tyres and jumping over fire pits. The worst bit for me was swimming in freezing water. As I went into the pit I got sucked in and was completed immersed. It was so cold I could hardly breathe! I also found it really hard around the 9k mark when I had to pull myself up hills with ropes as it started to really hurt. Before this the most I had run was 4k but I managed the 12k distance just fine.'
Natalie has been going to the Brooke Weston gym for three years and loves it so much that she has now qualified as a Level Two fitness instructor and works there at weekends which is where she met her other team members.
Natalie said: 'I loved the Mud Run and would recommend it 100% and would do another one this weekend if I could. Our team motto was "Unless you puke, faint or die – keep going!" It was all about the teamwork. It was the first time I and my husband have done anything like this and I was so proud of him. We started as a team and ended as a team, helping each other up the obstacles and we are all planning to do more challenges like the Wolf Run or charity events.'