Brooke Weston Trust launches Leadership Academy
17/11/2017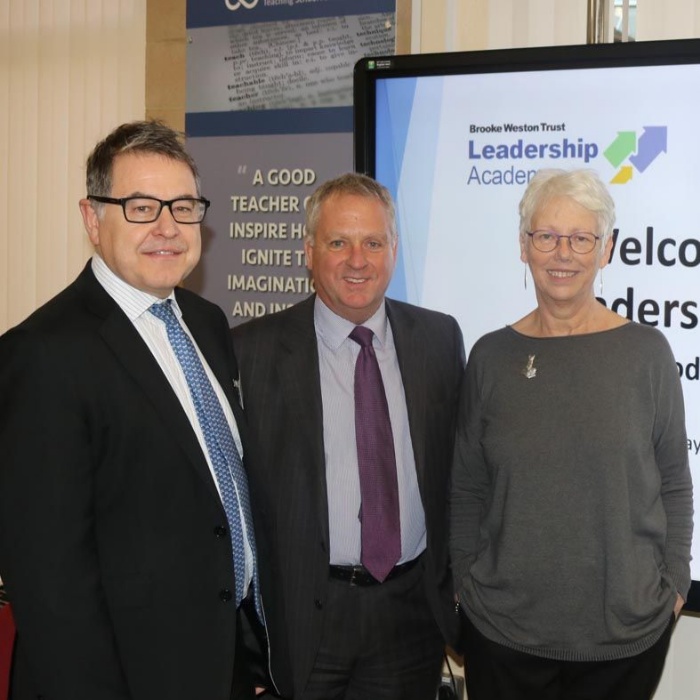 Nearly 50 delegates from across our Trust schools went to the inaugural meeting of the Leadership Academy, an initiative designed to nurture talent and succession planning.
Trust CEO, Dr Andrew Campbell welcomed delegates to the session facilitated by educationalist Dame Kathy August and Mike Phillips from Pentir Talent Solutions. The aim of the first session was to see how we can better support and train colleagues to become leaders of the future.
Mike Phillips, managing director of Pentir said: 'The session is to launch the thinking around the leadership academy, asking people whether they want to be leaders of the future and what sort of areas do they want to work in? The session will be about how the system has changed and developed, thoughts from outside and what does that mean for the Brooke Weston Trust in the development of its leaders for the future? Also how should we work with potential leaders of the future to ensure they get the right support so that they can maximise their potential?
'It is helping delegates to understand the landscape of academy and school leadership. There has been so much change that just to give them a sense of what is going on outside may help them shape their thinking about their future development. The intention is to use this session as a touchstone, what are the areas that will really help them most. It is about shaping their experiences as well as shaping their training and development. The Brooke Weston Trust will support people and help them gain the breadth of experience so they can be the academy leaders of the future. It is bespoke training and all about growing your own talent.'
Dame Kathy August said: 'We are here as partners to help alongside the internal leadership team, framing some of the big issues and sharing how we see initiatives operating in other parts of the country and other Trusts. Because of the networks we have got we are able to provide a synthesis of what is happening in other places. Some of the leadership challenges in education are also faced by the health service, police and in the private sector as well. If people come to an organisation like this, they are not just looking to do a teaching job, they might stay there for their career because they won't be isolated, there will be a career structure and opportunities for them and they will be invested in as individuals.
'That is really important and it's a credit to the Trust that they are taking it on. A lot of it is developing from what people identify as their own needs. In developing leadership there are certain principles that you need to hold true to, and being authentic is certainly the most important for me.'
A selection of photographs from the event is available here.