Official opening of Corby Technical School's extension
12/05/2017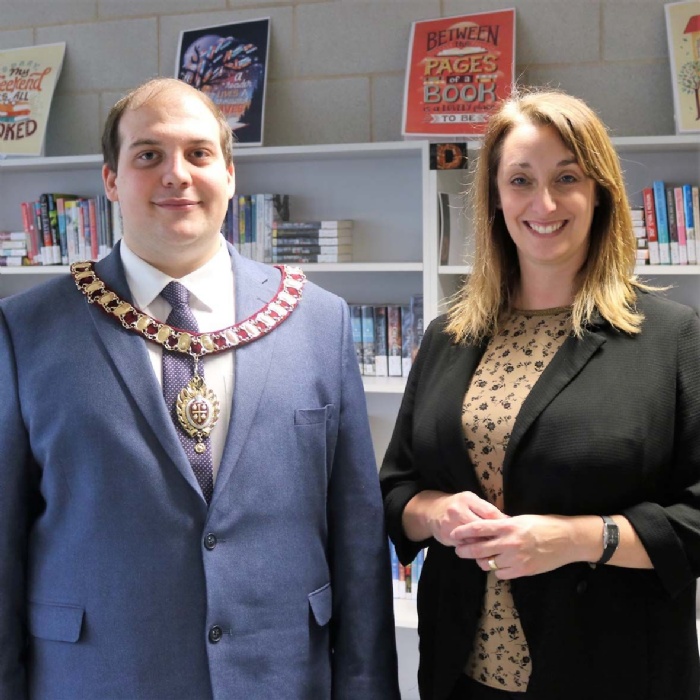 Corby Technical School's new extension, which has doubled the size of the school, was officially opened in a ceremony on Tuesday 5 December. Representatives from the county council attended, along with the constructors and architects who made the vision a reality.
The £6.8m project has provided 3,308 square metres of accommodation including 20 new classrooms, a drama studio, lecture theatre, media studies and music department, Sixth Form space and offices. The school, which is oversubscribed, was earmarked for expansion by Northamptonshire County Council, which funded the scheme. The build has enabled the school to double its Year 7 intake to 150 and there has also been an expansion of the car park and alteration of existing classrooms.
Refinements that have been installed in the building include photo-voltaic panels on the roof and energy efficient lighting and heating systems which will make it as cost-efficient as possible. It was handed over in a phased delivery where students were able to access some of the site at the start of this academic year and they were able to fully occupy the space in October.
More than 40 delegates attended the official opening, including senior Brooke Weston Trust staff and Principals who toured the building and saw the classrooms in action.
Corby's Mayor, Cllr Matt Keane cut the ribbon, watched by Angela Reynolds, CTS's Principal, the CEO of the Brooke Weston Trust Dr Andrew Campbell and Cllr Matthew Golby from Northants Borough Council.
The project was procured through the empa framework, which is managed by Scape Group, a public sector organisation dedicated to creating ongoing efficiency and social value via the built environment. Construction work was managed by Wates Construction, in conjunction with teams of professionals from GSS Architecture and Pick Everard.
CTS's Principal Angela Reynolds said: 'This fantastic extension blends seamlessly with our existing building and it has enabled us to expand our numbers of students plus our range of courses, as well as housing a dedicated space for our new Sixth Form. On behalf of the staff and students, I would like to thank all those involved in delivering such bright, modern and well equipped accommodation without disrupting the day to day running of the school.'
John Carlin, Business Unit Director at Wates Construction, said: 'The resounding success of this extension for Corby Technical School is testament to the efficient and effective procurement process offered by the empa framework. This facilitated the speed at which we were able to start work on site, the minimal disruption afforded to staff and students through our flexible building programme and the expertise we brought to the project as a trusted contractor in the education sector. It was a privilege to work in partnership with the Brooke Weston Trust and Pick Everard to create this exceptional learning environment for the Corby Technical School community.'
Independent property, construction and infrastructure consultancy Pick Everard delivered project management and quantity surveying services as part of the project. Adrian Ceney, national director at Pick Everard, said: 'We have worked with the Brooke Weston Trust on a number of schemes and we're delighted to see another transformative project come to completion. This multi-million pound extension will go a long way in enabling the school to considerably increase its offering to students and is an inspirational learning facility. We have considerable experience in the education sector so I'm delighted that we've overseen another successful build.'
Anna McTaggart, Partner at GSSArchitecture said: Our team worked closely with the Trust to design the new extension and internal remodelling works to ensure that they suited the needs of the staff and students. GSSArchitecture has considerable experience designing buildings for education and used its previous experience of working with the Trust to ensure that the project was delivered within a very tight timescale. It is truly rewarding to see how the whole team has worked together to deliver the project that will provide a high quality education environment for the local community in Corby.'
Northamptonshire County Council deputy leader and cabinet member for children's services Cllr Matthew Golby said: 'I am delighted that the county council has been able to fund this extension to Corby Technical School, which will provide much-needed additional school places in one of the fastest growing towns in the country. By doubling the number of places available in each year group, we are also able to offer more local families greater choice when applying for a school place in Corby.'
Dr Andrew Campbell, Chief Executive of the Brooke Weston Trust said: 'This expansion would not have been possible without the funding and support of Northamptonshire County Council who recognised the need for extra school places in Corby. I would like to thank them, along with Wates Construction, who project managed the scheme, as well as the teams from GSS Architects, Pick Everard and Scape Procure. Everyone involved worked tirelessly on this extension that will enhance the education and life chances of Corby students now, and for generations to come.'
For more photographs of the official opening and tour click here.