Author Tom Easton visits CBA
25/01/2018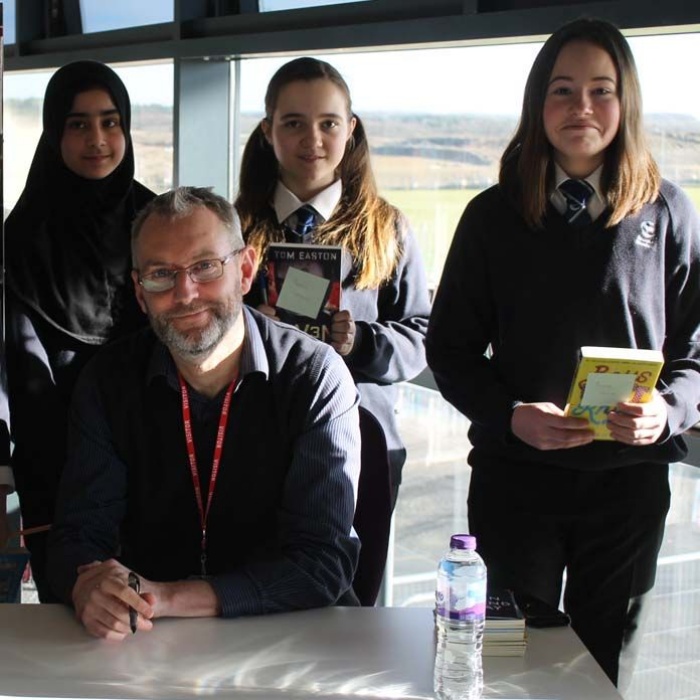 Author Tom Easton spoke to groups of our secondary students about his work and gave them an insight into the writing process when he visited Corby Business Academy recently.
He is an experienced fiction author and has been published as both Tom or T S Easton, depending on the genre of his novels. He has had more than a dozen books published including 'Boys Don't Knit' which was nominated for the prestigious Carnegie Medal in 2015.
Tom spoke to students about his latest book 'Girls Can't Hit' a funny, feminist teen story about knowing when to train and when to fight, which he launched at his local boxing club where he had conducted research. His advice to students who want to become writers was to be patient, write in different genres and try different voices.
Students from other Academies were also invited along to Tom's talk. Ms Wendy McCabe from Brooke Weston Academy said, 'It is always a fantastic opportunity for the students to meet an author and a few of our students had read some of Tom's books which made it even more exciting to meet him. He gave some good advice about writing and encouraged those whose dream it is to become authors, by telling them that if he could do it then so could they.'
One Year 8 students said: 'I really enjoyed meeting Tom, my favourite part was when he was telling us boxing jokes, they were really bad jokes but that made them even funnier!'