Beanfield ends Ambition for All with talent show
02/01/2018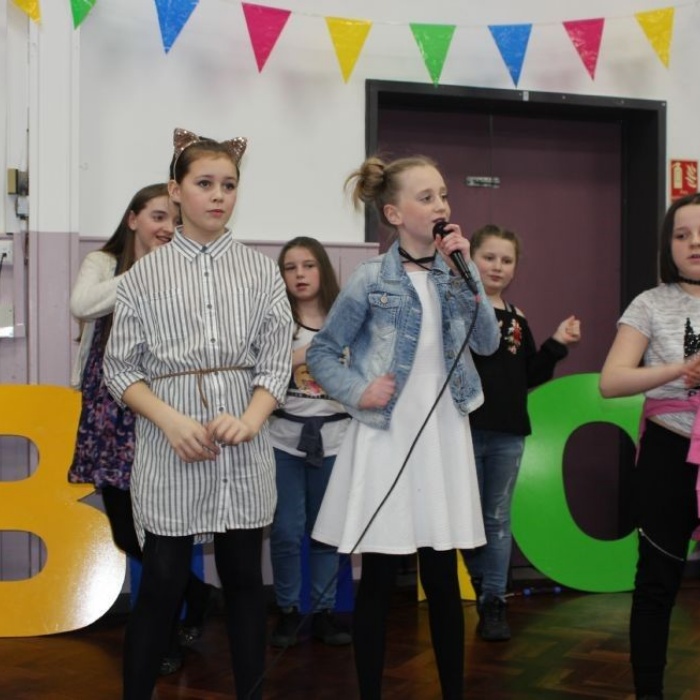 Beanfield Primary School had an action-packed finale to their Ambition for All month with a talent show where students showcased their skills to a packed audience including the Mayor of Corby.
It was a fitting end to a busy month that saw lots of parental involvement, community engagement and partnerships with students at our Trust secondaries. The school held a 'breakfast bar' where parents and carers could come in and enjoy a cooked breakfast with students to start the school day. There was also an afternoon tea when musicians from Corby Business Academy provided the musical accompaniment. Students also got creative and made lots of items to sell at a very well attended craft fair. Finally the talent show gave students, including a group from Brooke Weston Academy, a 'time to shine' which was the theme of the month.
Acts included singers, dancers, pianists and a demonstration of football skills performing to an audience of parents, friends, staff, governors, members of the school's chosen charities, Trust members and the Mayor Cllr Matt Keane. He said, 'One of the best parts of being Mayor is that I get to work with a lot of young people within the town and it really is so encouraging to come to school talent shows like this. It is really encouraging, as the Mayor of Corby, to see the next generation of Corby children and it looks like they are going to do a very good job of making the town proud.'
Also taking part in the show was a group of students from Brooke Weston Academy who performed two contemporary dances. Assistant Principal Miss Nicole Lansberry said, 'We wanted to invite students from some of the other Trust schools to give our students something to aspire to in the future. We have been fortunate to have Brooke Weston and Corby Business Academy students along to take part.
'The variety show was a huge success and our way of saying thank you to members of staff and family who have helped out during our Ambition for All month and ending our month on a high. We have so much talent at Beanfield and this event has only just scratched the surface.'
Associate Principal Mrs Sam Eathorne said, 'The talent show has been absolutely amazing and it has been lovely to see so many varied talents that our students have. You don't realise what the students take part in out of school and it was fabulous to see that showcased tonight.
'Our "Ambition for All" month has been amazing. We have had great feedback from parents throughout the month. The afternoon tea and breakfast bar were fantastic opportunities for parents to sit down with their children and enjoy quality time with them in a calm atmosphere. The craft fair had so many lovely stalls and the students worked so hard getting everything ready and prepared. I want to say a massive thank you to the 'Ambition for All' committee who have put everything together and worked behind the scenes to organise all of our events which have all been a real success.'
To see a photo gallery of the talent show click here.