Profile of Mrs Sam Eathorne, Beanfield's new Associate Principal
02/05/2018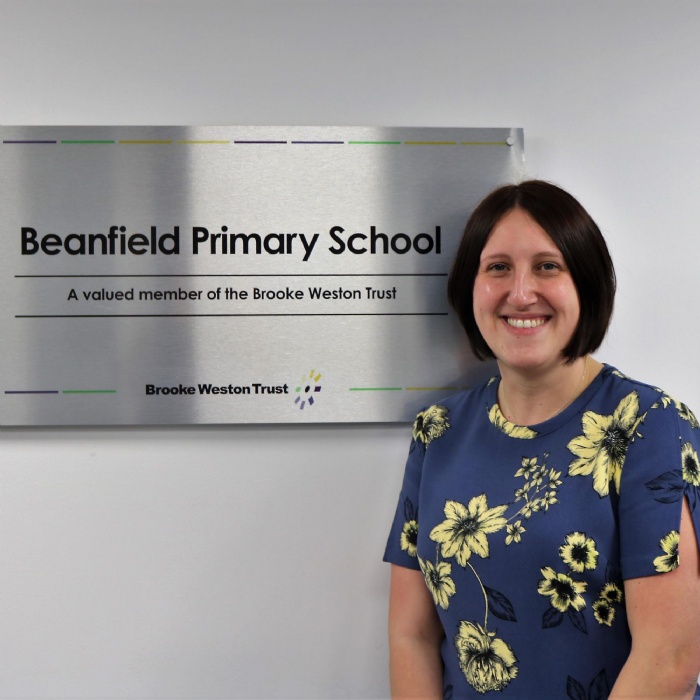 Beanfield Primary's new Associate Principal, Mrs Sam Eathorne, says it will be 'business as usual' as she takes over the day to day running of the school.
Her organisational skills and personable approach will be invaluable in the role and she will continue to liaise closely with her predecessor, Leyton Smith, who is now Executive Principal in the Brooke Weston Trust.
She said: 'The main focus is business as usual. The staff know how I work. The drive is there, we know where we need to be. We have worked very hard in the last five years to become a good school. This role is about maintaining that, moving forward and pushing towards becoming outstanding one day.'
She wanted to be a teacher after being inspired by a Year 6 teacher as a child and she has worked in a number of different educational settings as an English specialist before widening her skill set by specialising in Assessment for Learning, KS1, SEN and mentoring as she progressed up the management ladder. Although she doesn't have formal time in the classroom she runs booster sessions for students before school starts.
'Part of me does miss the classroom side of it, and part of me loves the management side. This is always where I wanted to get to. I have worked hard and did my National Professional Qualification for Headship as soon as I set foot in the door five years ago.'
Beanfield is a busy and thriving school with over 100 staff and more than 680 students. It has extended provision beyond the school day, 25 after school clubs and a Unit for children with special educational needs. Sam is keen to remain visible and active in all areas of the school, and to continue to grow positive relationships with the local community.
'The staff here work incredibly hard, they have our children's best interests at heart and a lot of the things we do beyond the academic side are extremely strong. We do a lot of pastoral things and the support from parents is becoming more important.
'We have a very strong senior leadership team and I am coaching two middle leaders who are taking over my SEN and KS1 responsibilities so we are upskilling them. Being given the opportunity of becoming Associate Principal was an absolute honour. 'What is really gratifying is that I am being upskilled and becoming involved in things such as finance and budget that I wasn't privy to before. The Brooke Weston Trust Principals are a well-established team and they have been very welcoming.
'The nice thing for me is that Leyton is still going to be based at Beanfield for a lot of the time. We have a really strong partnership and have worked together in the SLT for the last three and a half years. We bounce ideas off each other and things roll into action. That's how we will continue to work.'