Labour candidate visits Beanfield Primary School
23/02/2018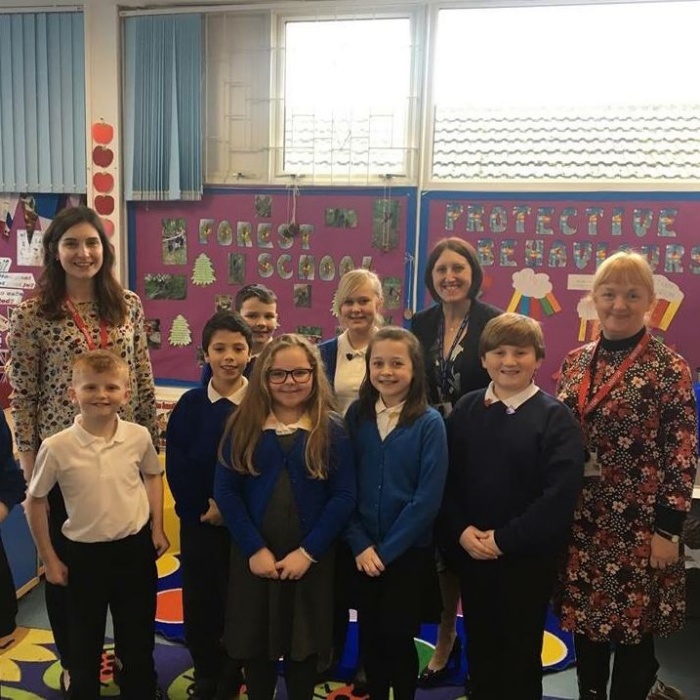 Students at Beanfield Primary School invited Corby's Labour parliamentary candidate Beth Miller and Cllr Julie Brookfield into school as part of their Ambition for All theme and to help give students a deeper insight into the role of someone influential within the community.
Beth grew up in Corby, attended the local schools and still lives here now which showed students what is possible to achieve if you believe in yourself and work hard enough.
The visitors were given a tour of the school by two of our Year 6 house captains where they were able to speak to students in different year groups.
They then took part in a 45 minute question and answer session with all of the house captains and some of the student leaders from Years 3 to 6, who asked some extremely interesting and mature questions including ones about Brexit and what it means, what changes Beth would like to make in the town and if she ever struggles with public speaking.
Student welfare assistantCallum Reilly said, 'I think it is important to have visitors like Miss Miller inthe school because it gives the students an awareness of democracy. The purpose of her visit wasn't just about the political side of her role it was also to show what she has taken on and how she is progressing, and how they as children are the future of the town and the impact they can have. It was a chance to open their eyes as to what goes on in their local community.'
Miss Miller said, 'It was a pleasure to meet the teachers and students at Beanfield Primary School. I was so impressed with the quality of the teaching and how astute and switched on the students were in the Q&A session we had. They asked lots of topical and challenging questions including ones on Brexit. It reminded me of 16 years ago when I was in Year 6 and was chosen to show our local Labour MP around our school. I can't wait to see what the students I met from Beanfield will be doing with their lives in 16 years' time.'