BWA siblings in champion brass band
28/02/2018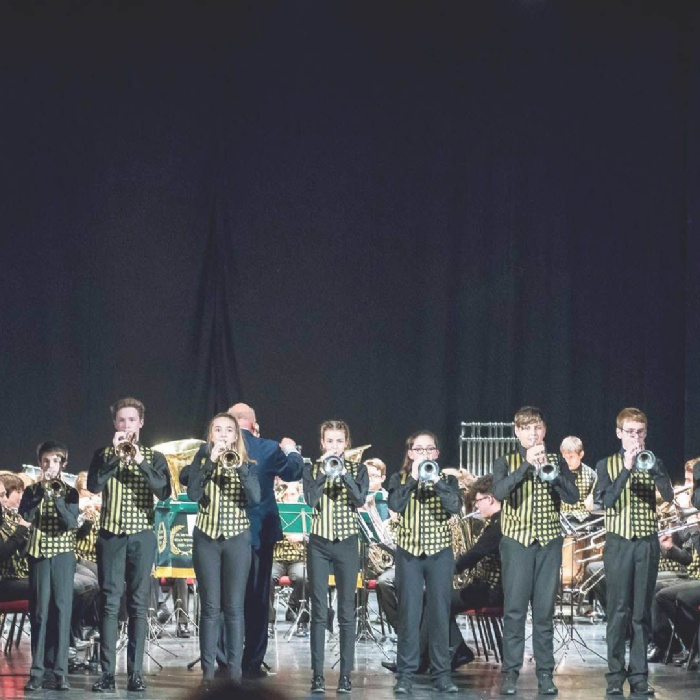 Congratulations to three Brooke Weston Academy students Daisy, Joe and Max Oram from Years 8 to 10 respectively, who competed with Youth Brass 2000 (YB2K) in the British Open Youth Contest in Lancashire and came away as the British Youth Champions 2018.
The siblings have been playing their instruments since Year 4 and are members of two local adult brass bands. Having started competing with Corby Silver Band in 2016, they were part of the winning band at the regional contest in March, which qualified them to represent the Midlands in the National Championships in September.
As a result of their success the trio were invited to join Youth Brass 2000 (YB2K). The 35-strong group consists of students, up to the age of 19, with some travelling from as far afield as Yorkshire to rehearse once a week with artistic director Lord Chris Jeans . The band competes at national and international levels and it is current British champion and second in Europe, giving its members a host of incredible opportunities.
Daisy said, 'I really enjoy being a member of YB2K as I get to be with people the same age with the same interests. It is really nice that my brothers are in the band as well. Max and I play the cornet and Joe plays E flat bass. We all have our own friendship groups but it means we get to spend time together as a family and experience some amazing things together. It is so exciting that we are now the British Youth Champions as we are invited to play all over Europe. We are going to the City of Culture in Holland to play for four days in the summer and have been asked to play at Disneyland Paris and at Lake Garda in Italy. I am really excited and fortunate to be part of the band.'
They will be performing a local concert at the Corby Cube on 25 March and again in a double bill with the legendary Brighouse and Rastrick Band on 7 July.
If students are interested in joining, or want to find out more, visit the band's website http://youthbrass2000.com/