TCA rugby players coach Peckover students
03/08/2018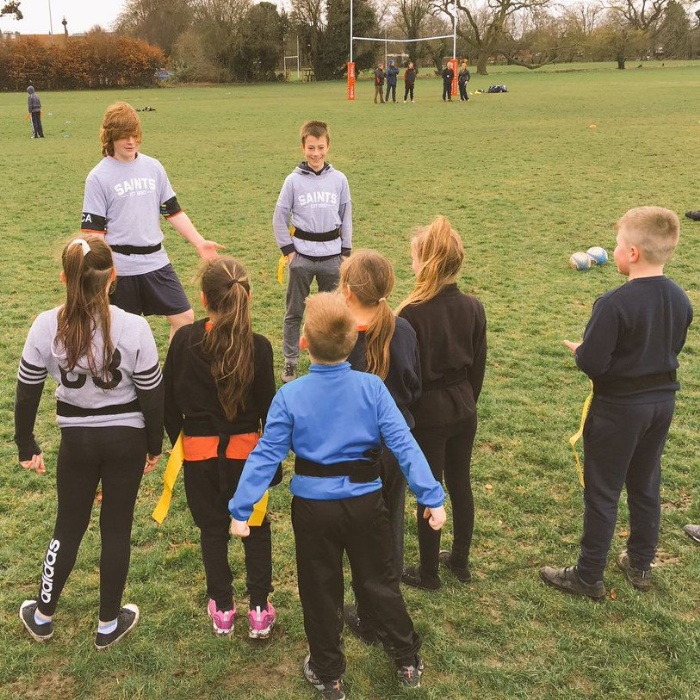 A programme which has seen a group of rugby players from Thomas Clarkson Academy take part in training sessions with Northampton Saints coaches has led to students delivering tag rugby sessions to primary pupils.
Since October, a group of Year 9 and 10 students have been attending the training sessions with some of the best coaches working in professional rugby. Not only has it helped them to develop their own skills through high-performance training, it has also given them an in-depth knowledge of the game and the ability to lead sessions in tag rugby.

The group recently worked with pupils from Peckover Primary School to deliver and officiate a tag rugby tournament at Wisbech Rugby Club. The next stage of the initiative will see the players start going into primary schools to deliver after-school rugby sessions to younger children.
PE teacher and coach Bruno Porfirio said: 'It was the first time our students have led a group of younger children and it was really successful, not only impressing the Saints coaches but also the primary school staff. The way they dealt with the younger children just made the day work so well. They were positive and enthusiastic about the game so that passed on to the primary pupils.
'Working with the Saints coaches has given the boys a better understanding of the game – that it's not just about being stronger or faster than your opponent, it's about having a tactical understanding and what you can do to overcome the obstacles the other team puts in front of you.
'I've seen a massive difference in how they play now and the tactics they use, like how they set themselves up on the pitch. It's just given them a new perspective. Being able to work with coaches from this level makes a huge difference to the players and the school as a whole. It's aspirational and shows them that they can be part of an elite environment.'

As part of the programme, the players were given a tour of the Saints ground in Northampton. The team's captain, Danny Grieve, is already part of the club's Developing Player Programme.