Award winning author Jo Cotterill visits BWA
13/03/2018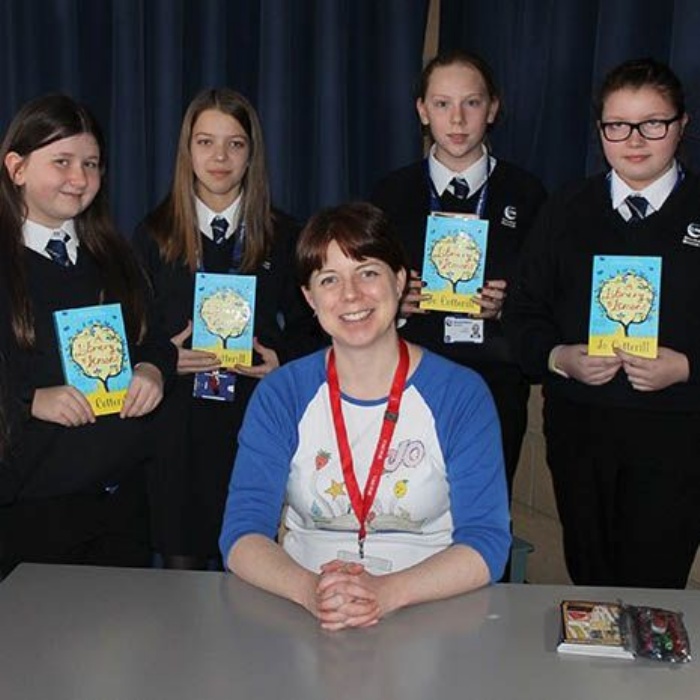 Award winning author Jo Cotterill visited Brooke Weston Academy to speak to Year 7 students about her career and deliver a creative workshop to a small group of Year 10s.
She has written 37 books as Jo Cotterill and others under the pseudonym, Joanna Kenrick, aimed at older teenagers. Her books have won several awards and she was nominated for the Carnegie Medal for 'Looking at the Stars' (2015) and 'A Library of Lemons' (2017).
During the morning she gave a presentation to Year 7 explaining her love of reading and how she wrote her first story 'The Christmas Tree', as a Christmas gift to her grandparents when she was almost six, which she read and showed to the students.
Jo said 'I think if someone is meant to be a writer, they will find a way somehow. Reading and writing are both important but taking criticism is important too. When it boils down to it, if you want to do something passionately enough, the only person who can make it happen is you.'
She said that as a writer, it is extremely important to do extensive research for your book. While researching for the 'Electrigirl' books she visited a power station and learnt facts that helped with the development of the characters and plot. Jo asked volunteers to become an electric circuit, which involved a very loud student battery and them keeping electrons moving around a circuit to keep a switch on. In the afternoon a small group of Year 10 students discussed complex social issues that affect many young people today and created a powerful piece of writing as a result.
Librarian Ms Wendy McCabe said, 'Jo was an instant hit with the students, they were engaged and on the edge of their seats. Her background in performing and teaching really shone through and gave everyone a day to remember. '