Peckover teacher receives 'Values' award for skills and integrity
15/03/2018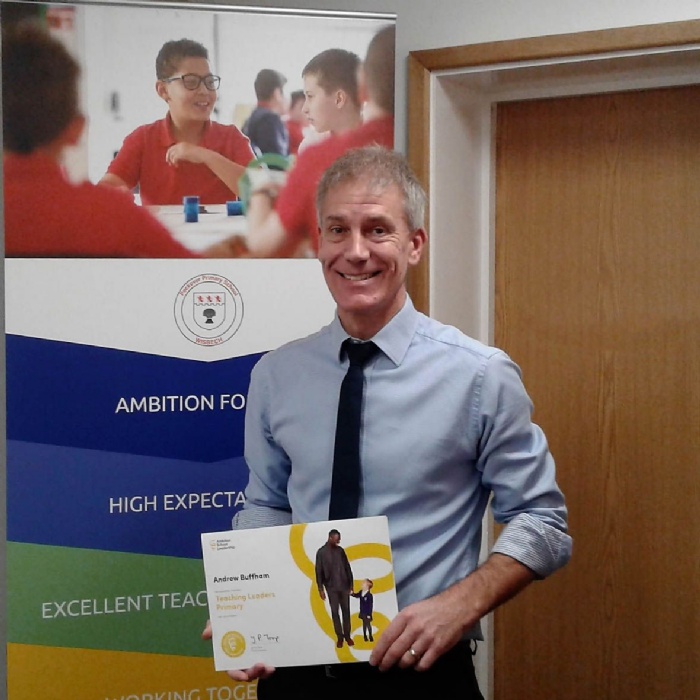 Congratulations to Andy Buffham, from Peckover Primary School, who was selected from a cohort of over 50 primary professionals to receive a prestigious award while on the Teaching Leaders Fellows programme to gain his National Professional Qualification for Middle Leaders (NPQML).
Teaching Leaders is run by Ambition School Leadership and the Ann Brougham Values Award is given to 'The fellow who has demonstrated our core organisational values of mastery, grit, empowerment, teamwork and integrity to an outstanding level throughout the programme.'
Andy, who has been teaching at Peckover for three years, had to develop a strategy to improve outcomes for disadvantaged students. He focused on those not exposed to a broad range of vocabulary at home, which had an impact on their reading and writing. He introduced a system so that a small group of targeted students discussed words and concepts with teachers and TAs before embarking on a topic, giving them the vocabulary and confidence to produce higher quality work.
He said: 'It was about giving students strategies for success. The idea has now been introduced across the whole school and integrated into teaching practice in the classrooms. I would recommend Teaching Leaders as a course. It has given me the ability to be reflective, which is always a good skill and it has definitely built my confidence.
'I was surprised and delighted when I was told about the award. It was evident throughout the course that Ambition School Leadership worked to high standards so the fact that that it relates to their values has obviously made me proud. It is a real accolade.'
The award is dedicated to Ann Brougham, who passed away in 2010 and who was the first Lead Coach on the Teaching Leaders programme. The organisation said that 'the result was based on combination of peer votes and input from the South Primary delivery team and Andy had been noted to go beyond in hosting and visiting other schools and was always proactive with his involvement on the programme'.
Peckover's Principal Carrie Norman said: 'We are all absolutely delighted for Andy. He showed a huge amount of dedication completing the course alongside his full-time teaching role and coming up with an intervention that has been rolled out across the school to benefit all year groups. This award demonstrates what a committed and exceptional teacher he is.'
James Toop, Chief Executive of Ambition School Leadership says: 'I'm delighted to present this award to Andy, in recognition of his hard work on the programme. Our charity's ambition is to ensure every child goes to a great school and everyone on our Teaching Leaders programmes is dedicated to making this a reality and addressing educational disadvantage to improve the life chances of young people.'