BWA students donate to local hospital
21/03/2018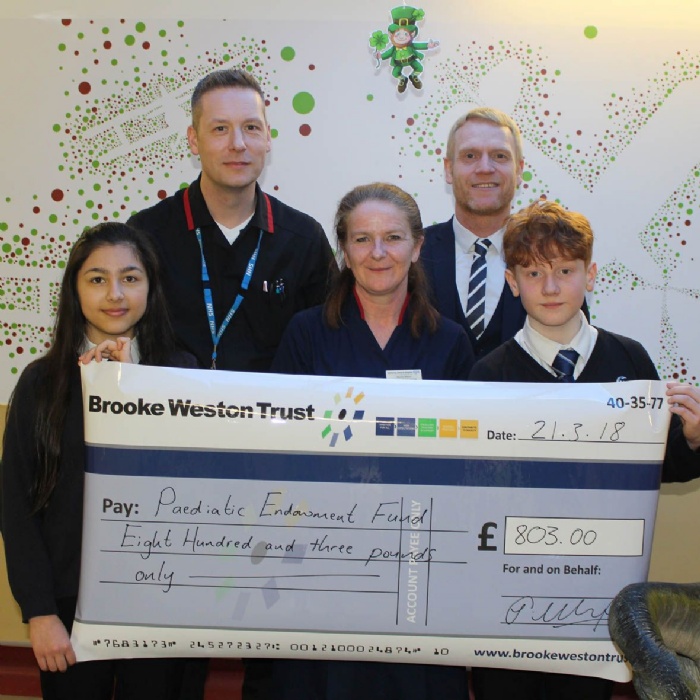 Students at Brooke Weston Academy took part in a fund raising day raising £803 for Skylark paediatric ward at Kettering General Hospital.
The whole school voted for three charities, one international, one national and a local one, to raise money for throughout the year. The chosen charities were Water Aid, Cancer Research and the Skylark ward at Kettering General Hospital and a mufti day was held to raise the money.
Vice Principal Simon Underwood and two Year 8 students visited Skylark ward to present the cheque and learn how the money would be spent.
Lead Nurse for Children's Services, Donna Mason, said, 'We were overwhelmed when we heard how much the staff and students at Brooke Weston Academy raised for us. We are extremely grateful when we receive donations as it really helps to make a difference on the ward and to children's lives.
'We have 26 beds on the ward and treat children from birth to 18 years of age, who are admitted for anything from a routine operation, like having tonsils removed or issues like broken bones, emergencies or conditions that mean children may have to stay long term.
'We are planning to put the money towards a portable patient monitor which can be crucial in assessing and monitoring children for illnesses such as sepsis, as it allows us to detect heart rates and oxygen levels and act fast if we need to, helping save lives.'
Year 8 student Andrea Ungrenu said, 'I felt privileged to be chosen to present the cheque to the ward and see exactly how the money we have raised as a school will go to help children. It is important to support local charities because you get to see first hand how your money can help to save and change lives and you can make a difference to the community where you live.'
Mr Simon Underwood said, 'We are pleased to support the great work that happens every day in the Skylark ward. Our students and staff are extremely proud to have an opportunity to contribute towards improving children's lives.'