Believe Big celebration tea
04/03/2018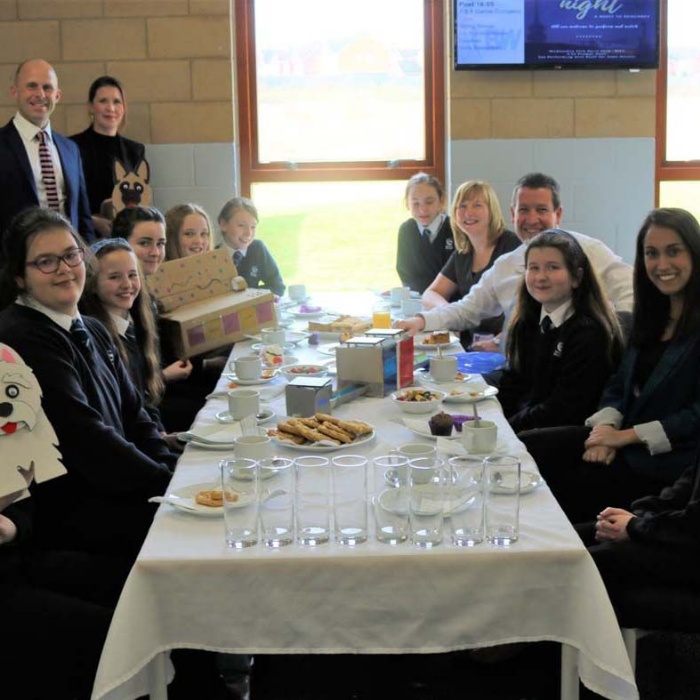 Brooke Weston Academy's participants on the 'Believe Big' project enjoyed an afternoon tea with Principal Pete Kirkbride and members of the SLT, to celebrate their work on the competition.
The students had invented and presented ambitious ideas as part of the Trust-wide competition, run by the company 7 Billion Ideas. They spent weeks developing their ideas, designing posters, slogans, models and presentations and progressing through the competition heats to qualify for the finals at Rockingham Speedway.
The teams were all praised for the high quality of their work and the fact that their ideas were aimed at helping others. Emilia Wright and Libby-May Yates from 7E created RoboDog, a robot guide dog, and were awarded the 'best stall' in the final for RoboDog.
Anna Waterhouse Evie Lapsley and Ruby Broad from 7R devised a bench for the homeless, which would provide essentials such as food and sleeping bags while Jasmine Bailey, Tyler Green, Catherine Darroch and Sofia Muhammad from 7B developed the idea of a water purifier to desalinate sea water to alleviate drought.
David Harkin, CEO of 7 Billion Ideas said: 'The students have been fantastic. There was so much energy and hard work from them and the stalls were world class. The students have gone above and beyond. We want to raise aspiration and encourage students to think big and dream big.'
Principal Pete Kirkbride said: 'This was the first year of the competition and these students came up with some amazingly innovative ideas and were great ambassadors for Brooke Weston Academy. We were delighted to celebrate their success with tea and cakes and to learn more about their ideas and the way the teams went about developing and refining them.'
To see more pictures click here.