CBA hosts Trust Network Conference
04/12/2018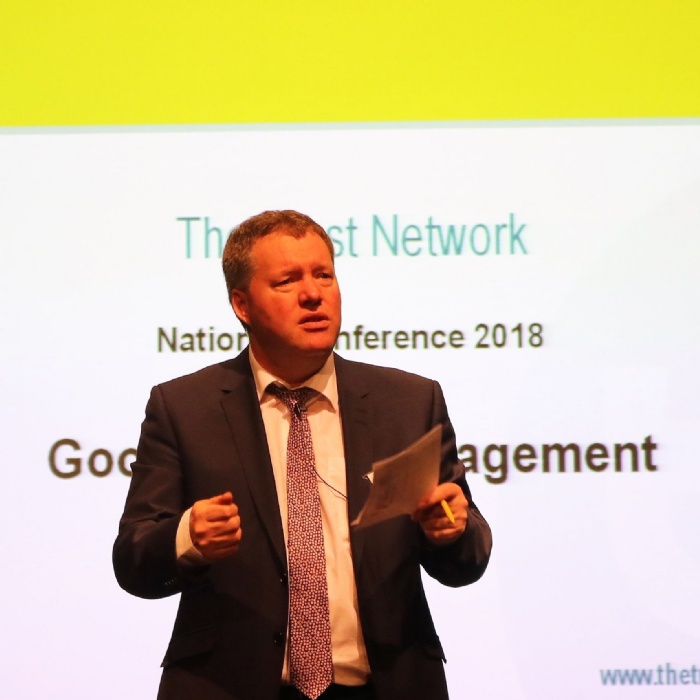 Mr Mike Green, Acting Director General of the Education Skills Funding Agency (ESFA), was the keynote speaker at the Trust Network's Annual Conference at Corby Business Academy.
The 'Good Estate Management' conference' attracted delegates responsible for managing and updating millions of pounds worth of school estates nationwide. Representatives from 103 Trusts, with a collective 1,014 Academies and nearly half a million students, attended the event, hosted by James Miller, one of the founding members of the network.
Mr Green said: 'We are immense supporters of the Trust Network and we are here to help. We are starting to do different things, in the commercial space, efficiency space and energy space. We have resource and people who want to help. We have a new construction framework and are thinking quite hard about modern methods of construction.'
Other ESFA speakers included Commercial Manager Mr Dapo Obatusin, who explained the new construction framework and Suky Atal, the Commercial Director, who spoke about the capital procurement strategy.
Rachael Davies and Jane Lowrie, from the ESFA's Strategy and Intelligence Division, gave an overview of the soon-to-be-launched Good Estates Management guidance website which brings together information and resources. The final talk was 'The Future of Schools Condition Funding' by Catherine Jenkins, Head of the Capital Efficiency and Capability Programme.
In the afternoon attendees browsed stands in 'Procurement Street' and attended a series of workshops on issues including energy reducing technology, compliance and asset management.
Kevin Jackman, Trust Premises Leader from Prince Albert Community Trust, Birmingham said: 'This was the first time I attended and I have improved my knowledge on some of the statutory compliance, knowing what to look for and how to apply it. The workshops were very informative on different topics.'
Jo Bailey, procurement officer with the Brooke Weston Trust said: 'It's been useful to see some of the vendors and see the discounts that they can give MATs. It has been good to hear about technologies being put in place and developments around systems to measure efficiencies. Procurement underpins the topics that are being talked about here.'
Alistair Sneddon, Estates Manager at Aspire Academy Trust, Cornwall, helped to co-ordinate the conference, along with Ormiston Academies Trust, BMAT and the Brooke Weston Trust. He said: 'One of the reasons I wanted to become a co-ordinator was that I felt there was so much good that came out of last year's Birmingham regional event that I wanted to be part of it. I am part of a group of estate managers that between us represent 120 schools so they have all joined the Trust Network as well. This conference was about communication, networking, showing that estates managers are doing a professional role. It is a three-way process because it also helps the EFSA understand what is happening on the ground, we are learning from them and also from each other.'
Rob Little, Sales Director from NetZero Buildings in Newmarket attended to catch up with current issues and liaise with former and potential clients. He said: 'There was a nice network of people here and we have done work for AET, BMAT and the Brooke Weston Trust, but we generally know a lot of people in the network so we are keen to support it. The real highlight was the ESFA and their presentations because you get such a sense of what they are up to. For them to be talking about modern methods of construction is fantastic and the framework conversation was really interesting.'
Marc Auden, Director of Assets at Partnership Learning in East London, said: 'I came to last year's conference and found it really useful so I came along for an update. We are quite a new Trust so it was picking up what other people are doing and putting those strategies into place as well.'
Keith Wilson, Head of Facilities from Greenshaw Learning Trust in Surrey, said: 'It was very interesting, however they main part about the conference is networking and talking to people. It is about making contacts because there are a lot of people facing the same issues.'
Matt Isherwood, Estates Director for the Brooke Weston Trust said: 'It was a pleasure to host this event at Corby Business Academy. The Trust Network is an evolving organisation with a growing reputation that seeks to gather and share information, encourage collaboration and debate and offer networking events. On behalf of the Trust Network I'd like to thank Mike Green and his team of colleagues for sharing their guidance, advice and strategy, and for taking part in the very constructive question and answer sessions.'
The Trust Network is free to join and all resources/discussions and online forums can be accessed via their website. For more information visit their website here.