Developing play areas for our younger students
25/04/2018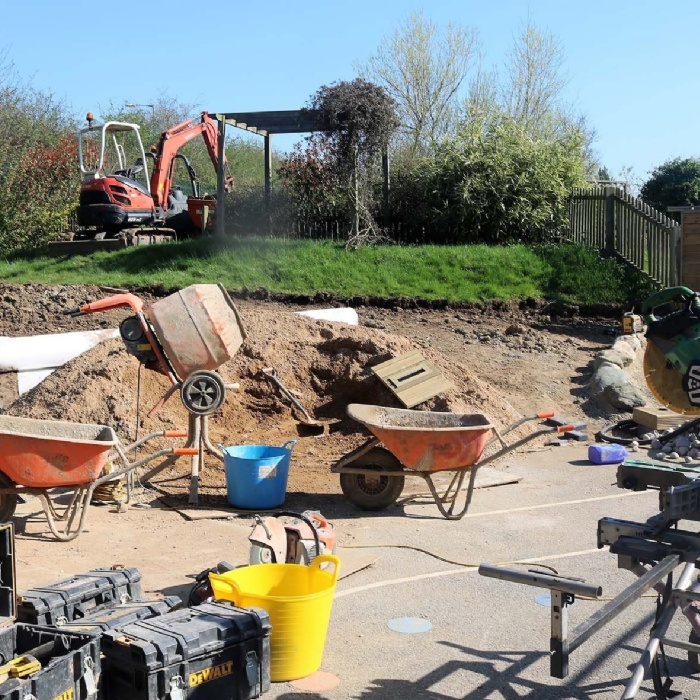 Fresh air, exercise and imaginative play are so important for our students and two of our schools are in the process of updating parts of their outside space.
Oakley Vale Primary School is developing two new playscapes, a Foundation area outside the reception class for the younger students and a Forest area further down their site which will be a wildlife haven and outdoor classroom for older students.
The work is being carried out by Timotay Landscapes and, depending on weather conditions, both play areas should be finished within the next few weeks.
At the other end of the age spectrum our youngest student in the Little Explorers pre-school are also enjoying their revamped outside space that gives plenty of scope for imaginative and collaborative play.
The outside play area has been completed with the construction of raised beds, wooden structures, water play and a sand pit. The space has been specifically designed so that students can use it imaginatively in lots of different contexts.
Compass Primary's Principal Jo Fallowell said: 'We wanted structures that could be used to stimulate play in different ways, so that the wooden structure isn't just a house, or a forest, but could be used imaginatively by the children to represent any environment or concept. The scheme has also incorporated a variety of textures to help the students with their development, so we have included water and sand play, a mud kitchen and a bike track.
'The construction was completed by Select Homes and we collaborated closely to ensure we have a good variety of play areas for the children within the allocated budget. As the pre-school is clad in wood and has lots of natural wooden furniture inside it was important that we kept the natural wood theme throughout the outside space.
'The students were so excited and couldn't wait to get outside and play. It is a really practical and welcome addition to the preschool, providing the children with a safe outside space so they get fresh air, exercise and plenty of scope for imaginative play and learning, both on their own and collaboratively. The space really complements the high quality provision that Little Explorers provides and ensures that the high quality and child initiated learning inside is now continued outdoors under the supervision of our talented and committed pre-school staff.'
To see the gallery of pictures from Oakley Vale Primary School click here.
To see the gallery of pictures from Little Explorers at Compass Primary School click here.