Student Council choose commemorative mosaic design
14/05/2018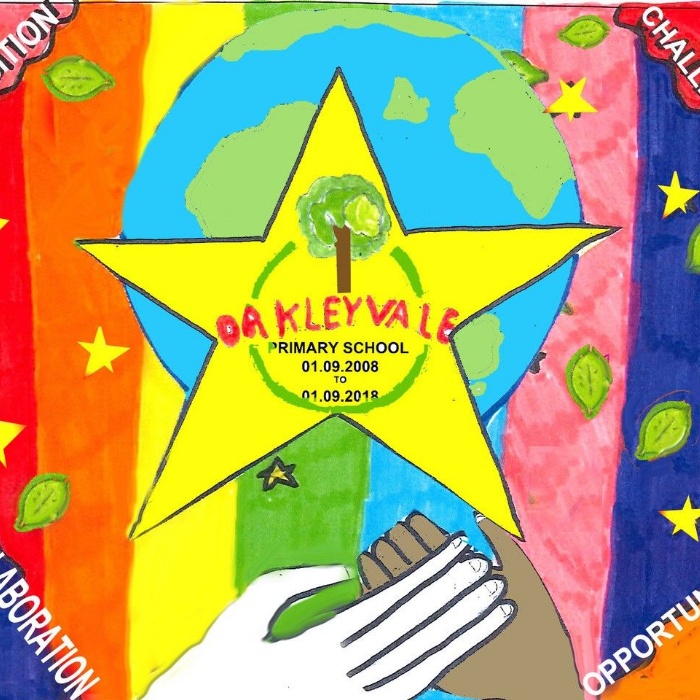 Members of Oakley Vale's School Council have chosen the winning design for a commemorative mosaic celebrating the school's 10th anniversary.
The colourful mural will be created by the children, with the expertise of award-winning artist Christy Burdock in early June before it is installed and officially unveiled during the school's summer fair in July.
All of the children in the school created their own designs and the teachers whittled them down to one from each class. Then it was over to the School Council who decided to amalgamate one by Fabrianne from Year 6 and another by Year 5 student Grace to make the final, colourful design. Ms Burdock will bring the template and materials into school on 6 June when students will take turns to add their own coloured tiles to complete the design.
Reception teacher Jenny Tew, who oversees the school council, said: 'It is made up of students from Years 2 to 6 and all had a great time deciding on the class entries. This is a really collaborative project as each of our children will get to put a piece in, so everyone will create the finished artwork.
Principal Emma Goodwin said: 'As a school we are all really excited about the mosaic. It is a lovely way of celebrating our 10th anniversary and so we wanted a really bold, colourful design that reflects the vibrancy and warmth of the school and the collaboration and opportunities that we offer.