Exotic animals visit Oakley Vale primary
16/05/2018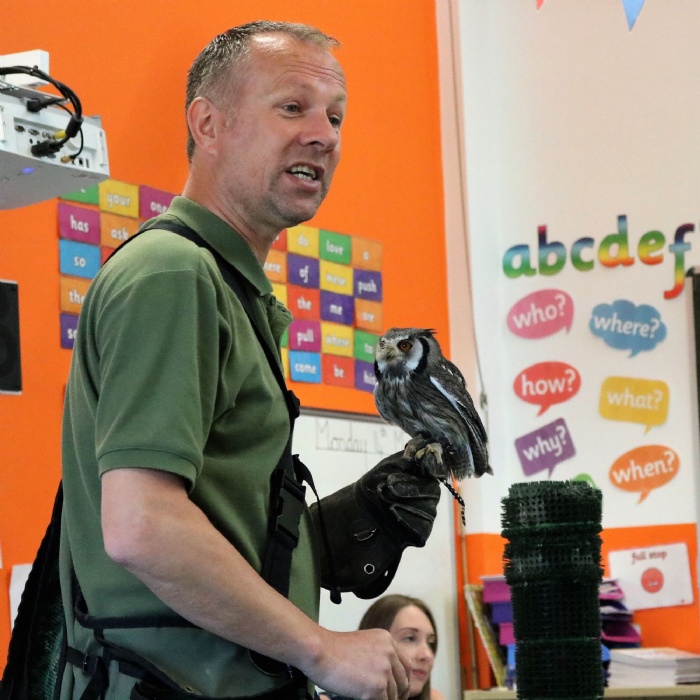 Students at Oakley Vale Primary School had a very exciting morning meeting exotic animals including a white faced owl, hissing cockroaches, a king snake, tarantula and tiny hedgehog. The looks on the students' faces was a picture as they got up close to the animals, which were brought in by specialists Raptor Xotics.
The visit enhanced the animal theme they have been working on in class and it gave students from Moles and Squirrels classes the opportunity to learn more about the animals, their habitats and life cycles.
Teacher Laura Medley said: 'We have been doing lots of work on animals
and their groups, such as amphibians and insects, so this session will build on their previous knowledge and allow them to ask questions. They are massively excited and will be able to touch some of the animals as well, so it is all about giving them first-hand experience of seeing and handling these exotic animals.'
Dave Sharpe from Raptor Xotics said: 'I want the students to go away with a spark for the natural world because increasingly children play indoors so this is way for them to experience nature. I have ten birds of prey and a roomful of reptiles. I have been keeping all sorts of exotic animals since I was four years old and birds of prey since I was 16.'
He brought along a white faced owl, a Mexican black king snake, a pair of giant hissing cockroaches, a Brazilian black tarantula and a tiny hedgehog and children were able to touch most of the animals and were even treated to a flying display by Crackerjack, the owl.
See more pictures here.