Believe Big primary competition 2018
20/06/2018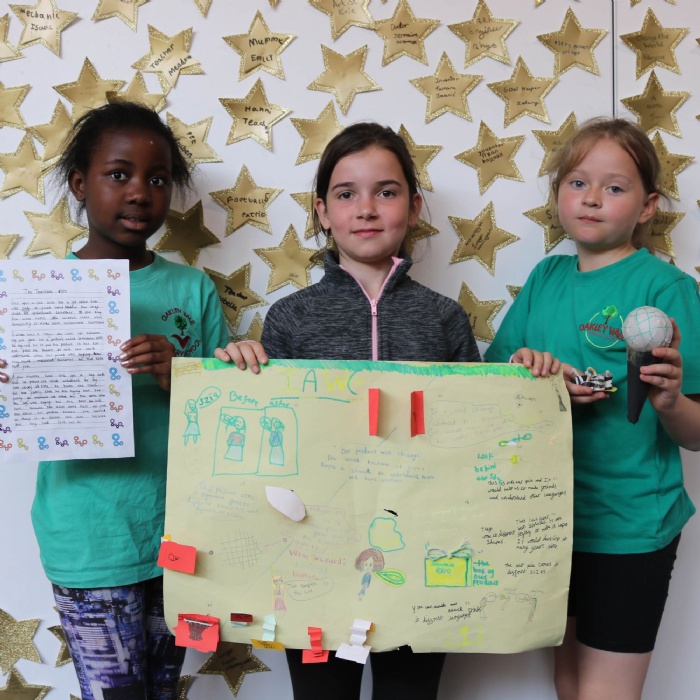 Students from across our Trust primary schools are developing innovative ideas as part of the 'Believe Big' project and they will present their ideas at the final next month. The Trust-wide competition mirrors one that has already taken place in our secondary schools where students were tasked to come up with ideas, create posters, models and do a presentation to judges.
Teams have racked their brains to come up with world changing inventions and those at Oakley Vale Primary School have included a remote control football to develop sports skills and a hairdo machine that transforms people's looks at the touch of a button!
Nikki Clarke, a Year 4 teacher at Oakley Vale Primary School said: 'The project was launched by Josh from 7 Billion Ideas and it's aimed at getting the children to think about a world changing idea. They each came up with six ideas and worked in teams of three to choose one and develop it. They created a poster, stories and models so it has been the starting point for a lot of work and it also builds teamwork skills.'
Amelia Rodrigues, Lily Hampton and Isabel Pinkerton from Adders came up with time travelling glasses that would help blind people go back in time to see different things. Lily said: 'We called our team "The Epic Gravell" as it mixes glasses with time travel. I liked making the poster and model.'
Isabel added: 'We all worked as a team and I liked doing everything.'
Reva Park, Lizette Masanga and Zorka Nagy created 'Translator 6000' with an earpiece which translates languages. They called their team IAWC, an acronym for 'It's a World Change'.
Zorka said: 'If you have got a friend and they speak a different language then you can understand it and learn it. '
The primary final of the Trust Believe Big campaign takes place at Rockingham Speedway on 12 July. It will be a chance for teams from all of our five primaries to showcase their innovative ideas that may one day become a reality!